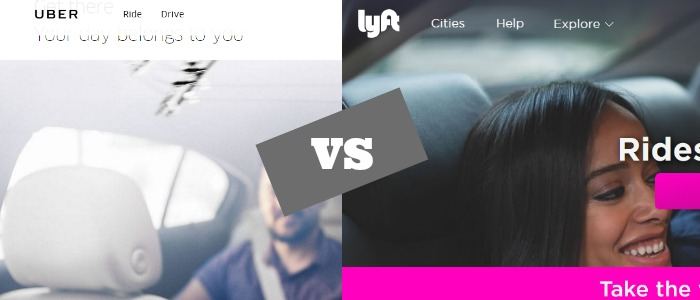 Do you want to get into ridesharing to make a little extra money?
Ridesharing has become a big deal in the last few years and a great way to earn some quick money starting out. You don't need a fancy website, an email list, or even your own product.
All you need is a car, an app, and some free time and your ready to go. Now I know I made it sound simpler than it really is but it's still one of the fastest ways I know of to start earning money today.
In fact Uber claims you can get started in as little as a few minutes.
Who Should You Drive For? Uber vs Lyft
As you're getting started you might be wonder which company should you drive for, after all they all have different perks and features that make them different.
To help you make this decision I've put together a handy little chart that compares Uber vs Lyft to help you make a more informed decision.
Side Note:  I thought I should  mention that I've never driven for Uber or Lyft but I have considered the idea which is the reason for putting this article together.  The problem for me is that I live in a very rural area and I don't know if it would be worth my time.
Below is the complete chart to help you decide who you should drive for.  At the end of the article I'll share my thoughts on who you should go with.
Uber
Lyft
International Driving
Yes
Yes
Cities Available World Wide
483
224
International Cities Available
275
9
Cities Available in North America
208
215
Commission Fees
20% to 25% of all sales
25% for all new drivers
Typical Earning Rates
$8 to $15 in smaller cities and $25 to $35 in bigger cities
$5 to $35/ Hour based on location
Peak Hours Pricing
Yes
Yes
Feedback
Passengers can leave a rating and valuable feedback
Passengers can leave a rating and valuable feedback
Additional Insurance Protection
Yes up to $1 million in coverage
Yes up to $1 million in coverage
When are Earning Deposited
Weekly but if you have the Uber debit card you can get deposits whenever you need them
Weekly
Age You Can Start Driving
Must be 21 years of age but some cities will require you to be 23
Must be 21 years of age
Driving Options
- UberX: 4 Seats
- UberXL: 6 Seats
- UberSelect: 4 Seats Luxery low cost ride
- UberBlack: 4 Seats black car
- UberSUV: 7 Seats SUV vehicle
- UberLUX: Seats 4 Luxery Sedan
- Accessability: Rides equipped for wheelchairs or car seats
- UberPool: Share a ride with others
- Lyft: Seats 3
- Lyft Line: Shared Ride
- Lyft Plus: Seats 6
- Lyft Premier: High End Ride
24/7 Roadside Assistance
Yes
Yes
Number of reviews that make up your rating score
500 most recent reviews
100 most recent reviews
Average rating you need to stay active
4.6 stars
4.6 stars
Smart Phone Requirements
iPhone 4s and newer or Android device running 4.0 and newer
iOS 8.0+ Required
Android: Ice Cream Sandwich 4.0+
Health Insurance Options
Stride Health
eHealth Insurance
Ride Cost Calculations
Base fare + Time + Distance = Your Earnings
Miles + Minutes + Base Charge + Trust and Service Fee + Prime Time ( If Applicable)
Vehicles You Can Drive
-4 door cars
- 4 Door Trucks
- SUV's
- Minivans
-4 door cars
- 4 Door Trucks
- SUV's
- Minivans
Vehicle Age
4 seater cars 2008 and newer and 7 seater cars 2012 or newer
Must be a 2004 or newer however some cities may vary
Trip Limit
Distance does not matter but fare time limit is only a few hours
60 miles
Driving Limit
Can drive up to 12 hours before before needing a break
Every 14 hours your in drive mode, whether consecutive or not you will need to take a 6 hour break
Sign up Application
Click here to Sign Up for Uber
Click here to Sign Up for Lyft
Who Should You Drive For?
In the end both companies look very attractive and they both have their ups and downs.  My recommendation would be to actually try both.  The benefit to doing this is that it will give you a bigger pool of people to drive for.
I've found several articles saying that Uber pays a little less as they've cut down their rates and that Lyft will pay better.  The problem I have with that information is that it all depends on your location as well.
If you're located in a bigger city like New York you're going to make some decent money because your service is going to be in high demand but if you live in rural area you might have a tougher time finding people who want a ride.
Side Note: If you're brand new to ridesharing like me, then I suggest starting simple and just doing a few rides to get a better understanding of how things work.
Finally, just to give you a different point of view if you talk to my friend Harry Campbell he believes you should start with Lyft first and sign up for Uber second.  He has an entire article that covers why he suggest this here.
So when it comes down to it try out both companies and see which works better for you.
Cheers!
References
Below are a list of the sites I referenced in this article to help come up with the data in the chart.
http://ridesharedashboard.com/2016/01/06/lyft-increases-commission-to-25-for-new-drivers/