How to Start a Side Hustle on Etsy- Beginners Guide
Etsy is an online shop that allows people to sell anything through a safe and secure marketplace, and if you have something that you want to share with the world, then Etsy is the place to do it.
Starting a side hustle on Etsy is very easy to do. First, you need to have a product that you should want to sell. This could include artwork, jewelry, clothing, toys, and personalized gifts or crafts. You also need to set up an account and a storefront on Etsy, which just requires an email address and a bank account. After your account is registered and approved, you're ready to go.
If you are starting a side hustle on Etsy, then this article is the beginner's guide that will help you get your storefront off the ground and into the stratosphere to bring you in some good money.
What Is Etsy?
Etsy is a global marketplace that allows creatives to showcase all of their creative goods through a good marketplace.
You can see various items that showcase personal treasures from the people who made them.
Etsy doesn't have a lot of commercial items that you can buy from other places. Instead, these are people and people's treasures that they are sharing with you.
A lot of small businesses get their start on Etsy, including independent retailers.
Hobbyists share their work and build their portfolio on Etsy too, and it really is amazing to see what people are capable of creating when they feel like it.
If you want unique items that will be treasured purchases for your home, then Etsy is the place to go.
Make sure you understand that before you start building your storefront.
Is Etsy A Good Side Hustle?
If you are selling handmade product that people won't be able to purchase anywhere else, then Etsy is a perfect place to start your side hustle.
Some people have even made 5-6 figures from their Etsy accounts and show no signs of stopping.
As long as you have a good product and even better value for your work, then there's no reason why you can't succeed on Etsy.
Value is the most important thing, and everything you give to your clients should be handcrafted and made with care.
If you are just going to turn out cookie-cutter items and focus on the amount of money you can make, you should go to Amazon or another storefront. Etsy will only work for you if you provide a unique value to your customers.
After all, if something is uniquely done for one person, other people are going to want unique things done for them too. This is how you create a profitable Etsy store where people keep coming back.
If you can make your customers happy and connect them with high-quality products, of course, they will be coming back to see your work.
They'll also keep buying from you! One of the adages of business is that you need '1,000 dedicated fans' and that's it.
Those 1,000 fans will buy everything you put out because they know the value, and that's what makes up the majority of your income.
It might not seem like a lot, but once you get those 1,000 dedicated fans, you will be swimming in orders and in money as well.
They'll purchase everything you put out with smiles on their faces, and that's the best part.
What Can You Sell on Etsy?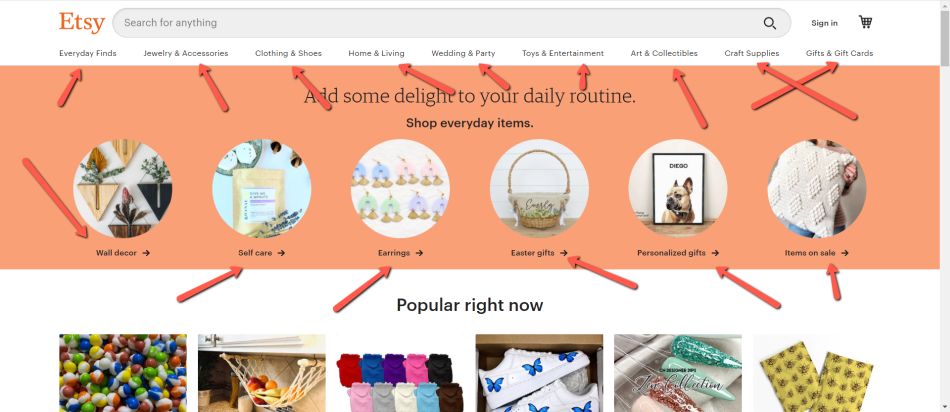 Below is a list of a varity of things you can sell on Etsy. However in each of these broad categories are tons of subniches you could carve your space out in.
Arts and Crafts
Jewelry
ePrintables
Clothing
Furniture
Vintage items
Decor
Toys
Personalized Gifts
Launch Your Etsy Shop in 3 Steps

Step 1: Create Your Account
There are three steps to launch your Etsy shop, with the first step being to actually create an account.
All you need to do is
sign up using an email address,
bank account,
and a strong password.
The process is no different than signing up for anything else, and once the account is approved you can get started with picking your niche.
Step 2: Decide what you want to sell
Picking what you want to sell is the biggest thing that you need to consider for your business. While you might want to go wide and start selling everything, recognize that you will be creating most of these items on a per order basis.
If you want them to be personalized, you don't want to start making personalized cups for one customer, an oil painting for another, and weaving a blanket for a third.
You will quickly burn out your creativity and then none of your customers will be happy with you.
Once you decide what you want to sell, stick to it for a while and then see if you want to start moving forward into a different niche.
Step 3: Setup Your Store
Finally, the last step is to set up your store. Your storefront page shouldn't just display what you are working on, but also the little touches that make you.
Maybe you always sign your items, and you should have a picture of yourself making a signature.
Maybe you always listen to the same song while working, and that could be something you talk about on the 'about me' page.
People aren't buying your products because they look cool, they are buying them because of the value that you provide.
Marketing Your Etsy Store
Here are some of the best beginner tips to help you make the most of your Etsy side hustle.
If you follow them, then you will stand a better chance of succeeding on the storefront.
Tip 1: Product Uniqueness
If you want to grab and command attention on Etsy, you should be focused on having unique products that will make users stop and say 'wow' If you are truly passionate about your craft, then that should be enough to make sure that your unique energy shines through.
Make sure to share the process, as well as the product.
Tip 2: Take Advantage of Etsy Ads
Most new business owners are hesitant to use Etsy Ads because it does cost them 15% of their sales if the product is bought through the ads.
However, the monetary loss that most people balk at should be small fry in comparison to the exposure being on Etsy Ads gives you.
The ads are seen by thousands of users every single day, and if even a fraction of those users click on your product and make a sale, you will be earning more than enough to replace the 15% loss.
It might not seem like a good tradeoff at the beginning of your Etsy career, but it will grow in its usefulness.
Tip 3: Encourage Reviews
Reviews are one of the lifeblood pumps that keep Etsy Storefront alive.
While some people will only give you five stars and a one-sentence review, there are people who will give longer sentences that focus on all the great qualities of your business.
Ask for reviews and don't be shy about following up with people who have promised them.
Every good review is another marketing tool that can convert another customer from 'on the fence' to 'ready to purchase the product.'
Grab as many as you can, and keep the ending review in mind when focusing on a customer.
Tip 4: Use SEO
SEO or search engine optimization is a tool that all businesses use to build up their brand and make sure that they are seen on Google and other search engines.
To build a good Etsy side hustle, you will need to find keywords related to your product. The right keywords can be found through specialized websites and also through Google itself.
If you type in your keyword in Google and then explore related searches and categories, you can find keywords and related topics that match your niche.
Place those in your product title, description and any other place that you can to make sure that your webpage is properly optimized.
Tip 5: Run Sales
How many times have you bought something that you normally wouldn't buy because a sale was on?
Well, your customers have done the same thing, and they will keep doing the same thing if your work is put on sale.
Even something as simple as 10% off can bring eyes to your products and get people opening their wallets.
You can have sales on holidays and other typical times, but also shake things up and surprise your customers.
Have flash sales, sales on one product, or 24 hours sales to really keep everyone on their toes.
How To Make Money With Etsy
Getting big on Etsy isn't easy, and it will always come down to your product.
You could spend time perfecting your store page, have top ranking SEO, and push everything through Etsy ads… but if your product doesn't provide value, then you can say goodbye to your dream of an Etsy store.
Don't flip the script. Create the perfect product and then you'll be at the perfect starting point to make sure that your Etsy store starts to thrive.