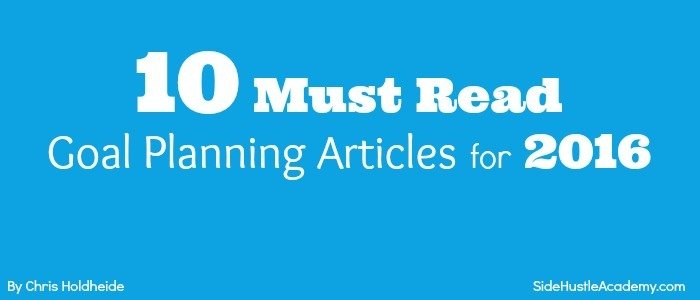 Can you believe it's 2016 already.  A new year is here and it's time to start planning and rather than share all kinds of ideas and ways for you to set goals in this article I'm going to share 10 articles from around the web that'll help you set your goals.
Normally I like to write some epic blog post on how to hit your goals but this year I thought I'd let everyone else share there goal setting tips.  I also want to thank everyone who submitted an article for this  post and before we get started I just want to share a quote that William H. Dwight shared with me.
"Discipline is the bridge between goals and accomplishment." ~Jim Rohn
If you haven't set your goals for 2016 yet take time to get it done today and use the articles below to help you out.  Also be sure to check the end of the article where I'll share my goals for 2016.
10 Articles to Help Your With Goals in 2016
This article was refereed to me by Jeremy Fransen  and I found this article very interesting.  Setting stoic goals is a much different process.  Instead of focusing on goals this article talks about how goal setting can actually cause you to fail.  So if you've at goal planning in the past this article may be for you.
I found this article while searching the net and found a lot of valuable nuggets in here.  This article covers everything from setting your long term goals to your short term goals.  This article also gives a lot of great tips to set up your goals the right way.
In this article Kylie Travers shares a great 10 step process you need to follow in order to have successful goals.  I personally like the part on knowing yourself and what you can actually accomplish.  I use to do this in the past setting goals that didn't reflect my value system and I almost never hit those goals simply because I didn't believe in them.
Improving my finances is one of my big goals for this year.  I've found over the years that I've made some great income but my finances just don't seem to be improving.  I'll share more on this at the end of the article but your goal is to finally get control of your finances and payoff your debts then this article is for you.
You can have all the best tips and systems in the world when it comes to goal setting but if you can't actually see yourself hitting those goals then you're dead in the water before you even start.  This is why you need to visualize achieving your goals this article does a great job of showing you how to do that.
Whitney has a great video that shares a unique way she goes about goal setting by using a 90 plan.  I personally love this idea because setting goals 5 years, 3 years, or even 1 year in advance can be a bit overwhelming.  The thing is you can't predict what is going to happen in the next 5 years let alone the next year.
By focusing on the next 90 days and aiming for short fast goals you're more likely to see quick wins keeping you motivated and pushing you forward.
This is a really well written article by Todd Tresidder.  If your goal for the year is to build wealth then this is the article for you.  One thing I like about this article is that Todd mentions having more goals won't lead to success.  Focus on fewer goals for the best results instead.
That is some huge advice.  I use to be one of those guys who set 20 goal every year and didn't hit one of them.  Today I set fewer goals but ones I truly feel I want to achieve.
This article also shares a 7 step annual system to uses to build true wealth.  This system covers everything from the questions you should be asking yourself when setting up your goals to how to maintain focus and review your goals regularly.
This article hits the nail on the head for me this year.  In this article Lance talks about the one simple thing you should do to push forward when you feel like quitting and believe me quitting has entered my mind a lot in the last 8 years of online business.
In the article Lance shares how accountability is the best way to stick to your goals and keep moving forward and this is actually one of my goals for the year which I'll share more about below.  So if staying accountable to your goals is hard for you then you'll want to check this article out.
This is a great podcast episode I just got don't listening to by Jason VanOrden and Jeremy Fransen of Internet Business Mastery.  In this episode Jason and Jeremy talk about different ways you can go about planning out your year.  They also share their goals and how they came up with them.
Last but not least I also listened to this great podcast with Amy Porterfield where she chats with John Lee Dumas about his new product called the Freedom Journal.  This journal is designed to help people plan, set, and achieve their biggest goal in a 100 days.  You can learn more about The Freedom Journal by checking it out here.  ( Not an affiliate link)
My Goals For 2016
So what are my goals for the year?
My goal planning has gone in a bit of a different direction this year.  Instead of writing out a bunch of goals for the year I decided to get more specific with my goals by focusing on my habits that lead to the goals I want to achieve.
Below are the habit goals I want to achieve this year.
Read 10 pages a day.  Reading is something I love to do and their are a bunch of books that I would like to read (believe me they're all piling up on my nightstand) and it's also something that could really help me improve and grow my business.  The problem is I could set a goal to read 12 books this year but if I don't make a habit out of it I know it'll never happen for me.
Review and Plan My Finances Every Week.  My finances are another area I want to improve in.  It's not that I don't make enough money but it's more that I want to do a better job of managing what I already have.  In fact my wife Lori and I have already had a talk about how we plan to do this and we've already begun to implement a zero based budget and the cash envelope system into our finances.
Be More Consistent With My Online Business.  As I reflected on last year I've found the reason why I just don't seem to get as much done is because I don't have a solid work habit in my business.  I've also found that I'm focusing on a lot of the wrong things as well.  This is why I'm working to create a daily habit were I take consistent focused action on my business for 1 hour a day.
Talk to My Mastermind Every Week.  My next habit goal is to talk to my mastermind group on a consistent weekly basis.  The only problem is that I'm not currently in a mastermind group since mine ended earlier last year.  So if you're interested in starting or looking for someone to join your mastermind group let me know.  I personally know that accountability is something I need to move forward with my goals and a mastermind is the best solution.
Workout 30 Minutes a Day.  Finally, my last habit goal is to get in better shape and stay fit and this is why I want to implement a 30 minute a day workout.
Now I should mention that I'm not implementing all of this habit goals at one time because I don't want to overwhelm myself.  As of this article I've already started reading 10 pages a day, reviewing my finances on a weekly basis, and working consistently on my business.  I plan to implement the last two habit goals over the next month as I go.
In the end my goal is not to hit some goal but rather to build a solid routine because the power of setting goals is not in hitting them but rather in the journey they take us on, and without a solid foundation of habits goals are nothing more than a dream.
So what are your goals for 2016?  Feel free to share them in the comments below.
Cheers!