Survey Junkie Review – How to Make Money From Surveys in 15 Minutes or Less
Need to earn extra money right now?  Then contiue reading my Survey Junkie Review to learn how.
Have you ever considered taking surveys as a way to earn an extra few bucks on the side?  I recently did this when I signed up with Survey Junkie and in no time at all, I was earning money from surveys.
If you're like me you may have thought that taking a survey for money was a scam and just some way for people to hack your information or push you into buying products that you really don't need.
After learning about Survey Junkie from others I decided to give it a shot and in no time at all, I was earning some money from the surveys I was taking.
However, to be honest, there are still some big downsides to surveys that I'm going to share in this article and a whole lot more plus how to get started if this is something you're truly interested in.
What is Survey Junkie?
Survey Junkie is a website that lets brands and companies survey you to learn valuable information about how consumers use and interact with their products and services.  As a result you will be compensated on a per survey basis.
Basically, Survey Junkie matches you up based on your profile with brands that align with your personal interest so they can learn more about their customers or people who could potentially become a customer.
This might sound like an odd thing for a company to do but I actually do this with my business as well. In fact, I like to run the occasional survey from time to time.
Relate Article: How to Survey Your Audience and Figure Out Exactly What They Want
So if a small blogger like me is doing this you can bet large brands like Microsoft and Verizon want to do this as well.  Now obviously this isn't perfect and there are some downsides to making money with surveys.
My Survey Junkie Review – The Pros and Cons
Now that I've covered what Survey Junkie is I want to share some of the things I liked and some of the things I didn't like after doing a few of my own surveys.
Pro: You Can Start Earning Right Now
The best part about taking online surveys is that you can start earning money right now.  You don't have to go find a bunch of clients, build an email list, or create a product of your own.
In fact, from the point of signing up and taking my first survey, it only to me 15 minutes and I was making money, at least this is how long it took me to do it with Survey Junkie.
To be honest that's the fastest I've ever earned a buck online.
Con: You Will Have to Share Some Personal Information
One downside I noticed right away when I started to do my first surveys was that I had to share a lot of personal info which made me just a bit uncomfortable at first.
If you're someone who doesn't want their personal info floating around on the internet then this may not be something you want to invest your time and effort into.
Here are just a few things they asked for…
Age
Birthday
Income
How many kids do I have
Kids ages
Political views
If I have any pets
Financial Info [Not your account numbers or Social Security Numbers]
Places I shop
To be fair the reason they ask for this info is to learn more about you so they can match the right surveys up with the right people.
For example, I'm not a pet owner and if I were to get a survey on buying household pet items it probably wouldn't be the best fit. However, I have a family, and a survey on places I like to shop for groceries might be a better fit.
Pro: You Take Surveys From Legit Brands
One thing I was worried about was whether or not I was going to be giving my info to a bunch of scammers who just wanted to sell me stuff.  What I found with Survey Junkie is that this could be further from the truth.
Below is a survey I actually took showing some of the brands used.

All of these brands are ones I've used in the past at one point or another except for Sling.  This made me a little more comfortable knowing that they were legit brands and not something I've never heard of.
If they weren't legit I would probably never signed up for Survey Junkie.
Con: Taking Surveys Takes Time
Another downside is that surveys can take a lot of time to do, and not every survey is equal in the time it takes to get done.
For example, here are 2 surveys that are currently in my queue right now.

The survey on my left only takes 8 minutes to do and will credit you 200 points or roughly $2, while the survey on the right will take 18 minutes and only pay 90 points.
It should seem that a longer survey would pay more but this is not always the case.  I'll cover a few tips you can use to help you find the best surveys and what to look for later on.
Pro: You Can Do It Anywhere
Another big benefit of surveys is that you can do them almost anywhere.  Whether you're at the doctor's office or sitting at home on a Sunday afternoon, you can pull out your phone, laptop, or tablet and start taking surveys.
Side Note: I say almost because you do need an internet connection in order to do this.
One financial thing you should know is that not all surveys can be taken on a mobile device and may require a laptop or desktop computer to do the survey.  I found this out when I was trying to take a few surveys on my mobile phone and showed that they were restricted.
Con: No App
Another thing I didn't like about Survey Junkie was that they don't have an app that would easily allow you to access your surveys.  I felt that if I had an app on my phone I'd be able to access the surveys much faster and actually do more of them.
One workaround to this is that Survey Junkie does send you emails letting you know when new opportunities are available and all I have to do is click a button in my email and the surveys pop right up and are mobile-ready.
Pro: Payouts Start at $10
The last benefit is that you only have to earn $10 and you can request a payout.  In fact, all you have to do is link your PayPal account, earn $10, and you will be able to get paid.
With a lower threshold, you can get paid faster and when you need to.  You don't have to wait months to get paid for most other types of programs which truly makes this an option to earn extra money right now.
Con: You Don't Make Much Money
The final downside to Survey Junkie is that you don't make a lot of money.  If you're expecting to make $20, $30, or even $50 per survey then this is not for you.
Survey Junkie works on a points system and 1 point = 1 cent.  So if you do a survey of 200 points you will earn $2.  I think the reason they do this is to give people the impression that they are earning some decent money.
That and if they were to tell you that you would only earn 50 cents to do a survey people wouldn't likely be so quick to do it all in the first place.
Who Should Sign Up For Survey Junkie
So is Survey Junkie for you?
If you meet any of the reasons mentioned below you may at least want to sign up for an account to check it out and see what it's all about.  My guess is if you made it this far you're likely ready to give it a try and if you're on the edge and meet the criteria below give it a shot and sign up.
#1 If you want to work from home
First, if you want a side hustle that you can work from home this is the perfect easy way to do it.  After all, I gave it a shot and earned a few bucks within 15 to 20 minutes.
#2 If you need to earn money right now
If you're also looking to earn some extra money right now this could be the way to do it.  This may not even be the side hustle you want to start right now but at the very least it's an income that will get you to that next level you're looking to achieve.
I've done lots of different side hustles that I didn't necessarily want to do but I did them so I could get to that next level with things and earn enough to start the side business I really wanted to do.
#3 If looking for something to do in your spare time
Finally, if you're looking for something to do in your spare time other than waste your time you could use this as an opportunity to crank through a few surveys and earn a little cash in your spare time.
The options here are is literally endless.  I've done surveys at the doctor's office to on breaks at work.  So if you have lots of extra time this may be the option for you.
How to Get Started With Survey Junkie
Ready to give Survey Junkie a shot?
The only thing you have to lose here is a little time to see if this is really for you.  Below are the steps you can take to get started right now to earn your first income online.
Step #1: Sign Up For Survey Junkie
First, click here to sign up for a free Survey Junkie account.  The easiest way to do this is to just sign up through your Google or Facebook account.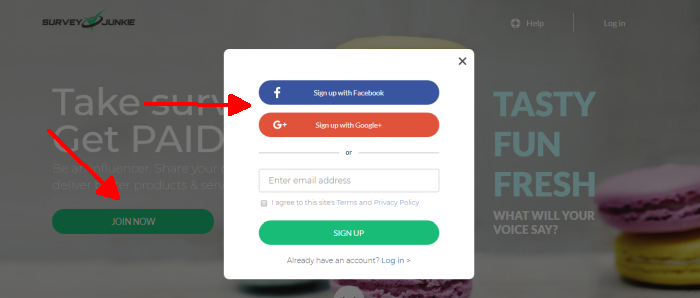 Step #2: Complete Your Profile
Next, you'll want to complete your Survey Junkie profile, go through the how it works section, and confirm your email address.  You'll earn 80 points or 80 cents for doing these three things.  This isn't much but every bit counts.
Step #3: Take Your First Survey
Now that you've completed your profile you should be seeing some surveys you can take in your dashboard section.
Quick Tip: To earn the most income you'll want to do the surveys that give you the most post and require the least about of time to complete.
Quick Tips: You'll also want to take the surveys that show up in your queue fast because they don't last forever and the higher paying surveys tend to go the quickest.
So are you ready to take your first survey?  Click and sign up to Survey Junkie now.