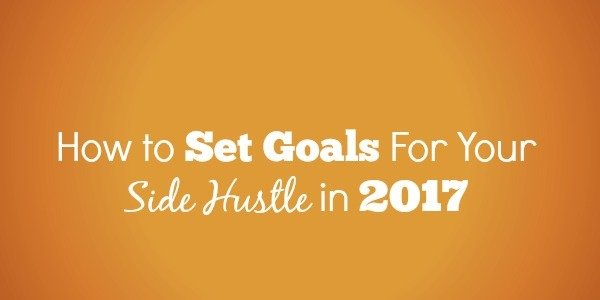 2016 is over, and I have a very important question for you:
What did you achieve in 2016?
Did you hit your goals or did you fall flat on your face.
Starting a new year is also time to start fresh and make some changes in your life even if you didn't hit your goals from last year.  If you're like me you probably have a lot of changes you want to make.
Last year I shared 10 Must Read Goal Planning Articles for 2016 but this year I'm going to share a 3 step plan on how to set goals for your side hustle.  I should also mention this is the exact plan I am using to set my goals.
If you haven't started planning your goals for your side hustle in 2017 there is no time like right now even if it's not 2017 or even if it's the middle of July.
So take the next week and plan out your next year.
Step #1:  Envision
The first step to setting goals is to have a vision of exactly what you want that to look like, and I don't mean just a general idea but rather a very specific vision.
Here are a few questions you can ask yourself to help you get a bit more specific.
How much income do you exactly want to be earning?
What kind of work do you see yourself doing?
How do you want to be earning your income?
Who do you see helping you achieve this plan?
What will your business look like by the end of 2017?
Here's an example of what I mean to be specific.  You might say you want to earn an income from affiliate marketing.  Great!
What products and services are you planning to promote specifically and how much do you plan on earning from them?  See what I mean, you need to get detailed.
Do it Now:  Take time to write down your exact vision of your side hustle over the next year being as specific as possible.
Step #2: Decision
The next step is to decide that you are going to achieve this vision over the next 12 months.
This is also where you need to address two very big issues that can hold us back…
Limiting Beliefs – are those that constrain in some way. Just by believing them, we do not think, do or say the things that they inhabit. – ChangeMinds.com
Distractions – These are the things that will derail you from the vision you want to achieve.
For example,  if you have a limiting belief that you could never earn money online because everyone including your own spouse has told you that it can't happen then you need to address this issue.
One issue I have is getting side tracked.  I have this bad tendency to get caught up on things like TV or chatting with my brother on Skype.  I personally know this is a big issue for me so I am addressing this now before it becomes an issue.
Do it Now:  Write down all of the limiting beliefs and distractions that might hold you back from achieving your goals in 2017.  Then write down how you plan to deal with each of these issues.  Doing this will give you a plan of action you can take to get through them and get back on track as soon as possible.
Finally, make the decision that you are going work to achieve the vision you've set out for yourself.
Step #3: Strategy
The final step is to put a strategy in place to achieve the vision you set out for yourself.  I find the best way to do this is break everything down.
As an example, one of the goals for me to do this year is to redesign Side Hustle Academy from the ground up.  The problem is you can't do all of this at one time, instead you need to chunk things down to smaller bit size pieces.
Here are a few of the chunks I plan to work on with my site redesign…
Redo the home page
Redo the about page
Set up a getting started page
Redesign the blog
Then you can take each one of these chunks and break them down to smaller bite size task that need to be done.
Finally, one part I don't want to leave out is the fact that things will change.  No matter what you do and the vision you put together of your business it will change at least a little over time.
This is why you need to be open to adjusting things as the need arises.  Just know it will happen at some point throughout the year.
Do it Now:  Now that you've got a vision for what you want to achieve this year and you've decided to move forward with it, take the time to plan it out by breaking them down to smaller task.
Finally, put them in an order that makes sense as to how you want to achieve them.  Once you've got this plan written down, print it out and keep it handy so you can review it often.
Pro Tip:  I prefer to keep my goals in EverNote right on my smart phone so I can keep them with me all the time and it also makes it easy to adjust them when needed.
What are Your Goals For 2017?
Finally, what are your goals for your side hustle in 2017?  Below is a list of the goals (chunks) I plan on achieving this year.
Creating a New Main Lead Magnet
Redesigning Side Hustle Academy
Creating 6 New Opt in Forms and Pages
Creating a New Main Lead Magnet Funnel
Creating 6 New Quick Start Checklist
Setup 6 Side Hustle Pages
Setup 6 Side Hustle Email Funnels
Create 3 Tutorial Courses
Start a 5 Day a Week Content Plan
Finally, I want to test some new Adsense Content Ideas on my other blogs
I know this looks like a lot but most of this stuff can be done pretty quick, in fact I'm just putting the final touches on my new main lead magnet as of this article and it should be ready to go by the first of the year.
Now that I've shared my ideas, what are some of your goals for 2017.  I would love to hear what you have plan for  next year.  Share your comments, thoughts, goals below.
Cheers and have a Happy New Year!