How to Write a Product Review – A Simple 7 Step Formula
Do you want to learn how to write a product review?
Maybe you're looking to earn some extra income writing product reviews on your blog or sharing your thoughts on a particular service that you've used in the past.
When it comes to writing a product review I follow a very specific formula that has earned me thousands of dollars in earning over the years and in this article I'm going to show you how to do the same thing step by step.
However, I just want to mention I'm not the end-all to be-all when it comes to this topic.  Darren Rowse from Problogger wrote this great article and Yaro Starak from EntreprenuersJourney.com wrote this great article as well on how to write a product review.
Their articles gave me a great base to start from and I highly recommend checking them out as well.
Side Note: If you're interested in starting an affiliate marketing business to write product reviews, check out me free quick start checklist to learn more by clicking here.
The Benefits of Writing a Product Review
Before I jump into the formula I use I just want to share a few of the benefits to writing product reviews.
First, it's a great way to start earning your first income.  If you're brand new to and starting your first side business this can be a great way to get your feet wet and start earning a few bucks in the beginning.  On top of that this kind of income can be very passive and you only have to write the article once you could get paid over and over.
Second, it doesn't take much to get started.   In most cases, all you need is a website, some hosting, and a domain name and you're ready to go.  The cost is very minimal and you don't have to spend a lot of money to see big results.
Third and finally, it shows authority.  If you own or have used a product that you are planning to review it can go a long way to showing that you are an authority on the topic.  I did this with the company that built my house and I get a lot of people emailing me and commenting asking me to share my thoughts.
I hope I've inspired you enough to at least consider the idea of writing your first product review.  In the end, the downside is very minimal and you don't have much to loose.
7 Tips Before You Write Your Review
Before you start writing your review there are some things you should consider in this section that will help you build a solid foundation and get started on the right foot.
Tip #1: Decide on the Product or Service You Want to Promote
To start you want to make sure you pick a solid product or service to review.  The last thing you want to do is write a bunch of reviews.  You'll also want to see if that product or service has an affiliate program.
It's not required, in fact here is a review I did of the company that built my house.  I'm not an affiliate with this company but I figured people could find this information useful when I was researching different companies to build my house.
Side Note:  if you do become an affiliate of their product you'll also want to disclose that in the review as required by FTC guidelines.
Finally, if you're new to affiliate marketing I wrote a great article that goes into depth about how to get started, which you can check out here.
Tip #2: Be a User of the Product
Another tip to consider is that you'll also want to be someone who has owned or used the product you are about to recommend.
If you haven't ever used the product before and you're writing a review on it, it's going to be hard to sway people to believe what you are writing is accurate.
I've tried this in the past and I've found those reviews never do nearly as good, simply because I don't know the positives and negatives when it comes to that product.
It can also give people the wrong impression that you're just writing the review to profit from it as well.  So take the high road on this one and only promote products or services that you have used and known.
Tip #3: Put the Review on Your Own Website
Another important point is that you want to put your review on your own website.  As Michael Hyatt would say, " Don't build your business on rented land."
The last thing you want to do is build your website on someone else's property like YouTube, Facebook, or Blogger.com of all places.
Don't get me wrong all of these platforms have their place but the last thing you want to do is build your entire business on some else's platform where the rules could change.
Putting reviews on your own website gives you full control for the long term.
Tip #4: Write a Descriptive Article
One of the issues I see with most reviews is people whipping out 500 to 600-word reviews.
I'm not saying these aren't good reviews but if you were going to be reading a review on a product that you wanted to buy that cost $500 which would you rather read a 500 article that briefly covered the product or a 3000 word in depth review that covered everything?
I rest my case.
This is also where owning the product and knowing the up's and down's makes a big difference because you'll be able to speak from that point of view.
Tip #5: Add Multimedia
Adding a few pictures or videos can also go a long way to helping your review stand out from others as well.  Here are a few ideas to help you out.
An unboxing video that gives a behind the scenes looks at the product.
Screen Captures or pictures of the product to show specific details can also help explain your points better.
Charts and Graphs also go a long way to helping explain a lot of important data in a simple way.
So if you're looking for a way to have your review really stand out from all the other bland reviews out there add a little spice by adding some pictures or video.
Tip #6: Track Your Links
This next tip is a bit of a more ninja trick and that is to track affiliate link individually within your review.  If you're promoting a product the normal thing to do is to write the review and drop a few affiliate links in the review.
However to optimize things you'll want to track each individual link on its own to see which link people are actually clicking to make the sale.
A simple tool that makes this real easy is Pretty Link Lite.  It also allows you to test different landing pages from your affiliate and see which one converts more sales.
Tip #7: Do Your Research First
Finally, the last tip is to do your research first and put together a solid outline before you write the review.  In fact, I've recently started doing this with all of my articles.
Writing an outline helps you get all the information out on the page and then when you actually have to write the review it makes it a whole lot easier to do.
How to Write a Product Review
Now it's time to get into the meat of the article of how to write a product review and share the 7 step formula I use to write my reviews.
#1 Start With an Overview
The first step in this formula is to just give an overview of the product.  There are a lot of ways to do this from just doing a bullet point list of all the features to a full on unboxing video which is what I usually do.
At this point, you just want to give a complete overview of what's all in the product.  Leave the benefits for the next few sections.
To give you a live example you can check out my review I recently did for GetResponse to help you get a better understanding of what this might look like.
Try it now:  Pull out a blank sheet of paper or your laptop and list out all the features you want to share your review.  Also look for any images or videos you could create to give it more flare.
#2 What Are the Pro's of the Product
Now that you've listed all the features of the product the next step is to list the positives of the product.  Another way to look at this is to list the benefits of the product.
For example, in my GetResponse review, I listed one benefit being that it allowed me to get things done faster because of the ability to drag and drop stuff where I needed it.
In this section, you'll also want to share any stories that you might have as well to help get your point across about the product.  You can talk about something you tried or giving the result you got from using the product.
If you don't have a story maybe you can share a story that someone else has had.  The point is to give solid benefits here and wrap them in a story if possible.
Try it Now:  List out 3 to 5 benefits the product has and also try to come up with a story to share your experiences.
#3 What Are the Con's of the Product
Now you might be wondering why would anyone ever share the negative side of a product and the answer to this is that it makes you human and shows that nothing is ever perfect.
A lot of times people like to share all the good things about a product but the problem is that this can comes off as if you're trying to shove the product down their throat.
The thing is people want to know what's wrong with the product and there always is, and if your just straight forward and honest with people they'll be more likely to trust you.
However, when I share something I don't like about the product I also like to share how I overcame the issue as well.
For example, one feature I don't like about GetResponse is that the editor is a bit clunky and hard to work with at times.  So I also share that I always write my emails in a text editor like Google Drive first and then just copy and paste the article right into the editor to bypass the whole problem.
Sharing these kinds of details are things that your competition are likely not doing.
Try it Now: List out 3 to 5 negatives that you don't like about the product.  Also, share any stories and how you might overcome these issues if possible.
#4 Who Would Make a Great Fit For the Product
Once you've shared the positives and negatives of the product or service the next step is to share who would make a great fit for it.
Often times people will ask this question to themselves as their reviewing the product.  The best way to do this to list either situation someone might need this product or to list a type of person who would be a good fit for the product.
For example,  in my GetResponse review, I share that it make a great fit for bloggers and affiliate marketers who want to start collecting names and email addresses of the people coming to their website so they can get back in contact with them when they have a new article or even a product to sell.
An example of a situation someone might need GetRespsonse is for someone who would like to get back in contact with the people visiting their website.
In the end, this gives the person reading your review a simple mental Que that this product is meant for them.
Try it Now:  List out 3 to 5 situations or types of people or even a combination of both that would make a great fit for your product.
#5 Your Product Versus the Competitor (Optional)
Another thing you can do to show that the product you are promoting is different is by doing a comparison chart between your product and the competitor's product to show where the major differences are.
I did this in my GetResponse review because there are a lot of other email marketing companies out there and I specifically wanted people to know how many more features you get versus the competitors.
To do this you can use a free WordPress plugin called TablePress that is actually fairly easy to use.  Below is an example of the table I used in my GetResponse review.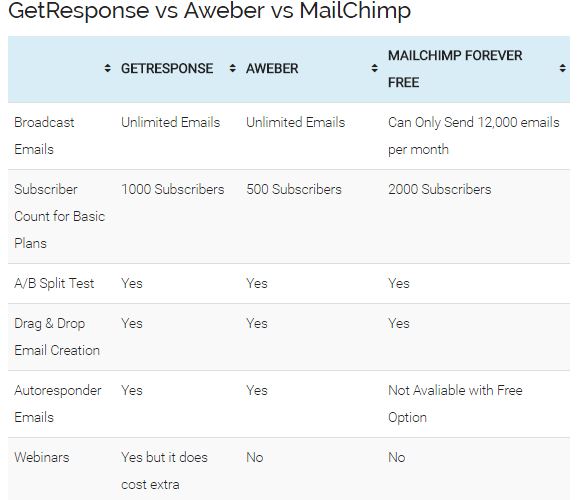 You can also learn more about how this works by checking out this YouTube video that does a pretty good job of explaining how it works so you can add this your reviews as well.
Try it Now: If your product has a lot of competitors put a comparison chart together like the example I have above and show the differences between the products.
#6 How Much Does the Product Cost
Once you've covered all the benefits and features and who would make the best fit to buy the product the next step is to tell them how much the product cost.
You can do this in a few different ways from laying out a table like I showed you in the last step or you could even do bullet point list of all the different pricing options.  I've done both and seen good results either way.
The key is to show them all the pricing options and give them links to each of the options.
For example one particular product I promote cost $497 but they also have a 4-month payment option for $147 that I also include if people don't want to pay all that up front.
Try it Now:  Put a list of the prices together and all the options.  Also be sure to mention that you are an affiliate of the product if you are.
#7 How to Buy the Product
The final step is to show people how to but the product.  I know this might sound strange but people want to know what happens after you buy a product especially if it's from someone you've never bought something from before.
The best way to do this is with a video that walks them through the entire process.  I did this with my GetResponse review and I also shared how they could get 30 days free without even giving up their credit card information.
Resource: Screen Cast – O – Matic  is a great and inexpensive tool to record your computer screen and show people how to follow a specific process.
So if you can give them a special deal like a percentage off or 30 days free this can go a long way to winning over more sales in your favor.
Finally, at the very end of the article, you'll want to have a call to action section telling people to click the link to buy.
A lot of people often overlook this because they think people already know to click the link but you'd be surprised how much better you're results will be if you just ask people to just click the link to buy.
Try it Now:  Put a short simple video together showing people how to buy the product and what happens after they buy the product.  Also, add a call to action section at the end of the article telling people to click the link or button to buy.
Final Thoughts…
To wrap things up once you've finished writing your review post it's time to edit and publish it.  You'll also want to give you review some time once you publish it.  More than likely it's not going to be an instant success.
In fact, some reviews for whatever reason may never work out and there are a bunch reasons why this happens.  It could be the product you chose, to it just being too competitive to rank for it.
On top of that, you'll also want to continually keep updating your review over time.  It's likely you're not the only one writing a review on the product.  In order to keep ahead of things, you'll want to update your article to stay ahead of the times.
So how do you write do your write product reviews?  Do you follow a formula like the one I've shared or do you do something different?  Share your thoughts and comments below.
Cheers!