Teachable Review – A Complete Review (2023)
If you're looking for a way to create great-looking courses without all the technical work, Teachable could be the answer you've been looking for.
With an easy-to-use layout, Teachable is designed for beginners to advanced course creators who want to take their business to the next level.
With all the other Teachable reviews online, this one is based on years of real-world experience and knowledge.
Start your online course business for free.
If you're looking for a platform that doesn't require a lot of setups and lets you get your online course business up and going fast without all the technical stuff, Teachable is the right platform for you.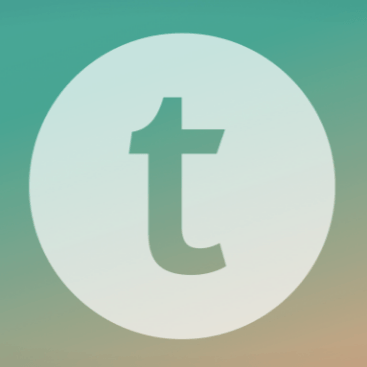 Teachables Key Benefits
Create Quality-Looking Courses with Just a Few Clicks – If you want to create beautiful quality courses but don't know anything about designing, you're in the right place.
Great for Beginners Just Getting Started – Best of all, I've found that Teachable takes all the complicated technical stuff off your plate so you can focus on what you do best. So dealing with things like where to host your course videos or figuring out which plugins you need to set up are all a thing of the past.
Easy-to-Understand Analytics – Finally, they give you easy-to-understand analytics that will show you who's completing your course and, most important, how much you're earning.
What is Teachable
Teachable is an all-inclusive learning management solution that lets you create beautiful-looking courses. Below is my complete video review, where I give you an inside look at what you'll get with Teachable.
Teachable Reviews Pros and Cons
To help you make a better decision, here are some Teachable pros and cons.
Pro: Full Control of Students
First, with Teachable, you'll get complete control of your students, from their email addresses to analytical data. You'll see what they bought and how much they've completed your courses.
And if you ever decide to leave Teachable, you can export your student list and courses and take them all with you.
Related Article: Teachable vs Udemy – Which is Better
Con: Transaction Fees
Teachable also charges transaction fees for free and basic plans.
$1 + 10% Transaction fees for the Free Plan
5% Transaction fees for the Basic Plan
I can't say that I am surprised since Teachable has to cover the video host cost, which can get expensive. So if you decide to go with the free or basic plan, know you will have to pay the fee on top of your regular credit card processing fees.
Pro: Great Option For Beginners
Teachable is the perfect way to start if you're new to creating online courses. You don't have to worry about hosting, designing, or even setting up your sales page because most of this is done automatically for you.
So if you're not a techie person looking to bootstrap your online course business like me, you'll find this option an easy way to launch your business fast.
Con: Basic Integrations
I feel one of the most significant downsides to Teachable is the integrations. For most integrations, Teachable recommends that you use Zapier. With Zapier, you can set up two integrations for free, but if you have more than that, you'll also have to pay $20 monthly for that service.
On the plus side, Teachable offers many features, such as its internal email system. Still, if you want to plug in your email providers, such as ConvertKit or a different payment gateway, then you may need to look at using Zapier.
Pro: 1 Click Up-Sells
A new feature that was recently added is 1 Click Up-Sells. This allows you to sell related courses and products to your customers while they're buying your course.
For example, if you have a course on beginner email marketing, you could upsell them a package of 25 email templates to get started with.
This one tool alone will hugely increase your earnings per sale.
Con: No Ability to do Live Workshops or Office Hours
One thing I see with a lot of courses is that they tend to do a lot of live workshops or office hours to help you answer your most pressing questions. Sure most courses offer some private Facebook group or forum to answer questions, but sometimes the questions you have to go beyond those platforms.
This is where doing group webinars or even one on one coaching calls could really be of value, and Teachable doesn't really offer anything like this. On top of that, selling a group or one-on-one coaching program on top of your course would be a great way to ramp up profits.
Pro: Get Started For Free
One of the most significant benefits of Teachable is that you can get started for absolutely free. In fact, you don't even need a credit card to sign up. This makes it great for those on a tight budget to get started and work their way up.
However, I should mention a few downsides to the free plan. First, as I mentioned earlier, you will have a 10% transaction fee for every sale you make. Second, you are very limited on all the features that are offered.
This means no drip content, custom domains, or bonus bundle, which I will cover below.
Pro: Create as Many Courses as You Want
Finally, with Teachable, you can create as many courses as your hearts desire because they don't charge per course created but rather feature you need. This allows you to create several courses start earning an income, and then transition to a paid plan.
The only downside here is that, again unless you are on a paid plan, you won't be able to offer coupon codes or even an affiliate program unless you at least have the basic plan.
Teachable Pricing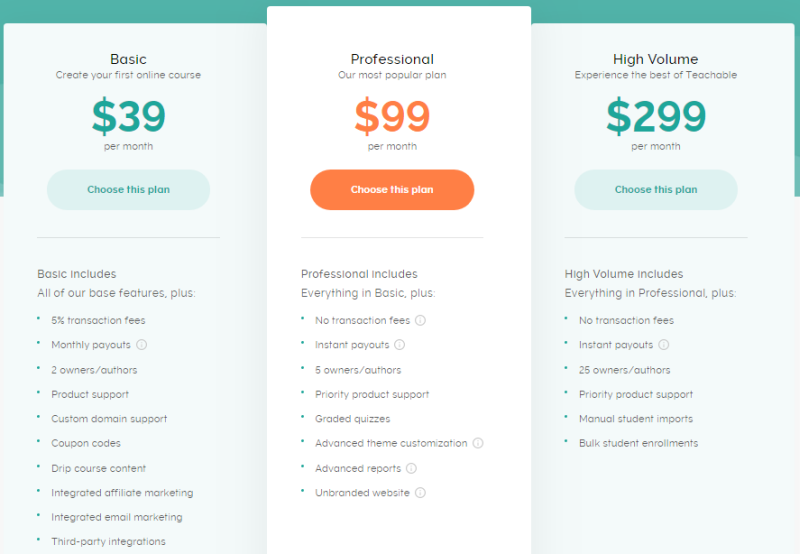 So now that we have we've covered the pros and cons, you might be wondering just how much Teachable costs. Teachable has 4 pricing tiers you can sign up for.
Free Plan – FREE
This plan is great for those who are on a tight budget and want to get their course business off the course now.
Basic Plan
$39/Month or $33.25/Month When Paid Annually
Basic Plan: Click to Sign Up Now
This plan is excellent for those who want access to most of Teachable's features, such as creating coupon codes, setting up an affiliate program, and the special bonuses I will mention at the end of this article.
Professional Plan
$99/Month or $83.25/Month When Paid Annually
Pro Plan: Click to Sign Up Now
This plan is for serious course creators who want to hit the ground running now and have access to all features and bonuses.
High Volume Plan
$299/Month
High Volume Plan: Click to Sign Up Now
The high volume plan is for people that have up to 25-course authors and want to maximize their course business to grow it to its peak performance.
Should I Buy Teachable?
If you're still on the fence about Teachable, here are a few things to consider. When you sign up with Teachable through my affiliate link, you'll also receive three valuable bonuses.
#1 The Profitable Teacher – Valued at $348
This is Teachable's complete 7-step course that will show you how to create your first course. I
've taken this course personally, and it contains everything you need to know from idea generation, marketing, pricing, and launching your first course.
So if you want to learn the correct way to create an online course that's profitable, you'll want this bonus.
#2 Course Creation Workshop Series – Valued at $199
Second, you'll get the course creation workshop series which features 11 videos from the 2016 Teachable Summit which includes speakers such as Pat Flynn.
#3 Studio Setup Cheatsheet – Valued at $19
Finally, you'll also get this great DIY checklist for setting up your video studio on a budget.
Extra Bonus – 8 Weeks of Q&A Training – Valued at $300
Finally, if you upgrade to Teachable Professional for $99 a month, you'll also get 8 full weeks of Q&A training to help you set up your first course. If you need that extra help to launch your course business fast and get the advice you need to do it right the first time, this is an easy way.
So are you ready to sign up for Teachable now? Sign up and take advantage of these bonuses before they are gone.
Cheers!
BTW – If you have any questions about Teachable, I would be happy to answer them in the comments below.
Teachable Alternatives
Looking for alternatives to Teachable? Here are a few other platforms you can check out that are similar to Teachable.
#1 Thinkific Reviews
Thinkific is probably the most similar to Teachable in that they both offer a free plan and mainly offer the same features.
Related Article: Thinkific vs Teachable – A Complete Comparison Chart. This article covers all the differences between Thinkific and Teachable.
However, both platforms differ in many ways, but one that I want to mention here is that I feel Thinkific has a better design and looks better.
Regarding courses, the look and feel are very important, and this is one area I feel Teachable could do a little better with.
Give Thinkific a shot and sign up for a free account today
#2 Kajabi Reviews
The second option is Kajabi, also known as New Kajabi. This plan is similar to Teachable but cranked up to eleven.
What I mean by that is it has almost every feature you can think of. It handles everything from email to webinars.
Related Article: Teachable vs Kajabi – A Complete Comparison Chart + Major Differences
With this platform, you won't have to buy into an email service, pay for a webinar service, or any other tool. However, Kajabi is a bit more expensive because of this. The basic plan starts at $129 a month, but since you get all the bells and whistles, you shouldn't need anything else.
Sign up for Kajabi's free 14-day trial
#3 Teachery Reviews
The final option is Teachery. This platform is also similar to Teachable, but they do something that Teachable doesn't, they don't host videos.
Unlike Teachable, which hosts unlimited videos for you even with the free plan, Teachery does not do this.
Related Article: Teachery vs Teachable – 13 Major Differences + Full Comparison Chart
Teachery also has a great look and design similar to Teachable. But if you want to offer things like course upsells or drip content, this platform currently does not offer these features.