Teachery vs Teachable – A Full Comparison Chart
Considering Teachery vs Teachable?
If you're looking to start your own course business on the side or even full-time, you may have been searching around the web and come across Teachery and Teachable to host, sell and market your courses.
However, what you may not know is that both of these companies are not the same. In this article, I will be sharing a complete comparison chart, giving you the most significant differences between both platforms, and in the end, I will share who I feel the winner is.
TLDR: Click here to see who my top choice is.
With that said, let's get started.
Before You Start…
Before we start, I want to share a few things you should know before you get started.
First, I am an affiliate of Teachable and will earn a commission if you buy through my link. If you do, I want to say thank you for your support.
Second, take some time to review both products and pick the one that is right for you. With leads me to my last point.
Finally, my goal here is not to tare down one platform or another but rather to share the facts. Even though I will share my preferred company, it's up to you to make the right choice.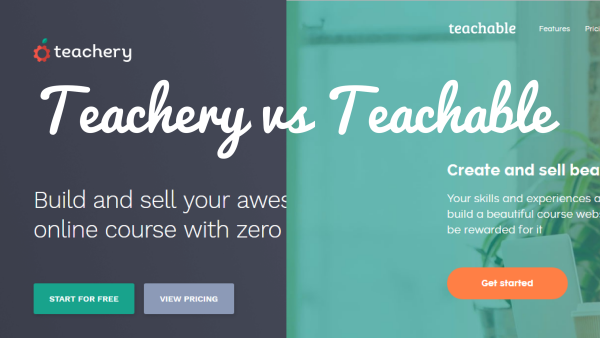 Teachery vs Teachable – A Complete Comparison Chart
Now that I've got the minor details out of the way, take some time to review the chart below.
Teachery
Teachable
Course Amounts?
Unlimited Courses
Free Plan: 1 Course
Basic Plan: 1 Course
Pro Plan: 5 Courses
Business Plan: Unlimited
Transaction Fees?
No Transaction Fees
Free Plan: $1 + 10%
Basic Plan: 5%
Pro Plan: None
Business Plan: None
Community Areas
Not Avaliable
Not Available
Student Limits
Unlimited Students
Free Plan: 10 Students
All other plans are
unlimited
Do They Offer Refunds?
Not Refunds
30 Day refund from the
date of purchase
Savings for Paying Annually?
20% Savings
33% Savings
Free Plan
No
Yes
Monthly Pricing
$49/month
Free Plan: $0
Basic Plan: $59/month
Pro Plan: $159/month
Business Plan: $665/month
Annual Pricing
$470/annually
Free Plan: $0
Basic Plan: $39/month
Pro Plan: $119/month
Business Plan: $499/month
Sign Up Offer
Get a 14-Day Free
Trail Offer
Get a 14-Day Free Trial Offer
on Paid Plans
Teachery vs Teachable Comparison Chart
10 Major Differences Between Teachery and Teachable
Now that you've had a chance to compare Teachery and Teachable, below are 10 of the most significant differences between each platform that you may not have considered.
Also, stick around after this section to see which platform I recommend.
#1 Multiple Instructors
To start, Teachery does not offer you the opportunity to have multiple instructors. So maybe you and a friend want to create a course together. With Teachable, you can have multiple instructors and even set up a profit-sharing option for each instructor.
For example, if you and someone else co-teach a course, you could split the earnings 50/50. Teachery does not offer this option as of now.
Teachable 1 Teachery 0
#2 Quizzes
Teachery also does not let you offer quizzes, while Teachable does. Teachable will even let you create in-depth graded quizzes to help your students better grasp what you are trying to teach them.
Quizzes are a great way to engage your students with your course material and, simultaneously, see if they retain the information you are teaching them.  Teachable is the clear winner here if you plan quizzes within your courses.
Teachable 2 Teachery 0
#3 Course Bundles
Do you have multiple courses? Are those courses related to a specific topic? Then why not bundle them and make a special deal for your students to buy them?
WithTeachable, you can bundle groups of courses together and sell them for a special price that students wouldn't get if they were to buy them all separately.
For example, if you had three courses on email marketing that all related to each other, you could group them in a bundled package and sell them for a slightly discounted price.
Better yet, you could sell them at the same price and offer a special bonus for two weeks of group coaching for everyone that buys the bundled deal.
The options are endless here, but unfortunately, Teachery does not offer this option.
Teachable 3 Teachery 0
#4 UpSells
Teachable also offers the option to do upsells. What is an upsell, you might be wondering? An upsell allows you to pitch another product while they buy your initial product.
You see, while people are in the buying mode, it's a lot easier to sell them an additional related product while they already have their credit card in hand.
For example, let's say you have a course called The Beginners Guide to Email Marketing, and in this course, you teach what people need to know to get started with email marketing. However, you discover that writing emails is one of the most significant issues people have when getting started.
As an upsell, you could offer them several email templates to help them write their emails. By offering upsells, you'll sell more products and earn more income.
Teachable 4 Teachery 0
#5 Training
Regarding Teachery and Teachable, they offer their course on creating, marketing, and selling your course.  However, there is one slight difference that you need to know about.
With Teachable, you only get this course if you sign up for their pro plan, which runs $99 a month, while Teachery offers this under every plan they have.
When starting a course business, I feel training is one of the most essential parts of the whole process. If you don't teach people how to create an online course, how can you ever expect them to create their first course, market it, or even make their first sale?
Ultimately, they'll stick around longer and become a customer for life.
Teachable 4 Teachery 1
#6 Hosting Files
This is one of my most significant issues with Teachery, hosting your files. If you didn't know, you can't host any videos, PDFs, or mp3 audio files on Teachery. Instead, they want you to host them on YouTube, Google Drive, or a paid video hosting platform.
This means you'll have an extra cost with hosting your video files on top of the monthly cost of using the Teachery platform.
On the other hand, Teachable includes this with the monthly cost, and the best part is you can even get free video hosting with the free plan minus a small transaction fee for every sale you make.
Teachable 5 Teachery1
#7 Payment Processing
Another area to consider is the payment processor. With Teachery, you must integrate with Stripe because they don't offer any internal payment processor, while Teachable does.
The benefit behind this is that if you're just getting started, it's a great way to test the waters and earn a few bucks.
However, there is a downside to this regarding Teachable as well. With Teachable, you need to upgrade to a paid plan to use Stripe.
But the even bigger issue is that Teachable holds all payments for 30 days if you use their payment processor. So is this a big deal either way? Not really, but if you don't want to hassle with integrating a payment processor like Stripe, then Teachable is the way to go.
Teachable 6 Teachery 1
#8 Email
Email falls into the same issue as payment processors. With Teachable, they want you to integrate with MailChimp or Convertkit. With Teachable, they offer you the opportunity to use their internal email option or integrate with another provider.
The problem is that you'll have to pay for an entirely separate email service. This will cost you roughly $15 to $30 a month on top of your monthly fee from Teachery.
Teachable 7 Teachery 1
#9 No Free Plan
Teachery also does not offer a free plan. Instead, they offer a 14-day free trial. While Teachable offers an entirely free plan for as long as you need.
I like this option best because starting a course business takes time. The free option allows you the time to get your first course up and running and earn a few bucks before you decide to switch to a paid plan.
While I think the free plan is great the paid plans offer better options, from custom domain names to having your affiliate program, but when you're just getting started, the free plan will let you get yourself planted in the business and earn a few bucks before you decide to start paying.
Teachable 8 Teachey 1
#10 The Cost
Finally, it's time to get down to the cost. Regarding the cost, both platforms have very different ways of handling this. So let's have a look at them.
Below are Teachery's pricing options…
Monthly Plan runs $49 a month
The annual Plan runs $470 a year
With Teachery, you have 1 of 2 options you can pay $49 a month or pay an annual payment of $470, saving you 20%. Now let's consider Teachables pricing options.
Free
Basic Plan $59/Month
Professional Plan $159/Month
High Volume Plan $665/month
Below are Teachable's annual pricing options.
Free
Basic Plan $39/month paid annually
Professional Plan $119/month paid annually
High Volume Plan $499/month paid annually
Ultimately, Teachable offers cheaper plan options over Teachery even though they have more expensive plans. They also offer a completely free plan which is a big deal when you're first starting.
Teachable 9 Teachery 1
And The Winner Is…
When it comes down to it, I feel Teachable is the clear winner here.  They offer cheaper pricing options and give you more features, such as upsell course bundles and email options.  However, Teachable handles all the hosting, from your videos to pdfs.
This stuff can get expensive, and even though Teachable does charge a transaction fee, it is a minor expense, so you don't have to figure out how to integrate video hosting using YouTube or Google Drive.
So are you interested in starting your own course business? Click here to sign up with Teachable and get started today.
Related Articles