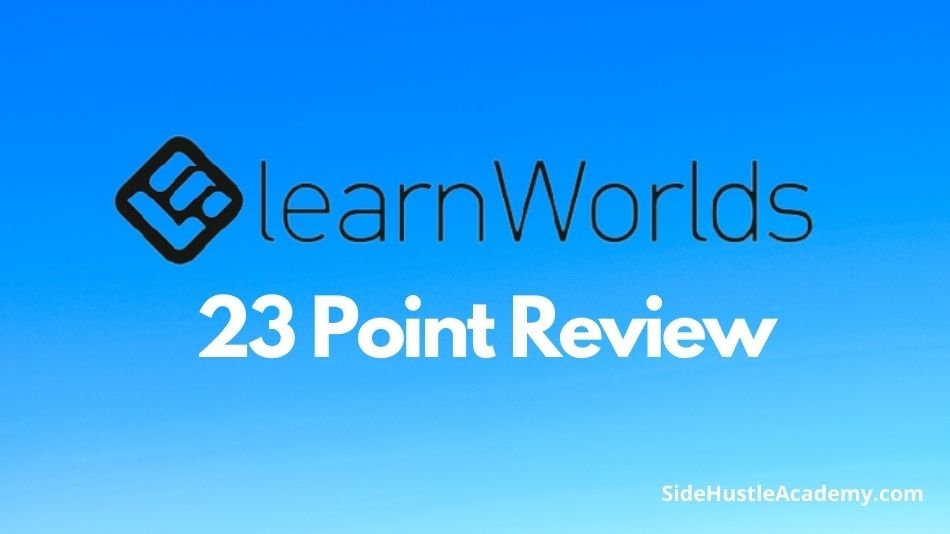 Recently I've been spending a lot of time reviewing several different online course platforms to see which one would be a suitable solution for my new membership program. Lately, I've been reviewing LearnWorlds.
LearnWorlds is a complete online course platform that allows you to sell courses and online memberships. It also lets you manage your students, instructors, and affiliates.
Overall, I found this platform to be a great fit for those with multiple instructors and courses. However this platform does have its downsides so keep reading see if LearnWorlds is for you.
By the way you can get a 30 FREE Trial of LearnWorlds by Clicking Here Now.
Side Note: I am an affiliate of LearnWorlds and I do earn a commission if you do happen to buy through my link. Your generosity and support will go to helping grow this site and helping more people start their own side businesses.
23 Point Complete Review of LearnWorlds
When it comes down to it LearnWorlds is a solid platform to build your course business on.
As I spent time using this platform a lot of things stood out to me and in the rest of this article I'm going to share 23 different things I liked and a few things I didn't.
1. The Dashboard
To start the dashboard was very interesting as I signed into my account the first few times.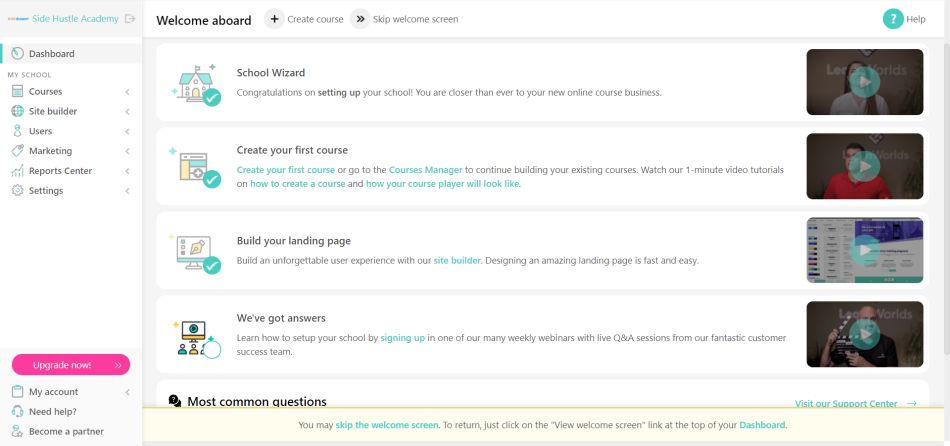 What I found helpful about the dashboard is that they had some great tutorial videos ready to go right off the bat to help you get started quickly. To be honest, if you're new to this it can be very helpful.
However, when I clicked out of the initial videos I got the full dashboard.
When I got this screen felt a bit overwhelmed because there were a lot of different things going on. Personally, I prefer simple and easy while this is still good it can be a bit overwhelming if you are new.
Now if you're someone who loves to see your stats and what's going on with your course business this great.
If you want to know how long people are watching your courses, coversions, and sales you had in the last 30 days in one spot this is a great platform to be on.
2. Course Creator
The next thing I did was created my first course.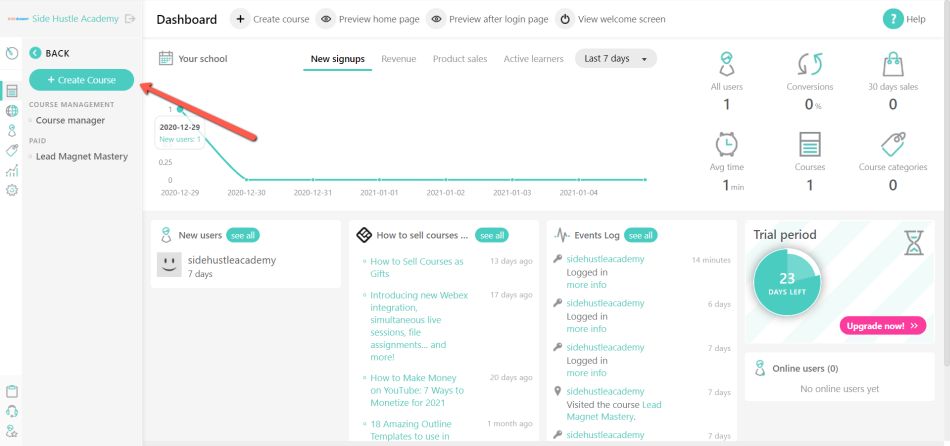 I found this process very interesting. With most platforms, you'll just fill in a title and a few basic details about the course and you're up and going.
With LearnWorlds they take you through an entire 6 step process along with a complete tutorial.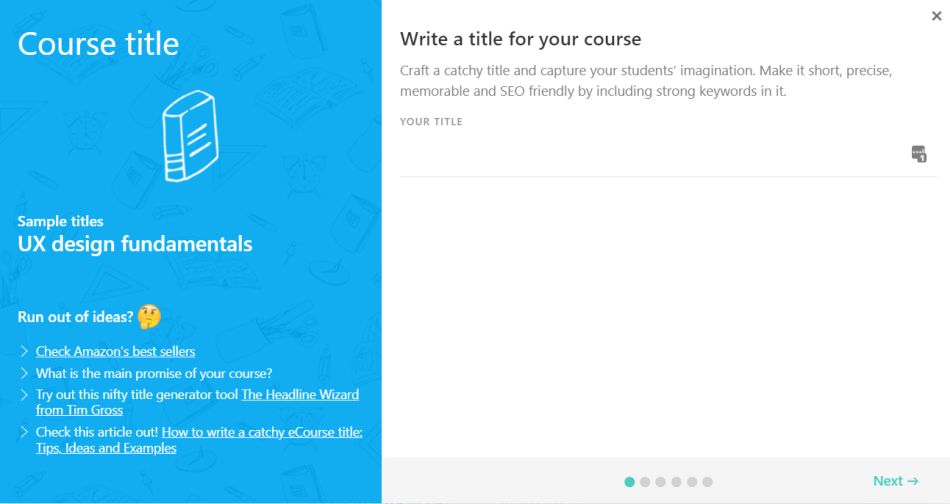 What I like about this is that they give you simple tips along the way to help you put your best foot forward when creating your course especially for the first time.
So when you create a course they will walk you through this 6 steps.
Step 1: Create a title
Step 2: Set your course URL
Step 3: Set the account access
Step 4: Set the course price
Step 5: Set a course image and description
Step 6: Determine the delivery method
Along the way you'll get tips on how set all of this up for success the right way.
3. Site Design
You can also control the site design just like you can with so many other online course platforms. However their are a few things I liked about the option LearnWorlds does.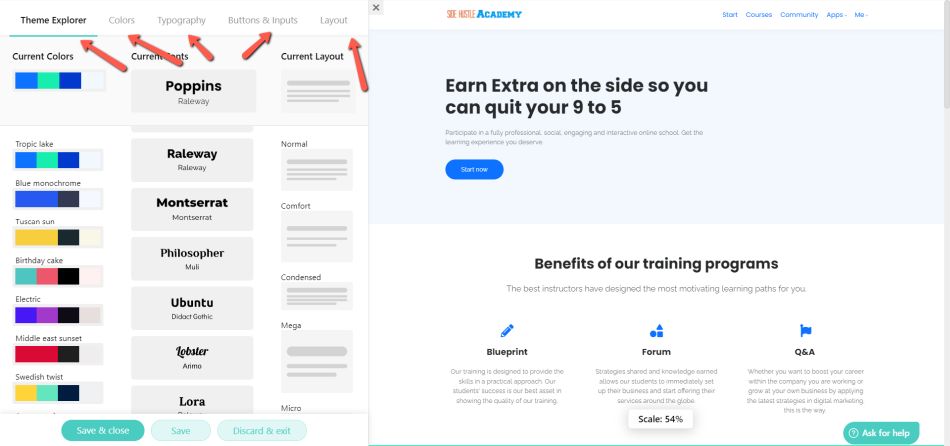 In this one screen you can adjust the theme, the colors, typography, the buttons, and even the layout. What's nice is you can adjust all of this in one nice spot.
The site design also lets you adjust things right from the page on the fly. You just need to click and type and it your ready to go.
So even if you're new to all this stuff the design features are pretty easy to use and will allow you to create something original and great.
4. Users
LearnWorlds also allows you to monitor all of your users from all different standpoints.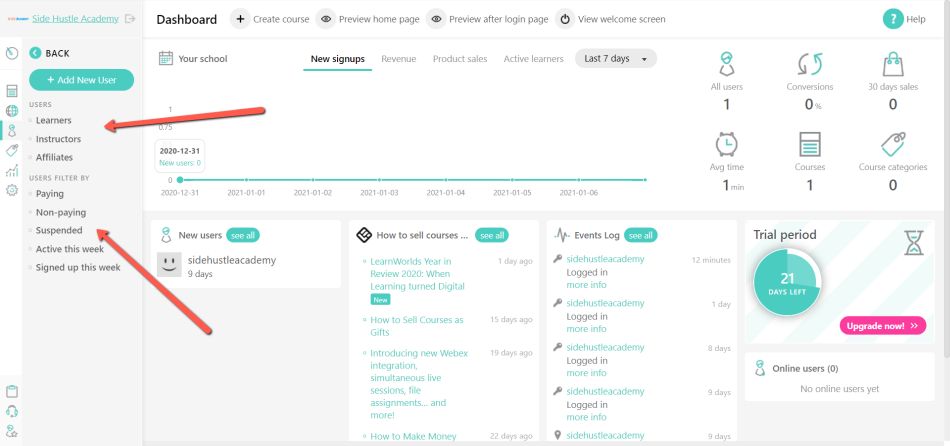 What I like about this is that you can see who all of your Learners or students are, who your instructors are, even who your affiliates are.
On top of that it will show you who your paying and non paying customers are, who has suspended their account, and who is active and signed in this week.
What's nice about this is that it allows you to see who your top students are.
5. Multimedia Options
One thing I've never seen other course platforms do is allow you to decide where you want you videos to be hosted at.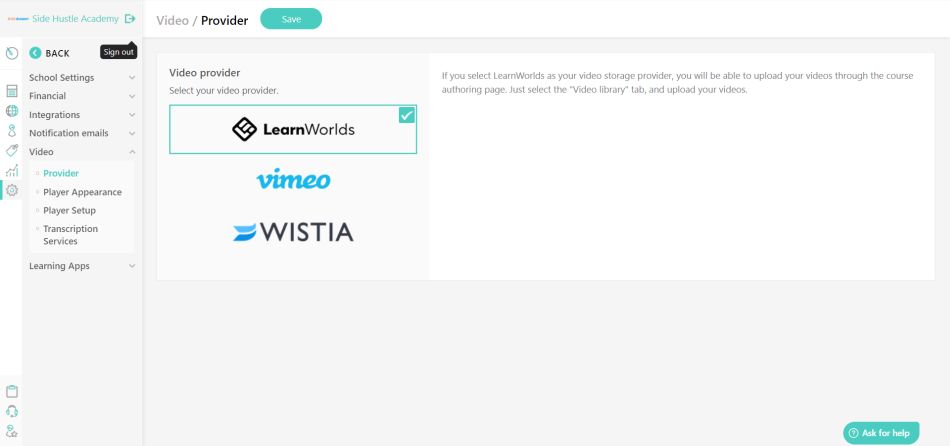 Now LearnWorlds does host your course videos which are all included in the cost of your LearnWorlds membership.
However, if you prefer to host your videos on Vimeo or Wistia you have the option. Personally, I wouldn't need this feature but if you prefer this option it's there.
6. Course Player
LearnWorlds also allows you to change the course player as well. They offer several variations to choose from.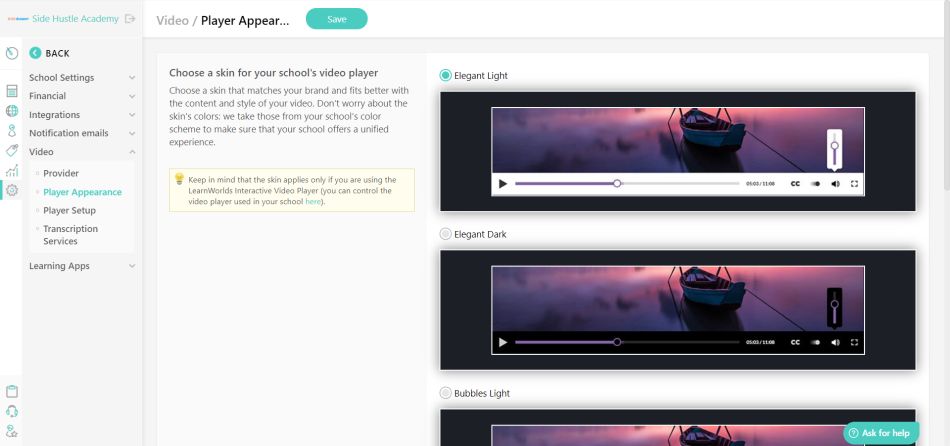 Personally like the video hosting option its not an option that will make or break whether or not I would buy it but it is an option if you want full control of things.
7. Course Layouts
A feature I thought that was kind of interesting was that LearnWorlds allows you to choose from several different course layout options.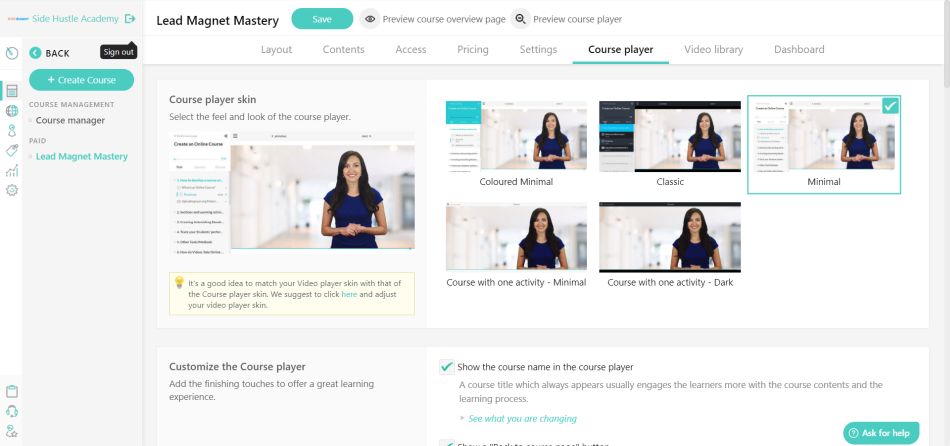 You can switch from light and dark themes, or even go to a full screen option as well.
Again this gives you a lot of control over how you want your course to look and feel all with the click of a mouse.
8. Pricing Options
One of my favorite features is the pricing feature within LearnWorlds.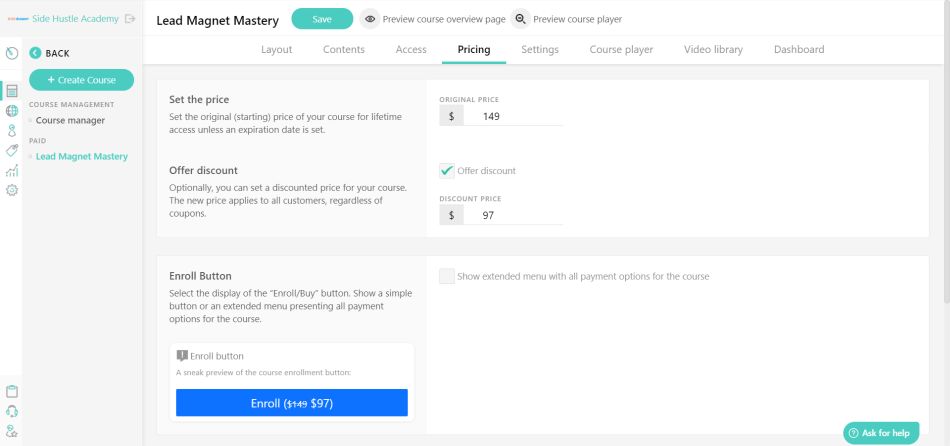 What I like about it is that it allows you to set the original price and then set the discounted price as well all in one spot.
It also allows you to show an extended pricing options with the click of a button you can show all of your pricing options on one screen.
Finally, the course pricing also lets you bundle your course or even create a coupon.
9. Affiliate Management
LearnWorlds also lets you create an affiliate program around your courses business as well. This is something almost all platforms offer these days but what I like most about this one is that it has a great affiliate dashboard.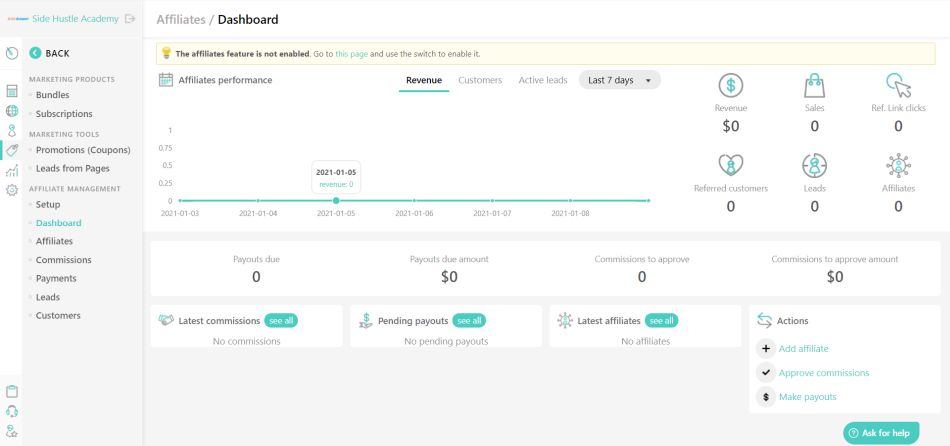 From this one spot you can see who your affiliates are, pending and latest commissions, even who your preferred customers are.
What's great about this is in just a few minutes you can have affiliate program up and running and get others to help promote your courses and products for you.
10. Instructor Overview
Along with the affiliate dashboard you can also watch your instructors and see how they are doing. I've found LearnWorlds to be the best platform if you have multiple instructors.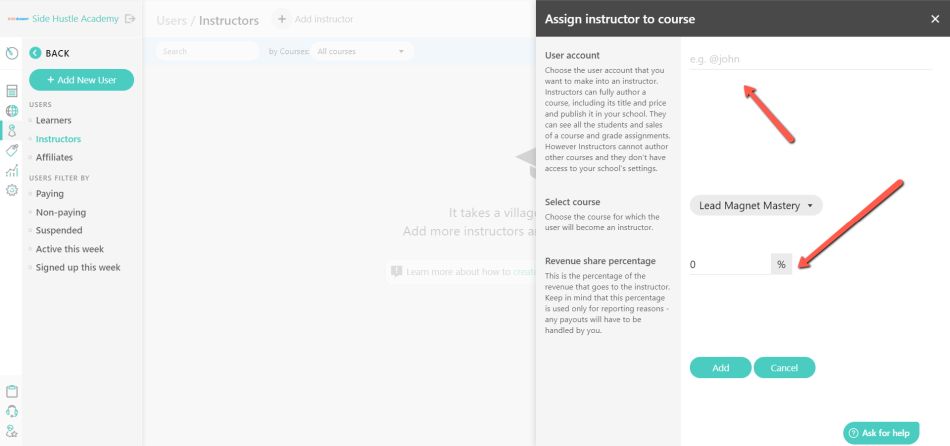 For example, let's say you have 10 different instructors in your school. You can simply add them to your school and determine the percentage of each sale they will get.
From their you can manage all of them from one spot and LearnWorlds will do the rest.
The only thing is you'll need to upgrade your plan to a Pro Trainer or Learning Center to be able to add multiple instructors.
11. Exams and Certifications
Have you ever wanted to see how much of the information you teach in your courses is absorbed by your students and reward them for what they know? This is where LearnWorlds shines because of the exams and certification feature.
What's nice about this feature is that you can review the grades for your students, review assignments, certifications, and even build out a complete question bank to pull from.
No other platform offers this feature that I know of and if you are going to make this a part of your courses and programs then you'll want LearnWorlds.
You can get 30 days free by clicking here now.
12. Scheduled Reports
One thing LearnWorlds recently just started offering is the ability to do scheduled reports.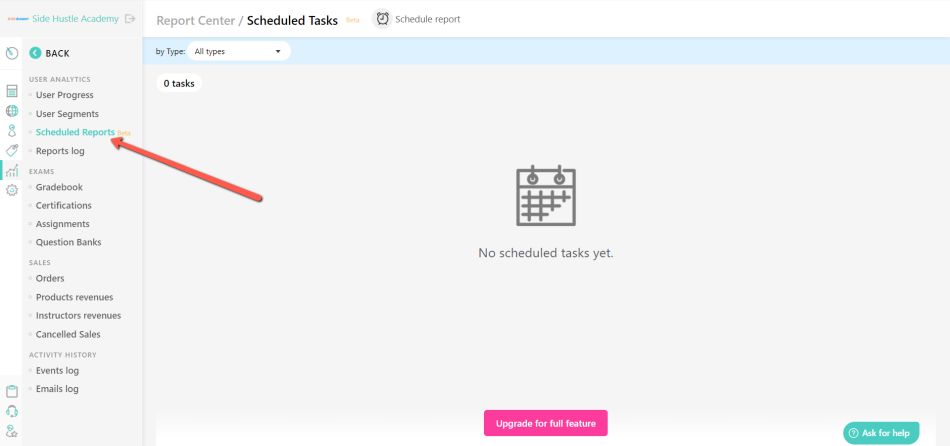 What I like about this that you can set these reports to come weekly or even daily to see how things are going with your school.
The only downside to this is that you need to be in the higher tier programs to get access to the feature.
13. School Community
Community is also a big part of taking a course. What if you have a question, or don't know what to do next? Where do you ask these questions?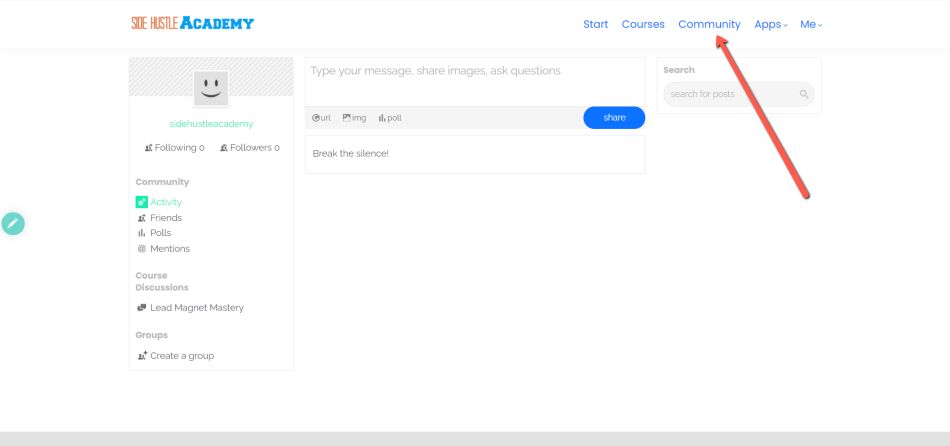 After setting up my first course on LearnWorlds I found that each course has its own community built right inside of each course.
Like with most courses and memberships you'll join for the content but stay for the community aspects in most cases. Of all the platforms I've covered this is the only one that has it built right inside the course when you create it.
14. Copyright Protection
One thing that sadly happens to a lot of course creators is that people steal other people's courses and try to resell them as their own. This is known as copyright infringement.
The question is how do you protect your courses from being stolen by these thieves. This is where LearnWorlds copyrights protection comes into play.
With Copyright protection, you can add a watermark to your videos, and pdf's that have your logo, school name, and other identifiers that will deter people from stealing your stuff.
15. Privacy and GDPR
LearnWorlds is also GDPR compliant with the EU right out of the box. If you're not familiar with GDPR rules read this.
Basically, these are online rules created by the European Union to help protect users from having their information used by other companies.
What's nice about this is that you can control how GDPR and privacy settings work all from the backend of LearnWorlds.
You can even turn it off altogether. So if you live in the EU or have customers in the EU or even market to people in the EU you can take care of all of this with a few clicks.
16. Integrations
You can also integrate a variety of different tools right with the LearnWorlds platform.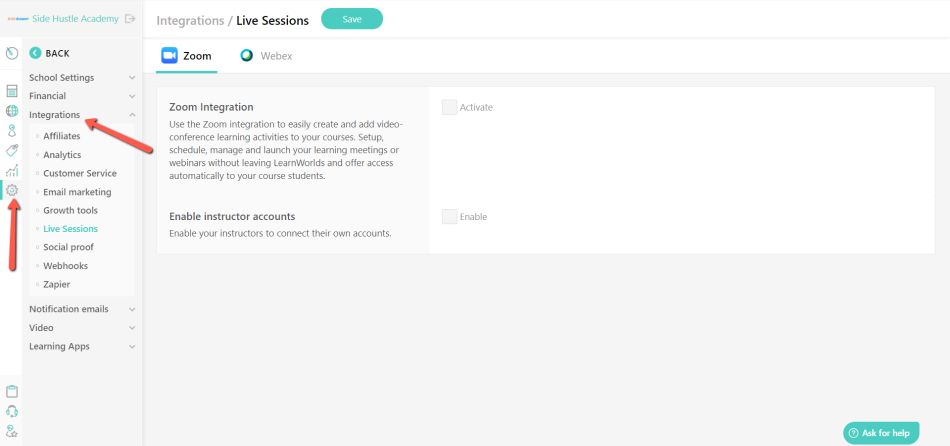 You can integrate everything from your Google Analytics code, customer service apps like FreshChat, Email providers like ConvertKit, live session tools like Zoom, and if you can't find the tool your looking for you can add Zapier.
17. Email Templates
LearnWorlds also has several prewritten emails for you as well. The nice thing about this is that its all set up right out of the box.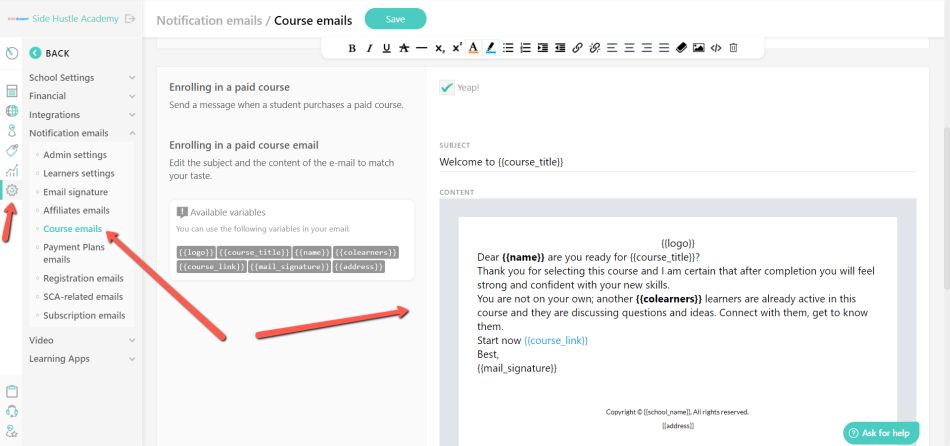 What's nice is that you can edit these emails to fit your brand or even just leave them as they are. Overall this will save you a ton of time if you had to do all of this yourself.
18. Interactive Video
Probably the most unique and valuable feature to LearnWorlds is that they allow to make your videos interactive.
With your videos you can add quizzes, an interactive nav bar to move around to certain sections of the video, and even popup elements to make your videos more engaging.
No other platform offers these features.
19. Transaction Fees
One downside I want to talk about with LearnWorlds is that they do charge a transaction fee on cetain plans.
If you are on the Starter Plan then LearnWorlds will subtract a $5 transaction fee for each course sale you make.
I've found most platforms going away from this method. Personally, I would just prefer they charge a little bit more per month for the platform rather than take a portion of my earnings.
So if you want to avoid this issue you'll have to upgrade to the Pro Trainer Plan or the Learning Center Plan to avoid the $5 transaction fee.
20. Gamification Badges
LearnWorlds also lets you gamify your course or membership by giving your students badges to show you where they are.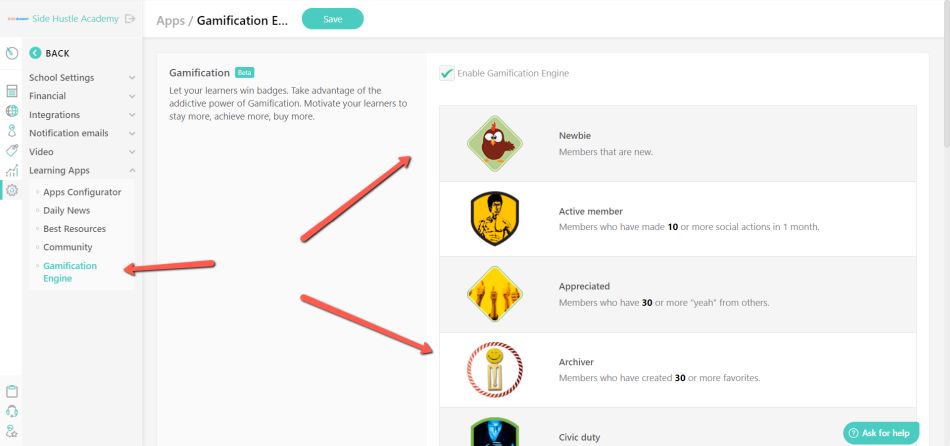 I've been in a few memberships where they do this and it can be incredibly motivating to be recognized for your accomplishements. So whether you're a newbie or an active member it makes you feel apart of the group.
Now one downside I don't like about the badges LearnWorlds offers is that they are not customizable. It would be nice to be able to create your own badges that match your brand.
This way everything is centered around your brand and pushes you in one direction.
21. Refund Policy
As we start to wrap up this review of LearnWorlds you might be wondering what the refund policy is like for this product? After all, you might take the free trial or become a paying member and decide that it's not for you.
According to Google this is LearnWorlds refund policy.
The only problem with this is that I could not find any mention of this on their site or in their terms and conditions which leads me to believe that they don't give out refunds in the case that you don't like the product for whatever reason.
However, that being said they do offer a free trial that should be more than enough time to decide if this platform is right for you.
22. Pricing
So now its time to get down to brass tax, how much does it cost? Below are the current prices.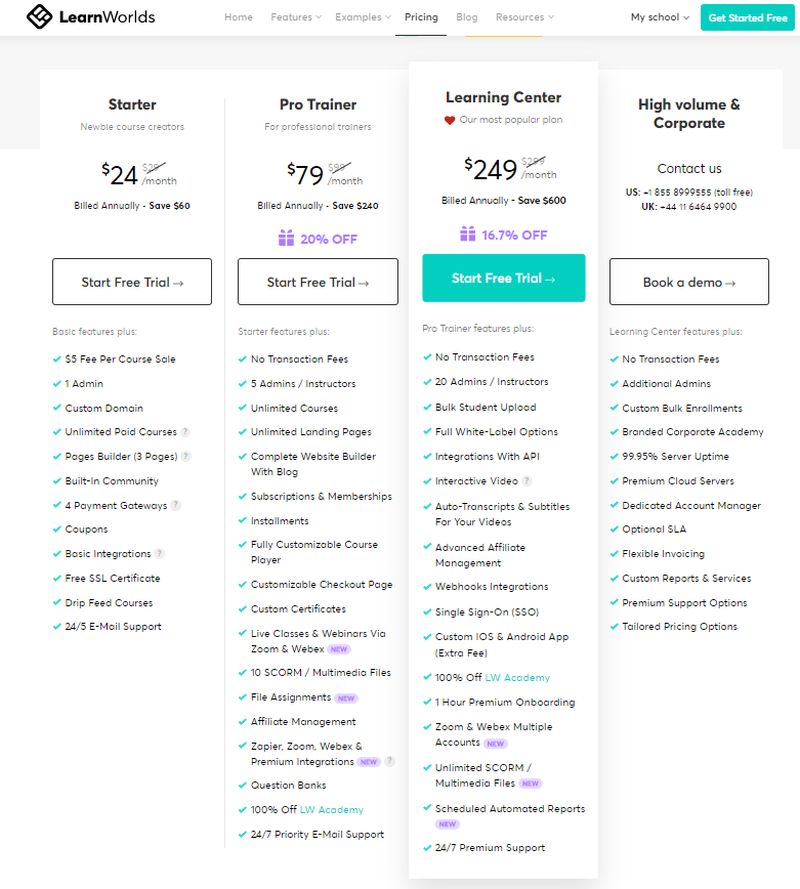 Overall, if you pay annually you can get one of three options.
Starter Plan for $24 or $288 a year
Pro Trainer $79 or $948 a year
Learning Center $249 or $2988 a year
However if you decide to pay monthly you will pay a little bit more.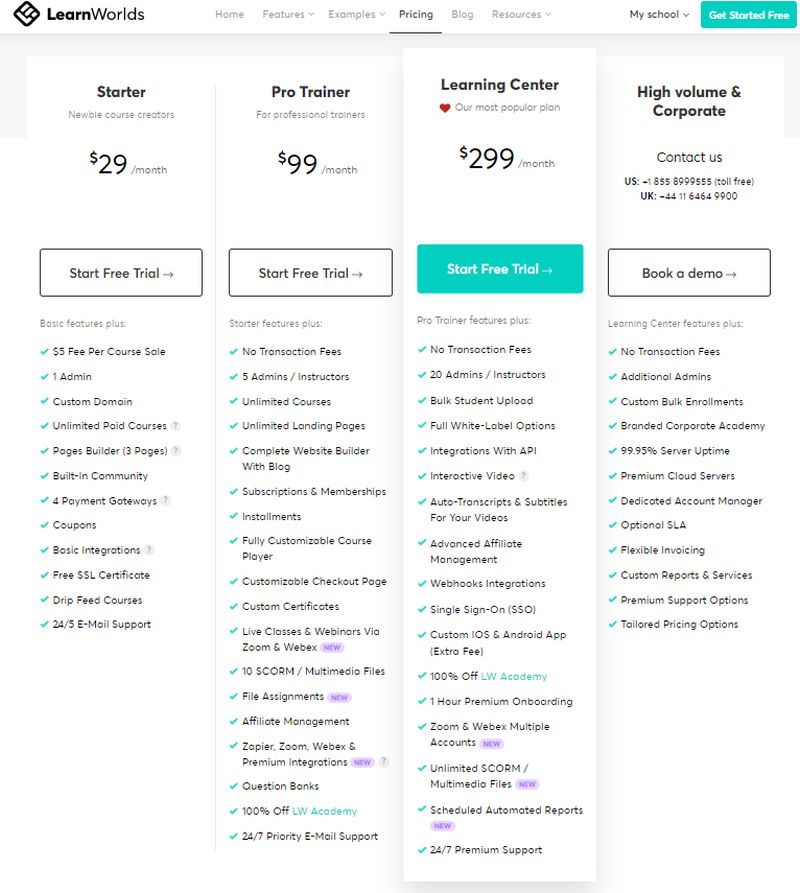 If you go monthly instead of annually you will pay anywhere from $29 to $299 a month.
23. 30 Day Free Trial Offer
Finally, if you're interested in giving this platform a test drive LearnWorlds offers a free 30 trial offer. Overall this is the perfect platform for multiple instructors and who I would recommend this product for.
The trail offer gives you access to all of the tools based on the plan that you choose. On top of that you don't even have to input your credit card details to even get access to it.
So if you are even the least bit interested in checking out this platform click here now to get a 30 Day FREE Trial Offer.