Looking to earn some extra money on the side sharing the knowledge you've learned from a past job or hobby?  Then you may want to think about creating an online course.
The problem is you don't want to hassle with setting up a website or dealing with tech stuff like payment processors.  Well, this is where a platform like Thinkific come in.
What is Thinkific
What is Thinkific you ask?  It's a complete online course platform that handles everything from hosting your courses right down to making it look awesome.
More than that it's a way for you to earn an extra income on the side teaching others.  Best of all Thinkific takes care of all the design and tech stuff so you can focus on the most important stuff, creating more courses.
To give you an idea what all comes with Thinkific I created an in-depth video that shows you everything you'll get when you become a member.
Pros and Cons of Thinkific
Over the last several weeks I've been playing around with Thinkific and I've had the chance to learn all about this platform.  Below are the pros and cons I found the most interesting about this product.
Pro: Create Beautiful Looking Courses Fast
The very first thing I noticed about Thinkific was how great everything looked.  When I landed on the dashboard I noticed how everything had its place and wasn't overcrowded.  This made it simple to navigate and find what you're looking for.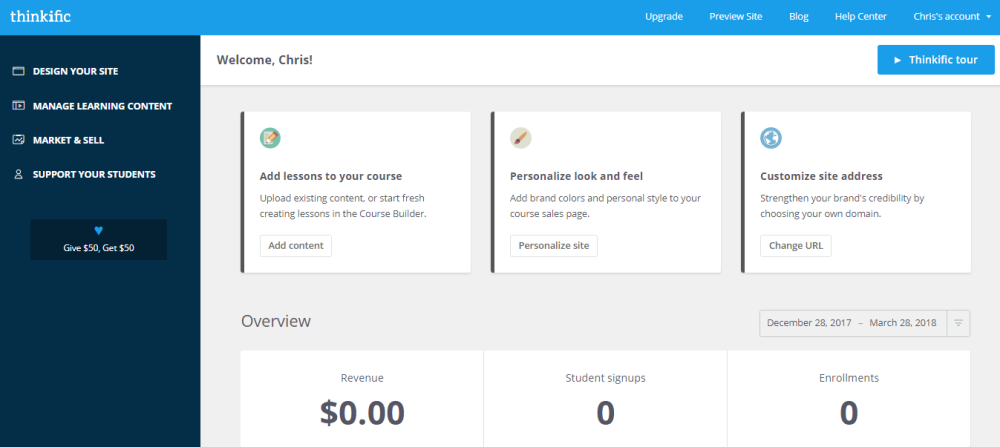 Every button on the dashboard has a purpose and you can tell that they've spent a lot of time perfecting this simplistic design.  Best of all it doesn't leave you guessing as to what you should do next when you're first getting started.
Con: No Ability to Do Workshops or Live Office Hours
On the downside, one thing I noticed right away was that while they make it easy to create courses, it would be nice if they had a way for you to interact with your audience in a live format to help students with any pressing questions they might have.
When it comes to new students they often times have a lot of questions and by offering some sort of live format it would allow them to get their questions answered and feel more connected to the course and the people behind it.
Now just because Thinkific doesn't offer this feature doesn't mean you can't offer it, you'll just have to use another platform such as paid platform like WebinarJam or a free option like Google+ Hangouts.  Here's a great article on how to do this here.
Pro: Get Started For Free [No Credit Card Required]
Another huge benefit with Thinkific is that you can get started for absolutely free with the Thinkific Free Plan.  This means you can launch your course business at literally no cost.  Best of all you won't even have to input your credit card.
However, as a free member, there is a small catch.  When you sign up for the free plan you'll have to give up 10% of your earnings to Thinkific.  After all, Thinkific is a business and has to pay for things like video hosting and employees somehow.
Con: No Course To Help You Get Started
If you're new to creating an online course it can be a struggle to get your first course of the ground.  After all, there are so many things you don't know that would be helpful if you just had someone to teach you how to do it.
Things like how to structure your course to get the best results, how to pick your course topic, or most importantly how to market your course to get more sales.
Sure you could read a bunch of guides or blog post but what would be really helpful would be a course on how to create your first course and you would think a company such as Thinkific would have one but they don't.
Now if you're someone who already has these skills you'll be just fine but as a beginner, this would be very helpful to have.
Pro: Create as Many Courses as You Want
Do you have it in you to create a lot of courses?  With Thinkific you can create as many courses as your heart desires on all the plans including the free plan.
I found this to be one of the biggest hold-ups for those hosting their own courses since they will have to pay for their own video hosting whereas Thinkific will take care of all of this for you.
Con: Paid Plans Cost More Per Month
If you plan to sign up for one of the paid plans I've found Thinkific's to be slightly higher than most of the other platforms.  I will cover in more detail below but on average I've found Thinkifics cost to be about $10 higher per month.
It's not a whole lot more but if your trying to save a few bucks then just know that there are other platforms out there that are a bit cheaper.
Pro: Embed Your Course Sales Widget
One of my favorite features about Thinkific is that they allow you to create a sales widget so you can place your courses directly for sale on your blog, social media channels, or anywhere else you prefer.
So if have a blog all you have to do is grab the code and add it to your site and Thinkific will take care of the rest.
Pro: Get Paid Directly Using Stripe or PayPal
One final thing I like about Thinkific is that you can get paid directly via Stripe or PayPal.  I found this unique because I've found that most other courses platforms require you to be a premium member before they will offer this to you.
This means you won't have to wait to hit some sort of dollar threshold before you can get paid.
How Much Does Thinkific Cost
So you might be wondering how much does Thinkific cost?  Below is the cost of the monthly plan pricing.

You can save 20% by paying annually with Thinkific as well.  

If you're not sure which plan to choose here a few tips to consider.
Free Plan – The free plan is great if you don't have much money and you want to bootstrap your business.  You won't get access to all the features but you'll get access to enough of them to get up and running.  Remember though using this plan means that you'll have to give up 10% of every sale you make.
You can sign up for the free plan here
Essentials Plan – If you already have a course out there or you're close to launching it then the Essentials Plan gives you access to more marketing tools which could be helpful to get more people to sign up to your courses.  Remember you won't be able to create course coupons or start an affiliate program unless you have this plan at the bare minimum.
You can sign up for the Essentials Plan Here
Business Plan – If you have a business that makes sales and you want access to all the tools to grow your business to the next level the Business Plan makes sense to have. However, even if you are making even just a few sales a month I recommend going to this plan because you want to pay any transaction fees for every sale you make.
You Can Sign Up For the Business Pan Here
Advanced Plan – If you have multiple course teachers and a big team then this is the platform for you.  At this stage, you're likely making a multifigure income and having this plan would help your team work better together.
You Can Sign Up For the Advanced Plan Here
Should I Buy Thinkific?
Still on the fence about Thinkific, here are a few things to consider.
Get a Quality Platform That Does all the Hard Work – When it comes down to it you'll have a quality platform on your side that will manage all of your course content.  Best of all Thinkific will make your courses look professional and beautiful.
You Can Sign Up at No Cost Right Now – At the very least sign up for the free plan and see what all the fuss is about.  It doesn't cost a dime for the free plan and you don't even need to input any credit card details.  After all, what's the worse that could happen?
Earn While You Sleep – Finally when you start a course business the best part about it is that you'll be selling 24 hours a day 365 days a year.  You'll literally be able to earn income while you sleep.  More than that you'll have an asset that you own that may come to pay you for years to come.
Ready to start your course business today?  Sign up for Thinkific now and your future self will thank you.
Cheers!
BTW – If you have any questions what so ever about Thinkific just let me know in the comments section below and I would be happy to help.
Thinkific Alternatives
Considering an alternative to Thinkific?  Below are 3 Thinkific alternatives you may not have considered.
#1 Teachable
The first option is Teachable.  This platform has a lot in common with Thinkific such as the look and feel, the feature such as being able to do upsells, and they also have a free plan for those looking to bootstrap their business.
Related Article: Thinkific vs Teachable – A Complete Comparison Chart
In all Teachable is easy to get started with and they carry a full range of features to help you promote and grow your own side business creating online courses.
Click here to sign up for Teachable now
#2 Kajabi
Next, we have Kajabi, also known as New Kajabi.  This platform is designed to be an all in one solution for your course creation business.  This platform does everything from hosting your course, manage your email list, to running webinars.
Related Article:  Teachable vs Kajabi – A Complete Comparison Chart + Major Differences
When it comes down to it Kajabi solves a major problem for course creators.  Instead of trying to piece together multiple tools and plugins you can have just one tool that does it all and know that it will always work.  The only downside is that it cost a bit more starting at a $129 a month.
Click here to sign up for Kajabi
#3 Teachery
The final alternative to Thinkific is a platform called Teachery.  Similar to Thinkific this platform is very simple and easy to use.  However, it doesn't have all the features that Teachable does like upselling, drip content, or even setting up an affiliate program for your course.
Related Article: Teachery vs Teachable – 10 Major Differences + A Complete Comparison Chart
Another downside to Teachery is that they don't host your content.  So if you have a pdf, audio, or video to share in your course you'll need to host it on YouTube, Vimeo, or some other hosting provider.  On top of that, they also charge $49 a month.
Click here to get a free 14-day trial
Are you considering any of these Thinkific Alternatives?