Teachable vs Ruzuku – A Complete Comparison Chart + 13 Major Differences
Considering Teachable vs Ruzuku?
Starting your own course business and teaching others is a great way to earn extra income online.  Whether you've learned some basic skills and work that you want to teach or a hobby that you want to show others how to do these platforms can be a great way to get started.
The thing is both platforms have some big differences and in this article, I'm going to share exactly what they are.
Before You Start…
However, before we start there are a few things you should know.
First, I am an affiliate of Teachable and will earn a commission if you sign up through my affiliate link.  This will in no way affect the cost, however, if you do decide to buy through my link I just want to say thank you in advance for your support.  I really do appreciate it.
Second, my goal is not to promote one product over the other but rather just give you the facts and let you decide which fits your situation better.
Finally, take some time for yourself to review each product thoroughly.  Just because I say one product is the winner does not mean that it's the winner for you.   So take your time, review both platforms and pick the one you like best.
With that said let's get started.
Teachable vs Ruzuku – A Complete Comparison Chart
In the chart below I touch on 36 various points for you to consider, however, you'll want to stick around and check out the 13 major differences between Teachable and Ruzuku after the chart plus I'll also share who the winner is.
[table id=8 /]
13 Major Differences Between Teachable and Ruzuku
Now that you've had a chance to compare Teachable and Ruzuku I've come up with 13 major differences or you to consider before you choose one platform over the other.
#1 No Subscription or Payment Plans
To start Ruzuku doesn't offer doesn't offer multiple payment plans on their NewComer Plan.  This basically means you won't be able to offer subscription plans or fixed payment plans unless you are on the Up-and-Comer Plan or higher.
With Teachable you have the ability to do this from day one even if you have the free plan.  Why Ruzuku decided to uphold this feature is kind of odd but I guess it's how they get you to sign up for the higher plans.
#2  Dedicated Account Manager
One thing I do like that Ruzuku does is that they do offer a dedicated account manager but you will have to sign up for the University Plan which is the highest costing plan.
With Teachable they offer on-boarding calls when you sign up for the Professional Plan or higher.  You won't get a dedicated account manager but the onboarding calls last for 8 weeks and can be very useful if your brand new to all of this.
#3 Site Design
Ruzuku also gives you limited ability to design.  From what I have seen so far Ruzuku's site design is very basic and limiting.  In fact, they don't even give you any HTML or CSS options which means you're pretty much stuck with whatever they give you.
On top of that, I feel that Teachable's design is much more appealing versus Ruzuku.  It looks professional and top notch which can go a long way to selling more courses in the end.  To give you an idea of what these courses look like I grabbed a few screenshots to show you what I'm talking about.
First, this is a screenshot of a course Ruzuku is sharing.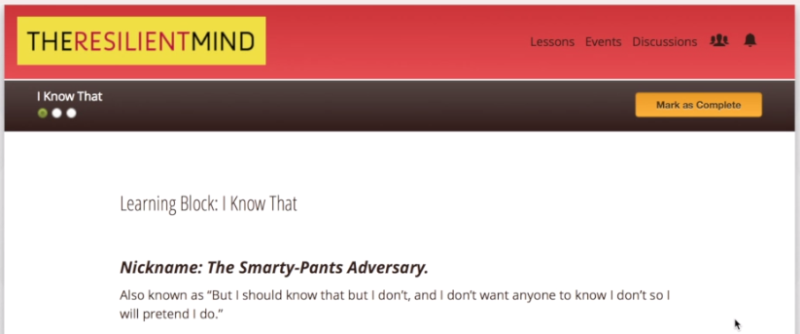 Now let's take a look at a sample course I created in Teachable in just a few minutes of my time.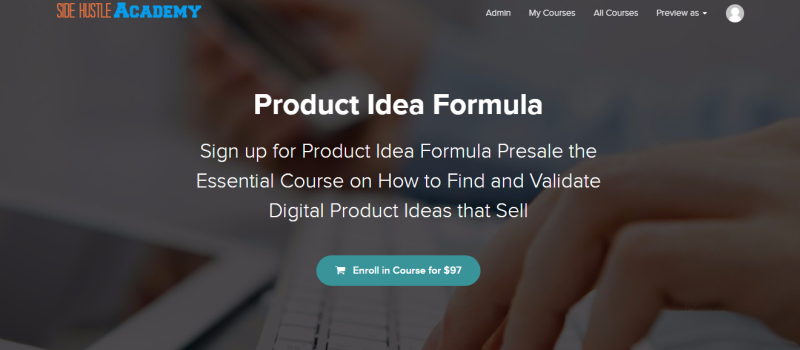 As you can see the Teachable course looks far more eye-catching than the Ruzuku course.
#4 Custom Domain Names
Another small issue I found with Ruzuku was that they don't allow you to set a custom domain name for your school.  Whereas when you sign up for the Basic Plan with Teachable you'll have the ability to do this.  So instead of getting a URL that looks like this…
myawesomeschool.ruzuku.com
You can get a domain name that looks more like this…
MyAwesomeSchool.com
Simple branding like this makes things look more professional and trustworthy.  However there is one way to work around this, and that is to buy a domain name and simply point it to the page you want it to link to, and voila!
#5 Affiliate Program
Ruzuku also does not offer you the ability to set up an affiliate program with your courses either.  An affiliate program gives you the ability to let other people promote and sell your courses.  Then when someone clicks your link and buys they'll earn a portion of the sale for their marketing efforts.
With Teachable, they allow you not only to offer an affiliate program but also to determine how much you want to payout to your affiliates when they make a sale.  So if you sell a course for $100 and your affiliate program gives 40% your affiliate will earn $40 and you will earn $60.
Not bad since you didn't have to do any of the marketing and you collected $60 for doing nothing more than offering the opportunity.
#6 Course Bundles
Teachable also gives you the option to bundle courses together to earn more per sale.  For example, let's say you have a beginner's course on learning Quickbooks, but you also have an intermediate and advanced course as well.
You could offer all 3 courses at a bundled price that would be slightly lower than buying all three courses separately.  In the end, this means more money in your pocket and a way to earn more money per sale.
#7 One-Click Upsells
Another marketing feature Teachable offers is the ability to do upsells.  Upsells offer you the ability to link related products together to earn more per sale.  This is similar to bundling but lets you sell them one at a time.
For example, if you have a course on how to set up your email list you could create an upsell of 10 proven email templates that will make you more sales, or you could offer a 3-month live coaching session to help people get started.
The opportunities are endless here, the only thing is Ruzuku does not offer this feature.  So if this is something you want the ability to offer then you need to choose the right platform upfront.
#8 No Free Plan
When it comes to free plans Teachable and Ruzuku go about this in two very different ways. First off, Ruzuku only offers a 14-day free trial offer.  In other words, you get to try it out for 14 days free and if you don't like it you can quit and you won't owe a cent.
With Teachable they offer a free plan that allows you to get started without paying a monthly fee so you can get your first course up and going and earn a few bucks before you decide to step things up to a paid plan.
#9  Education
One area that I am very critical of when it comes to joining a learning management platform is the education side of things.  For a lot of people, they've never created a course before and little guidance would go a long way.
Unfortunately, Ruzuku doesn't offer this option which is a huge downside for them.  On the other hand, when you sign up for Teachable Professional Plan you will also get access to a course called The Profitable Teacher that will show you step-by-step how to create a rock-solid course that sells.
You'll also get access to 8 weeks of onboarding calls to help you get up and running fast.
#10 App
Another area I see a lot of platforms missing out on is not having an app.  The only platform I know of that has one is Teachable.  Today everything is trending towards mobile and having an app for your students to quickly access your course is a great way to get people coming back more.
I have the Teachable app on my phone and I've found it even easier to get back to more course that I'm on.  I don't have to deal with finding the time to get in front of my computer, logging in to learn something.  Rather I can take my courses with me almost anywhere.
I could be waiting at school to pick my kids up, sitting at the doctor's office, or even just relaxing on my front porch.  The point is with an app you can learn anywhere.
#11 Transaction Fees
One area Ruzuku does beat Teachable is that they don't charge a transaction fee.  Teachable charges a transaction fee for two of their plans.
Free Plan – 10% + $1 per transaction
Basic Plan – 5% per transaction
However, the reason Teachable does this is to offset the cost and keep their monthly plan fees cheaper.  I'll talk more about this in a little bit.
Even though Ruzuku doesn't charge a transaction fee they do require you to pay a monthly fee and as a result, the cost is much higher.
#12 Webinars and Live Classes
Ruzuku also offers the ability to do webinars and host live classes. So if you want to host a course in real-time, record it, and sell it on your site you can do it. You can also do things like hold Office Hours where you jump on a webinar and answer questions people might have.
The options for doing webinars and live classes are literally endless. Teachable on the other hand does not offer this option but my hope is that they will offer this at some point.
#13 The Cost
Finally, the biggest difference that you may be considering is the cost, and both Ruzuku and Teachable have very different pricing structures. Besides the free plan here are how they compare.
Teachable Pricing Plans
Basic Plan – $39/month or $399/year
Pro Plan – $99/month or $999/year
Teachable  High  Volume Pan – $299/month or $2999/year
Ruzuku Pricing Plans
Bootstrapper $99/month or $879/year
Up-and-Comer $149/month or $999.96/year
University $199/month or $1500/year
And The Winner Is…
And the winner is Teachable.  When it comes down to it Teachable is the best option.  It offers everything from being able to market your course from offering an affiliate program to offering course bundles, to doing upsells.
Sure Teachable does charge a transaction fee on their Free and Basic Plans but that's a small price to pay for the lower monthly cost and most of all I just feel Teachable sites just look better versus Ruzuku.
So what are you waiting for, get your course business started today and you'll be taking your first steps towards a prosperous future.