Flipped Lifestyle Membership Review- 12-Point Review (2023)
Starting your membership is not something you can do without help. That's why I'm a member of Flip Your Life.
Flip Your Life is a membership community designed to help you start, run, and grow your membership community. With a complete A to Z course, members forum, and live Q and A webinars run by Shane and Jocelyn Sams.
Click Here to Sign up for a Free 30 Day Trial Now
I even had a chance to meet Shane and Jocelyn at one of their live events, and I was amazed at how honest and down-to-earth they were. So if you're looking to start your membership program, keep reading.
Disclaimer: I am not an affiliate of the Flip Lifestyle Membership. I will not earn a commission from this review.
12-Point In-Depth Review of Flip Your Life
Starting an online membership is a great way to earn an income online. If you've been following their podcast, The Flipped Lifestyle Podcast, you know that Shane often says…
All you need is 100 people to pay you $50 a month to earn $60,000 a year. – Shane Sams
And that is what makes the opportunity so unique. I've been doing online side gigs for the last 12 years, and nothing earns you an income faster than a recurring income.
You don't have to constantly find new people to keep paying you to buy your products. Instead, you need to find a handful of people to pay you every month to earn a high income online.
I've found this to be true in my own business as well. The affiliate programs I prefer best pay reoccurring commissions because they pay month after month as long as they are a customer.
So after being a member for nearly two years, I will share my 12-point in-depth review of this program and why you should consider joining.
By the way, if you want to check it out, you can sign up for a FREE 30 Day Trial by clicking here now.
1. The Dashboard
The dashboard is the first thing you come to when you sign up for the Flip Your Life Membership.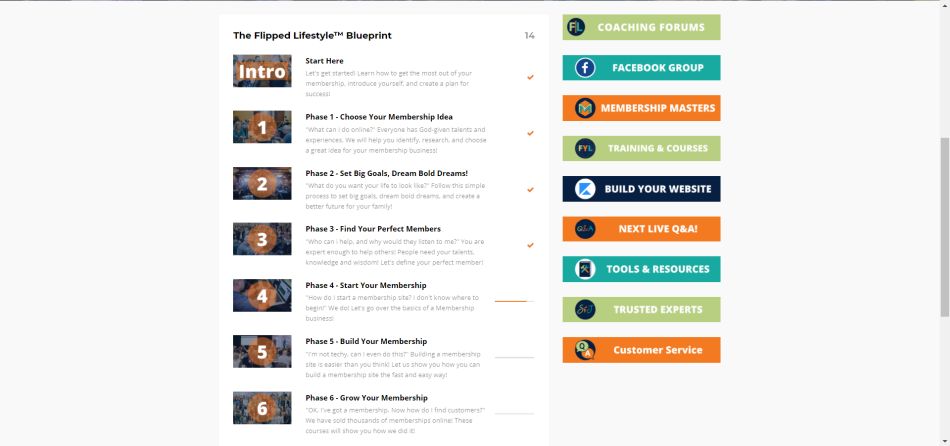 What I like about it so much is that they have everything all laid out for you in one friendly and convenient place.
If I want to access forums, they are right there.
If you want to access the courses, they are right there.
If you want to sign up for the following monthly Q&A, it's right there.
You don't have to meander through many things to find things. I know this because I've joined many different membership programs over the years and wouldn't believe how difficult some will make it to find things inside the community.
2. The Blueprint
The core part of the entire membership is the Flip Your Life Blueprint. You need to follow these lessons and courses to build a thriving membership.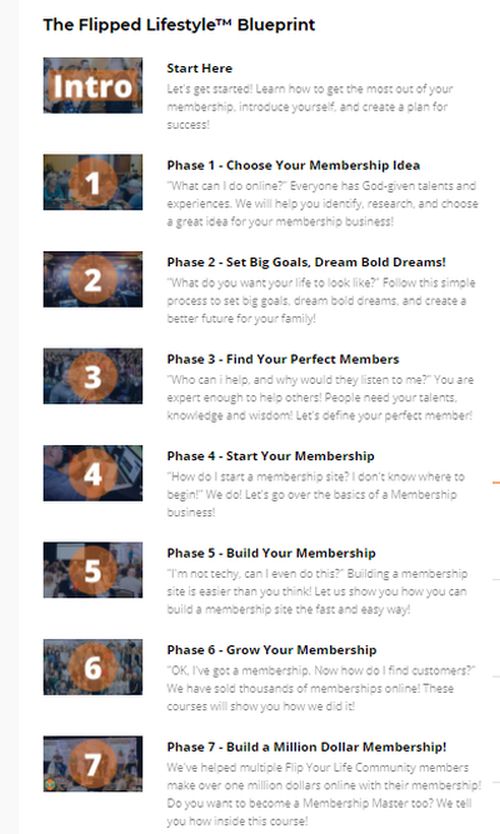 What I like about the blueprint is that they break things down into phases giving you an order to how things should be done. I can't tell you how many memberships I've participated in that don't do this.
Many memberships will have random courses in the membership with no clear path. Flip Your Life goes further and even breaks each phase into multiple steps.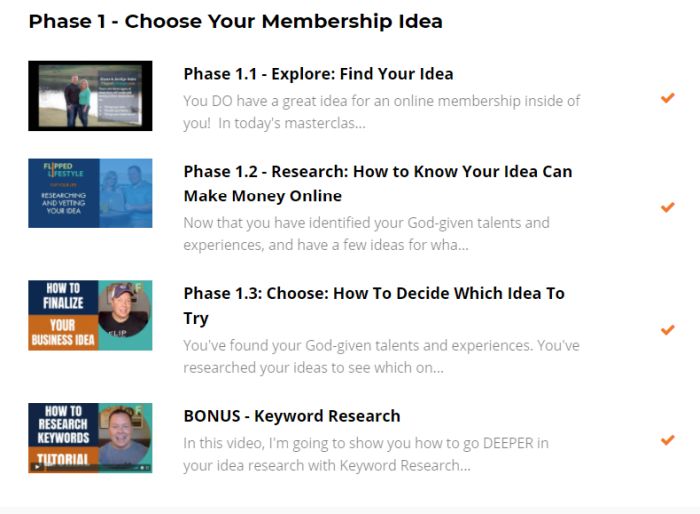 To keep this honest, one downside I find to the membership is that they don't get as detailed as I would like when setting things up.
For example, I would like more detail when setting things up in my membership, where they more or less leave that up to you as the creator.

That might work if you're using something like Kajabi, which is pretty intuitive, but if you're setting your membership up on WordPress, you might find it a bit overwhelming, as I did.
3. Down-to-Earth People
When most people think of online membership, we often think about the courses, the forum, and live member calls, but what about the people that run the membership?
This is one of the most critical things to look at. Now I had a chance to meet Shane and Jocelyn at their last live event in Lexington, Kentucky, in 2019, and I was so amazed at how down-to-earth they were.
When investing in a course or membership, I want to learn about the people who run it. So before I bought the membership, I listened to their podcast, checked out their YouTube channel, and listened to recent podcast interviews of them.
I do this to see if they are like me and hold my values. This shows me they are honest and, more importantly, like me.
They aren't showing off their big house, their Lamborghini, or how they live on a beach in Asia. No, they live in a small town in Kentucky, and they have kids just like me.
4. Take it With You
In March 2020, the Flip Your Life Community made a significant change. They moved from WordPress to Kajabi. If you're unfamiliar with Kajabi, it's an all-in-one platform to build a membership or sell courses and digital products.
The great thing about all this is that the Kajabi platform offers a mobile app that allows you to access the membership anytime.
So, whether you are sitting at the doctor's office or on a break at work, you can keep learning.
5. Community Forums
Next up is the community forums that Flip Your Life offers. The forums are a great place to get your questions answered whenever you have them.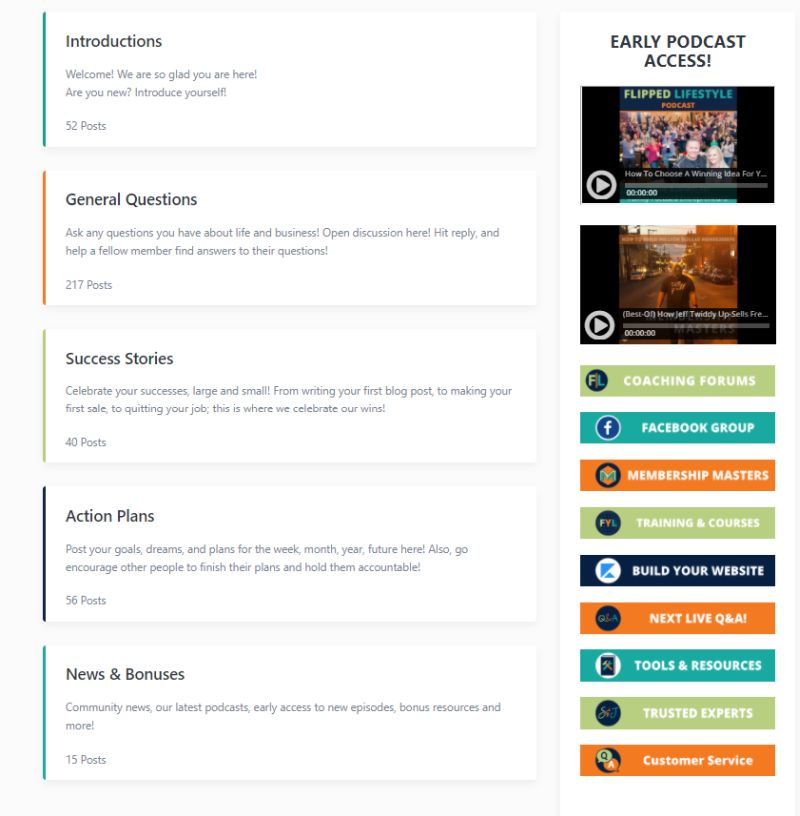 The Flip Your Life Forum gives you five primary areas to ask questions. The first forum is the Introduction forum. This is a great way to break the ice and start talking to people.
The second is General Questions. This is a great place to ask all your questions as you grow your membership.
Third is the Success Stories. If you have any success, this is a great way to share that success with others.
Fourth is the Action Pans forum. This is where you share your weekly action plans with everyone else and hold yourself accountable.
Fifth and finally, is the News and Bonuses. This is a great place to discover what's happening in the membership.
6. Live Member Calls
One of my favorite Flip Your Life Membership parts is the Live Member Calls. This is where you get to ask Shane and Jocelyn questions on a live Zoom webinar.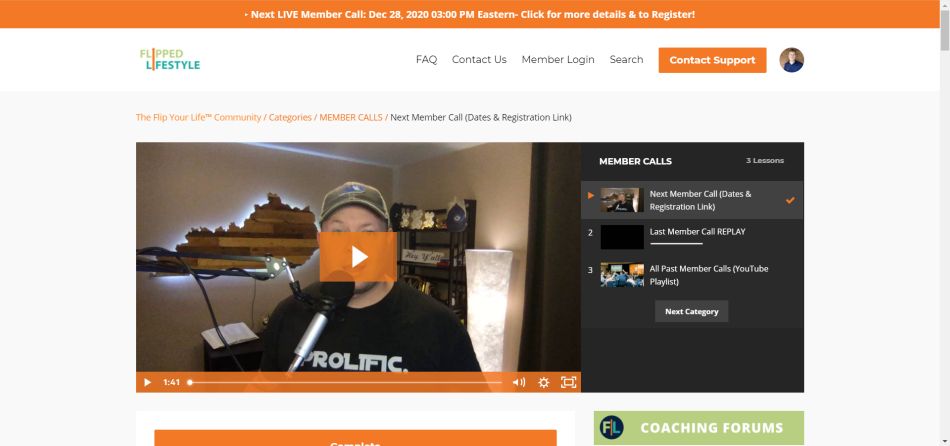 On top of that, all of the live member calls are recorded, so you can go back and listen to them at any time you want.
So even if you can't make it on the call, you can still watch it later. They also like to do these calls at different times of the day. For example, their next one is at 3 pm on a Wednesday.
This way, they can do it at a more suitable time if you are in different parts of the world.
7. On-Boarding
The Flip Your Life Community also does a great job of onboarding members. It can be a bit overwhelming when you're new to a community like this.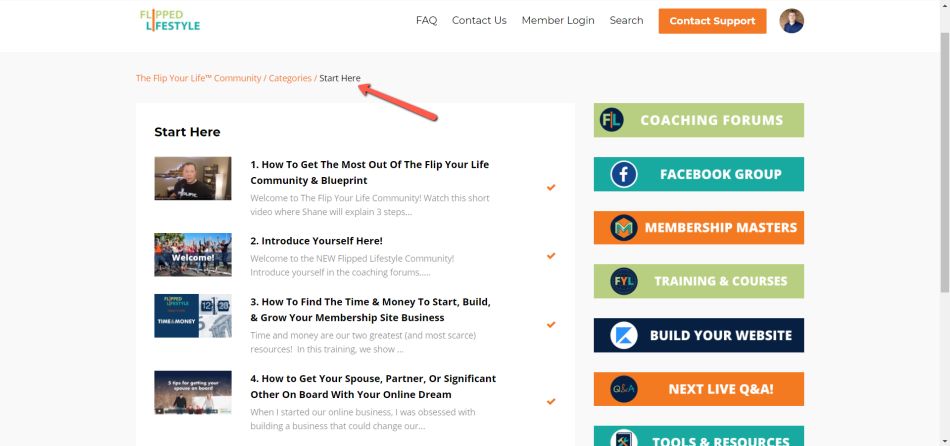 Here they show you how to get the most out of the community, introduce yourself, how to find the money and time as you're getting started, and how get your spouse on board with your online business.
I think Shane does a great job of easing you into things rather than hitting you up with a lot of technical stuff or products you need to buy.
8. Customer Service
Customer service is also a big deal when it comes to membership. I used this a few times as a member myself. The great thing is that they put a big orange button at the top so you can always get help.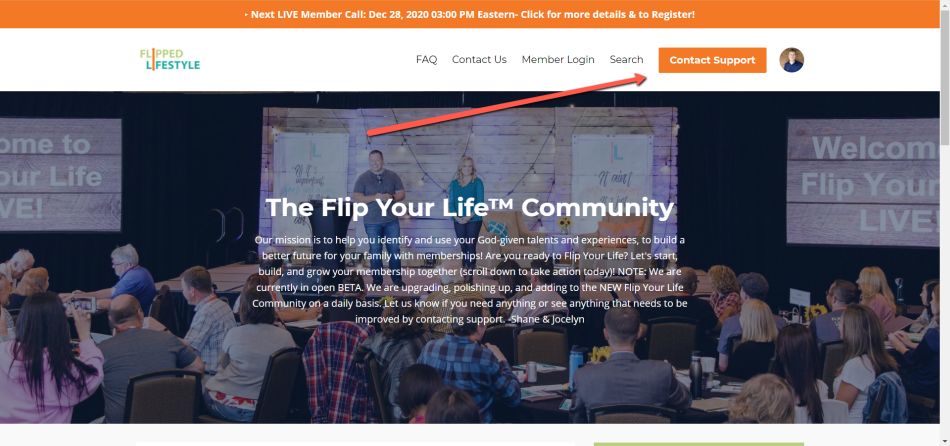 Support is excellent for helping you with billing issues with a faulty video.
One time, when I switched from the old membership platform on WordPress to the new Kajabi platform, they accidentally charged me for a monthly subscription.
I immediately contacted support; they took care of it for me, no questions asked. So when it comes to support, they are on it.
9. Going Beyond the Membership
You are wrong if you think Flip Your Life starts and ends with a membership. They go way beyond the membership.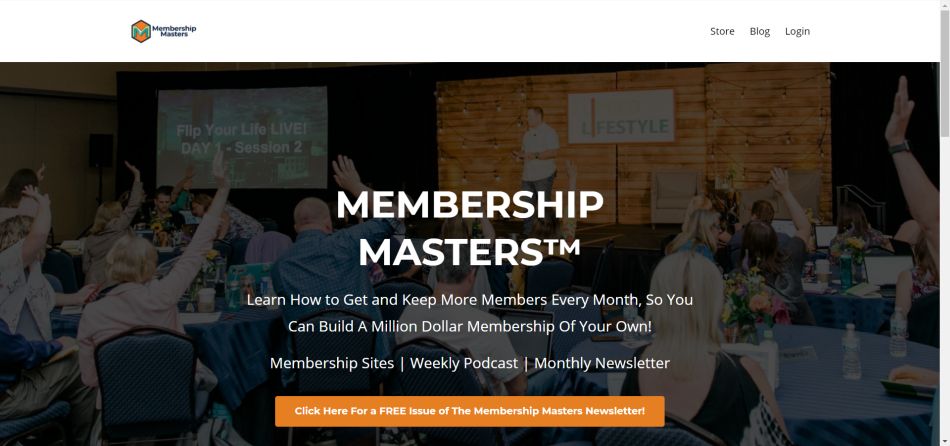 First, they offer Membership Masters. This is a community that goes beyond flipping your life and helps you grow to a million-dollar membership. Here are just a few things they offer.
Membership Masters Podcast – A podcast where Shane interviews the top people growing their memberships to a million-dollar business.
Membership Masters Newsletter – This paid print monthly newsletter gives you all the latest tips and advice and a complete monthly marketing calendar for promoting your membership community.
High-End Training – They also do a high-end training package where they help you tweak your membership and grow it to a million-dollar membership.
Finally, they also offer live events. As of right now, they've only done two live events.
One in Nashville in 2018 and one in Lexington in 2019. Even if you are not a member, I highly recommend this event when they offer it.
Side Note: Membership Masters does not exist anymore.
10. 30-Day Free Trial
One of the nice things about this membership is that they offer a free trial for 30 days to kick the tires and see if this is the thing for you.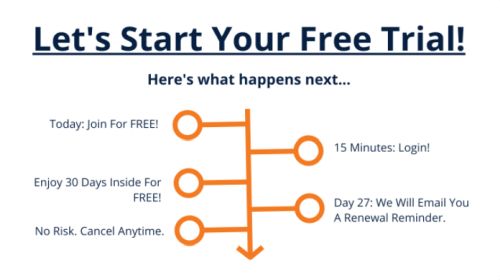 This is a great way to get started and see if this is all for you. If you don't like it at the end of 30 days, you can cancel. However, to complete the purchase, you must input your credit card or PayPal details to get the free trial.
11. Refund Policy
Now you might wonder if you sign up will you get a refund if you do pay and decide to quit the answer is no.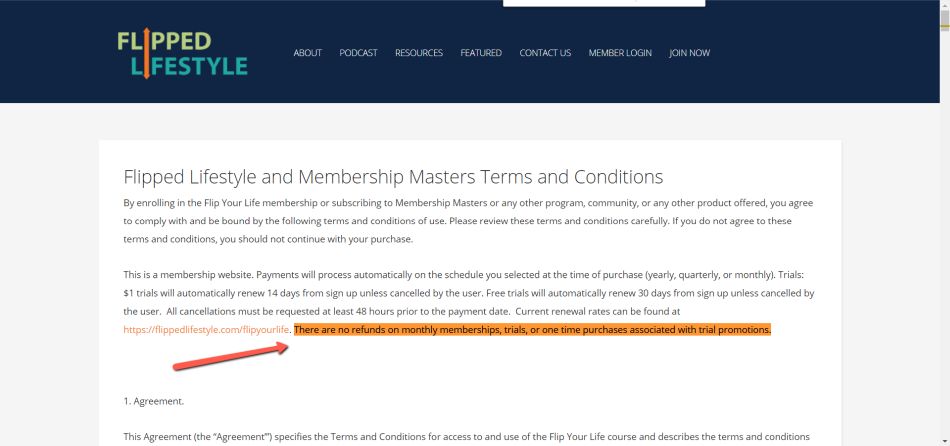 According to Flipped Lifestyles' refund policy, they do not offer any refunds on their monthly and annual memberships and their trials.
Honestly, I can see why they do this. If you get a free trial and haven't made your mind up by 30 days, you probably didn't spend the time to check it all out.
So now that they don't offer refunds upfront, but you can cancel anytime.
12. The Price
Finally, the last question you might be wondering is how much this costs. To be honest, the price does vary on a few things.
The typical going monthly price is $99/month, but you can get a 20% discount if you buy annually.
However, Flip Your Life does run special deals throughout the year. So ensure you also sign up for their email list to access those.
To Get Started, Click Here Now to Get Your Free 30-Day Trial.