3 Best Platforms to Sell Digital Products (2023)
Want to create a digital product but not sure how to sell it online?
Choosing the best one can be challenging with all the online digital product platforms. To help you, I've ranked and reviewed the top three Best Platforms to Sell Digital Products on.
Best Free Option

Thinkific
Create one digital product and one community for free with unlimited students at no cost.
Important: We're reader-supported. We may earn an affiliate commission when you buy through links on our site.
Why You Should Trust Side Hustle Academy
With Side Hustle Academy, we take the time to learn every platform and tool before we write a review about it. This saves you time and money, so you can see the best platforms to sell digital products at a glance.
We also take the time to update our reviews regularly so you are getting the latest information and features, not a five-year-old review.
Finally, you get my 15+ years of experience being a blogger and using many of the tools I discuss in these articles.
3 Best Platforms to Sell Digital Products
If you're looking for the best platforms to sell digital products on, you will get a complete list of places to start selling your digital products in this article.
So whether you have a course, ebook, or anything else you want to sell, these platforms can be just what you need to start your digital product business.
1. SamCart – Best Overall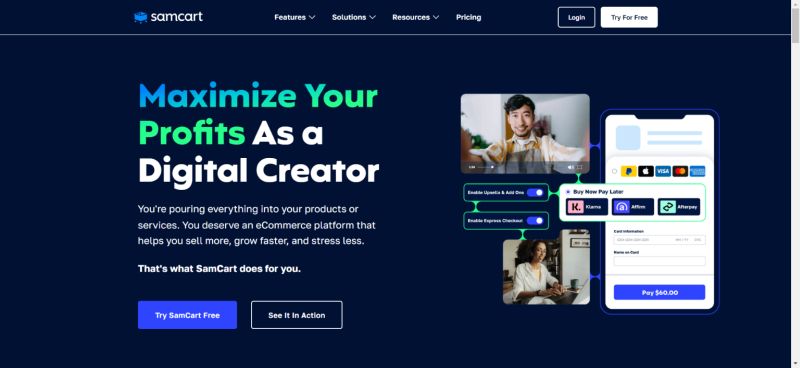 SamCart is the best platform to sell digital products on. SamCart is constantly innovating and adding new features, more than any other platform on the market.
If you want a platform with all the features, gives you that professional look, and maximizes your profits as a digital creator, then look no further.
Here are some top features and benefits when you sign up with SamCart.
SamCart Features & Benefits
So what does SamCart have to offer? Below are several top features when you sign up with SamCart.
Sell Multiple Types of Products

The best part about SamCart is that it allows you to sell any product. This includes eBooks, online courses, memberships, coaching programs, or physical products.
You can even host your course videos on SamCart and any other digital product. SamCart is the all-in-one platform you'll need.
One Click Upsells and Order Bumps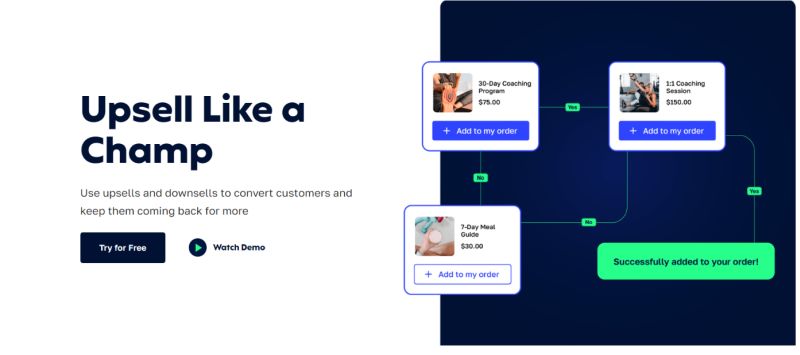 To earn more as a digital product creator, you need SamCarts one-click upsells and order bumps.
What is an order bump or upsell?
An order bump is an additional product you sell on your checkout page. This might be an extra product related to the product they're buying, such as an eBook. The best part is your customers click a button on the checkout page, which will automatically be added to their cart.
An Upsell is a product that is offered once the sale is complete. However, now that the sale is complete SamCart will have their payment details, and all your customer has to do is click a button, and the sale is complete.
SamCart says you will increase sales by 30% by adding order bumps and upselling in your checkout process.
Create a Customized Checkout Experience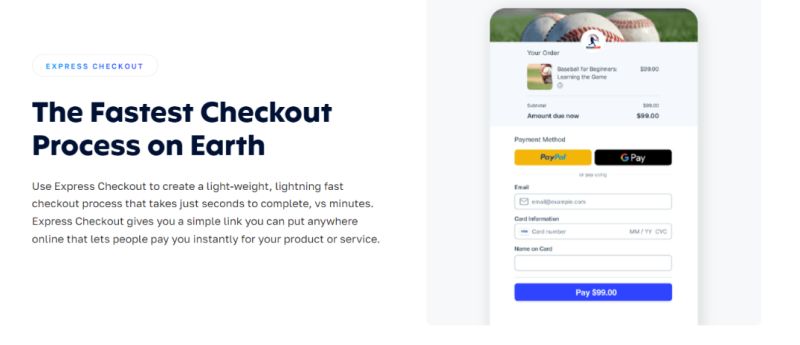 SamCart also allows you to customize your checkout experience. Other platforms have bloated checkout processes asking for everything under the sun, from name, email, address, phone number, credit card info, and who knows what else.
The problem with this is that it decreases the conversion rate and will cost you sales. With SamCart, you can decide what information you want to collect.
For example, you can ask for your name, email, and payment details, and you're ready.
On top of that, you can also do embedded checkout, where you embed your checkout page on your blog. For example, if you have a blog post about how to swing a golf club, you could embed your ebook on how to swing a golf club checkout page in the article.
Finally, you could do a pop-up checkout page. Instead of going to a completely different page on your site to checkout, you could do it right on your page with a quick pop-up.
Drag and Drop Sales Pages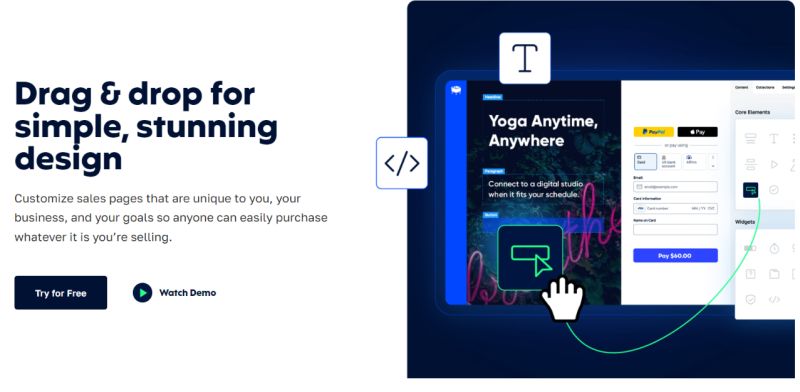 If you are not a tech person, you'll love SamCart's drag-and-drop sales page editor, making page creation simple and fast.
For most people, you'll have to hire someone to design a great-looking sales page, but with the drag-and-drop editor, you can do it all yourself.
SamCart also has tons of sales page templates for you to use. Just click on the one you want to use and customize it, and you're ready to go.
Multiple Payment Options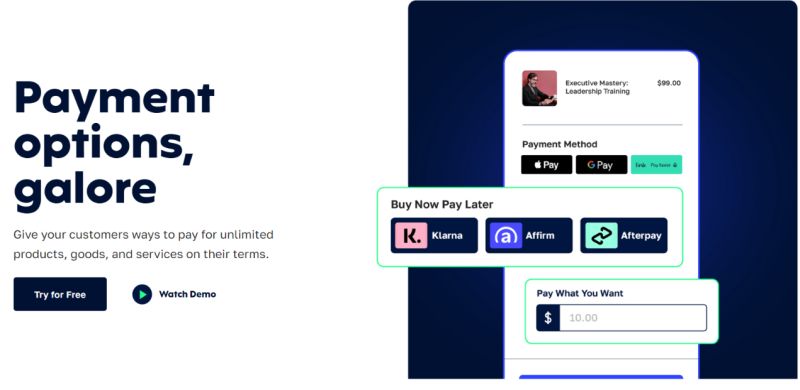 With most digital product platforms, you typically only have a few options, credit card or PayPal. With SamCart, you have many payment options, from Apple Pay to G Pay and more.
On top of that, you can also buy now and pay later with options like Klarna, Affirm, or Afterpay.
Having more payment of options means a higher conversion rate in the end.
Auto Enroll Technology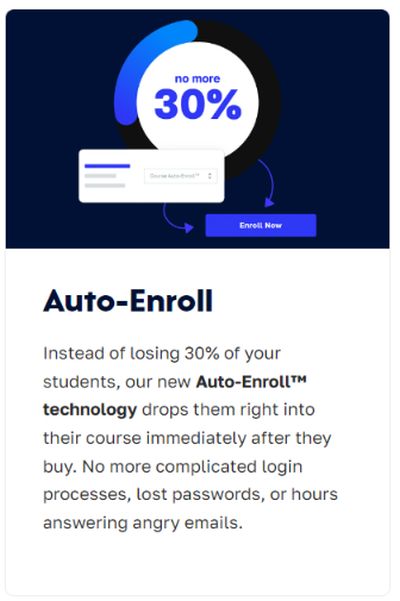 SamCart also has a friendly auto-enroll technology that allows your students to sign in and get access quickly.
Once students buy your course, they get access to it immediately without having to deal with coming up with passwords and all the other details that hold them back from signing up.
Having this one feature will save you from losing 30% of your students
Cross-Sell Courses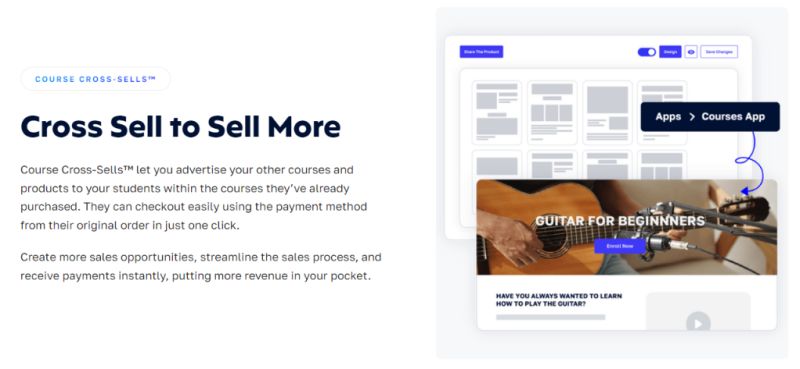 Once you have students, you'll likely want to sell them other products you have. With SamCarts Cross-Sells technology, they sell your other courses right in your student's dashboard.
Best of all, they only have to click one button, and SamCart can use the payment details already on file to pay for the course.
Abandon Cart Technology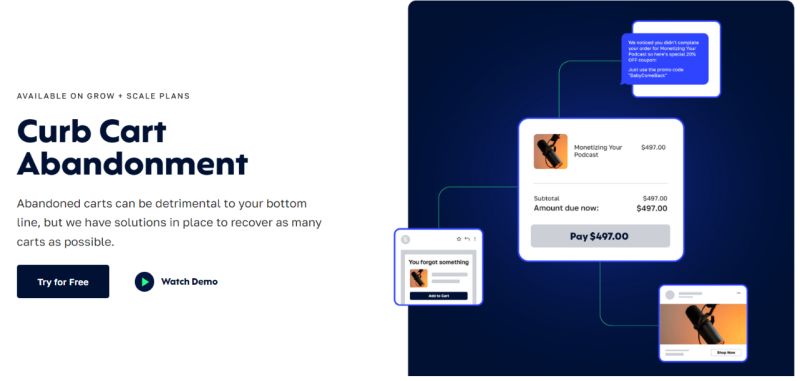 One downside to selling digital products is that people will abandon their carts from time to time for various reasons. It could have been that they didn't have their credit card, or a phone call came in, or they just forgot about it.
With SamCars Abandon Cart Technology, they will automatically send an email to the customer with a link back to their shopping cart so they can finish completing the order.
Advanced Reporting and Analytics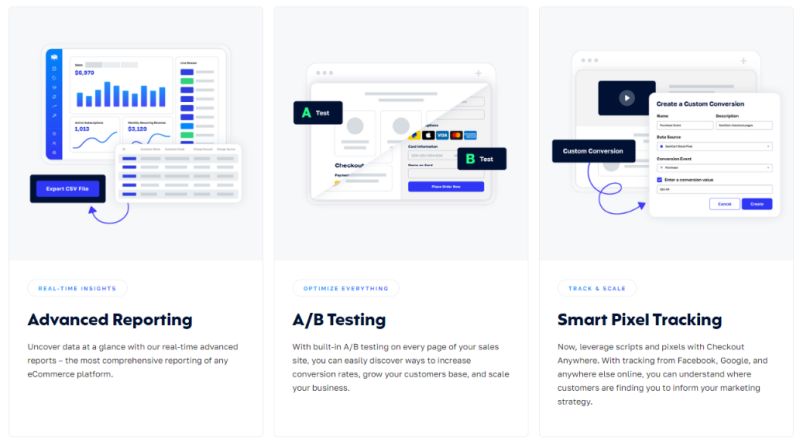 Finally, SamCart's advanced reporting and analytics allow you to see how much you earn from your digital products and what products are the most popular.
You can also do A/B Testing to see which sales pages convert better, what checkout pages convert better, and scale your business.
Finally, you have Smart Pixel Tracking that will let you track all checkout pages not just on SamCart, but also on Facebook and your blog.
SamCart Pros and Cons
Pros
Cons
Sell Multiple Types of Products, from eBooks,
Courses, to Full on Membership Sites
High Monthly Cost to Get the Best Features
One-Click Upsells and Order Bumps to
Increase Profits
It can Be a Bit Overwhelming for a Beginner
With So Many Product Features
Use CreatorU to Accelerate Learning Curve
Extra Monthly Cost to Join Creator U
7-Day Free Trial Offer
Multiple Payment Methods from PayPal,
Apple Pay and more
Customizable Checkout Pages
Advanced Reporting, A/B Testing,
and Smart Pixel Tracking
Abandon Cart Recovery
Advertise Your Other Courses with
Course Cross-Sells
Get Students in Your Courses Fast
with Auto-Enroll Technology
SamCart Pros and Cons
SamCart Pricing
So how much does SamCart Cost? Here is a quick breakdown of the monthly and annual costs of SamCart. You can also get a FREE 7-Day Trial by signing up now.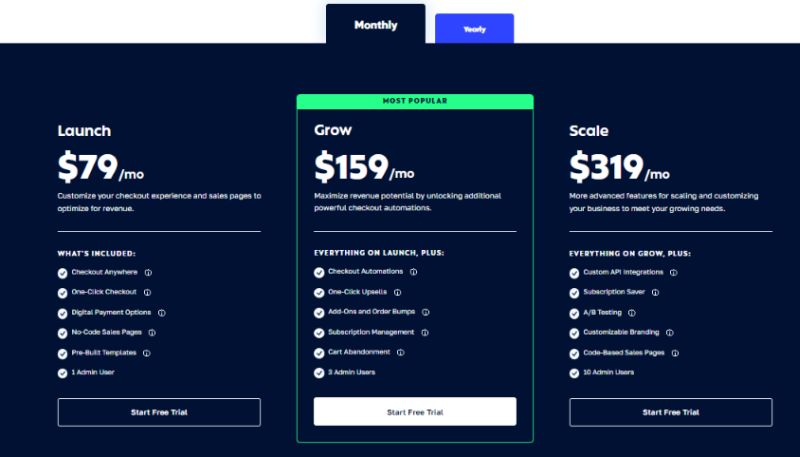 Here is a quick breakdown of SamCarts monthly prices.
Launch Plan – $79/month.
Grow Plan – $159/month.
Scale Plan – $319/month.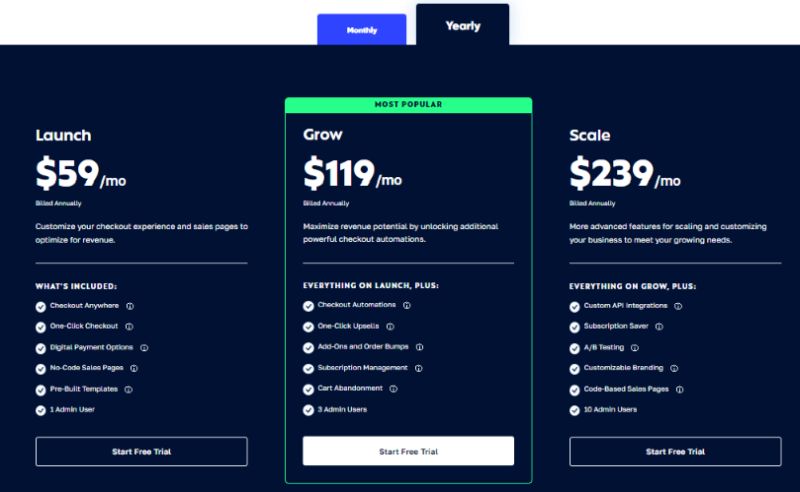 When you sign up for the annual plan, you save 25% of the average monthly cost of SamCart.
Here is a quick breakdown of SamCart's annual prices.
Launch Plan – $59/month or $708/annually.
Grow Plan – $119/month or $1428/annually.
Scale Plan – $239/month or $2868/ annually.
Final Thoughts on SamCart
Overall, SamCart looks excellent. It gives you that professional feel that none of the other platforms do. It also has all the features to ramp up your business, from order bumps to upsells that will only increase your profits.
No other platform on the market can do what SamCart does. You can sell any product, from digital ebooks and courses to physical products.
2. Thinkific – Best Free Option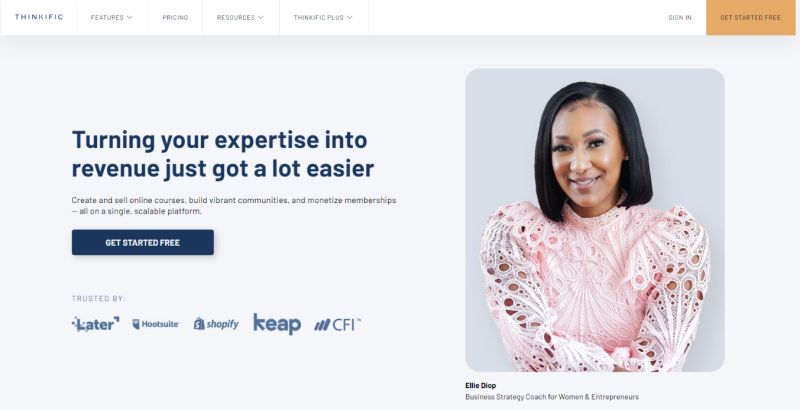 Thinkific is the best free option available today to sell your digital products. If you're looking to bootstrap your digital product business, Thinkific is the way to go.
Get the features, benefits, pros, cons, pricing details, and how to get started for free below.
Thinkific Features and Benefits
Thinkific has many features and benefits. Below are some of the top features and benefits that come with Thinkific.
Create Branded Digital Products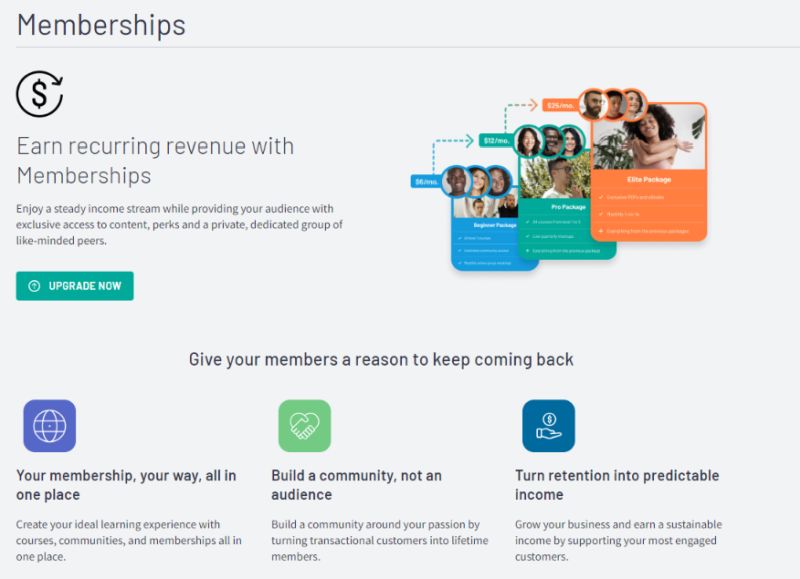 Thinkific offers several product options that you can create on this platform. You can create courses, communities, memberships, and even product bundles.
On the downside, they don't have the option to create digital downloads or coaching packages, but that does not mean you can't offer them.
To sell a digital download by creating a course and uploading it to Thinkific. This works great for building up opt-ins or selling an initial offer to your students and later getting them to buy higher-priced products.
To sell coaching plans with Thinkific, you'll have to go to the Thinkifics app store and integrate Zoom. This will allow you to set up live coaching calls with your students and talk to them in one-on-one or group coaching.
Create Full Communities for Your Students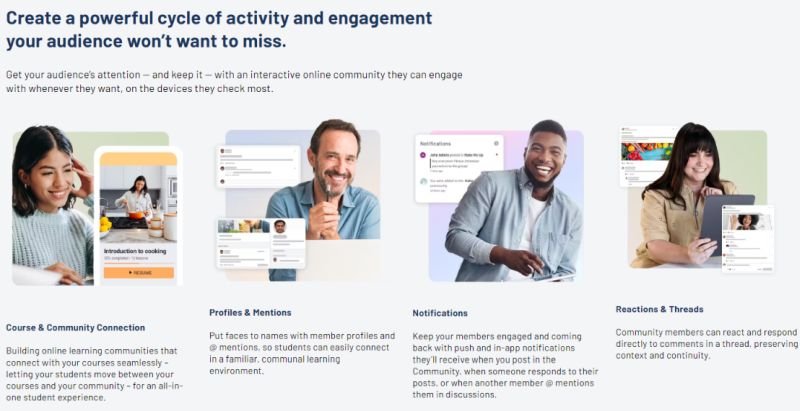 Next, you can also create a full-on community inside your business. You can even sell the community as a membership add-on to your existing students or connect them seamlessly.
This lets you keep your community connected and talk with mentions and notifications. If you're looking for a community in a platform, Thinkific is the best option.
Branded Mobile App

If you want to engage your student on their mobile devices, Thinkific has you covered. They now offer a wholly branded mobile app option that they create for you.
This will allow your students to consume your courses, digital downloads, and coaching programs all on the go. So no matter where your students are, they can access you using an app on their phone or tablet.
Integration Apps
The Thinkific app store allows you to customize your online learning experience in any way you want.
For example, you could integrate Zoom to add group coaching. If you want a robust way to email your students, you can connect them to Convertkit. You can even connect Facebook and Google Analytics.
Thinkific is not an all-in-one platform, but you can add almost anything you want to it using Zapier to make it what you want.
Accelerator Program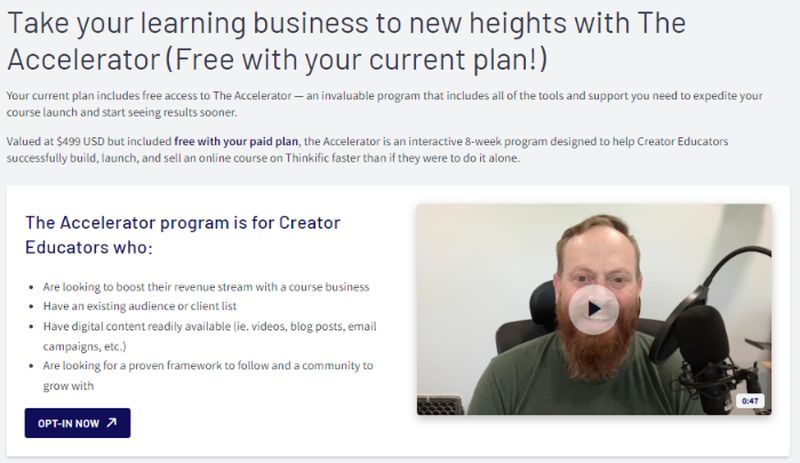 When you sign up for any paid plan, you can access Thinkifics 8-week Accelerator Program.
This program is designed to help you get your course built, launched, and make sales over the next eight weeks. This course is worth $499, but when you sign up for any paid account, you get free access to this program.
What makes this so great is that you don't have to go alone to build your first course. You get a course and support to help you get your first course live and make your first sales.
Analytics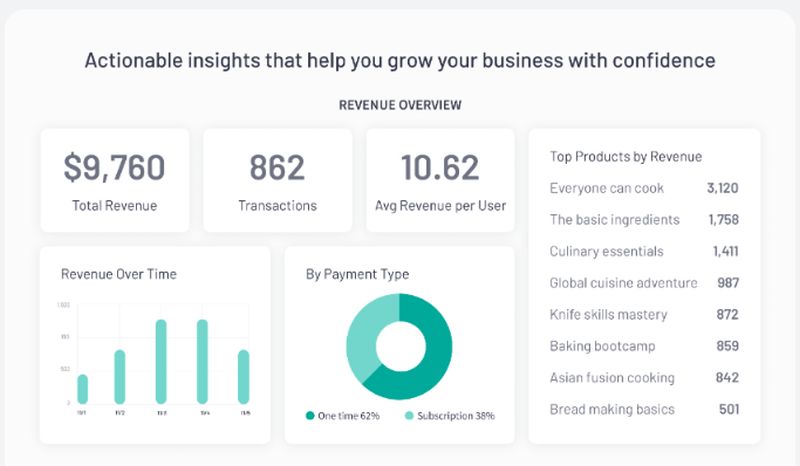 Finally, it has robust analytics to tell you everything you need about your digital product business. With Thinkific analytics, you can see revenue totals, which courses make the most sales, and even how much you earn per user.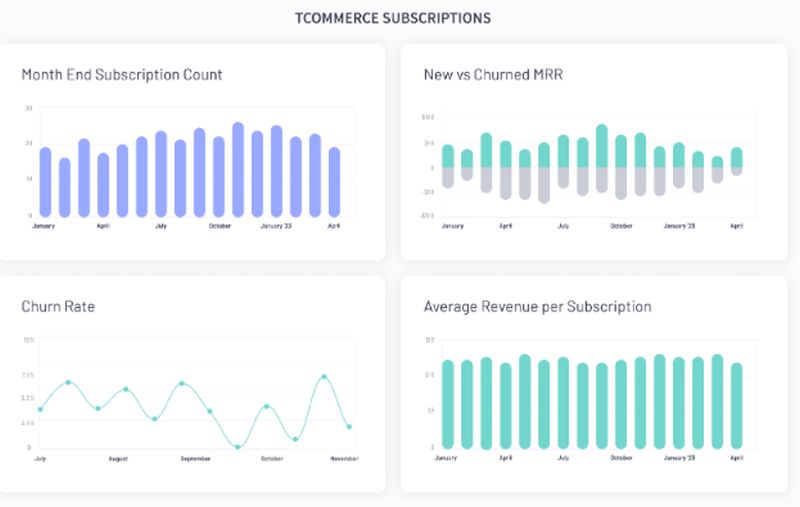 And if you have a TCommerce subscription, you can learn more about your students who are enrolled in your subscription-based products, such as churn rate, new vs churned monthly recurring revenue (MRR), and average subscription per revenue.
Thinkific Pros and Cons
Pros
Cons
Free to Get Started With Thinkinfic
Can Only Create and Sell
1 Course with Free Plan
Get a Branded App for Your Course Business
Branded App Cost $199/month Extra
Create Branded Communities for Your
Students to Collaborate
Can Only Create 1 Community
with Free Plan
0% Transaction Fees on all Plans
Does Not Offer
Digital Download Product Option
Unlimited Products on all Paid Plans
Does Not Offer a
Coaching Product Options
Email Support for the first 30 days on Free Plan
and Unlimited Email Support on Paid Plans
Need to Be On Start Plan to
Get Access to Order Bumps
Enable Simple Social Logins to
Sign Students up Fast
Integrate from Over 80 Apps
8-Week Accelerator Program to Get
Your First Course Done Fast
Get More Sales with Order Bumps
on Your Sales Page
Thinkific Pros and Cons
Thinkific Pricing
Now that you have a good idea of what Thinkific offers let's check out how much it costs to sign up with them.
Here is the monthly cost to sign up with Thinkific.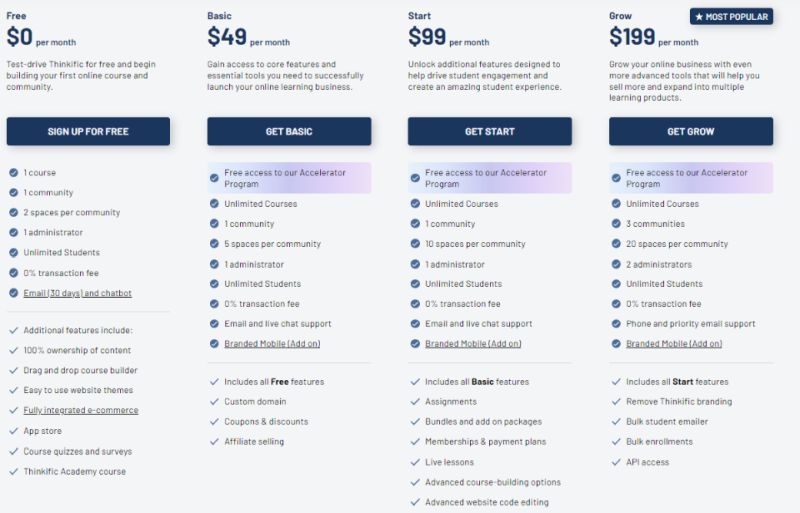 Thinkific Monthly Cost:
Free Plan $0 – Best for beginners just getting started.
Basic Plan – $49/month.
Start Plan – $99/month.
Grow Plan – $199/month.
You could expect to pay this by signing up for a monthly plan. This option works great for signing up, getting all the features, and paying for just one or two months to see if things will work out.
When you start to see some results and make a few sales, you can think about moving to an annual plan to save 25% of the monthly cost.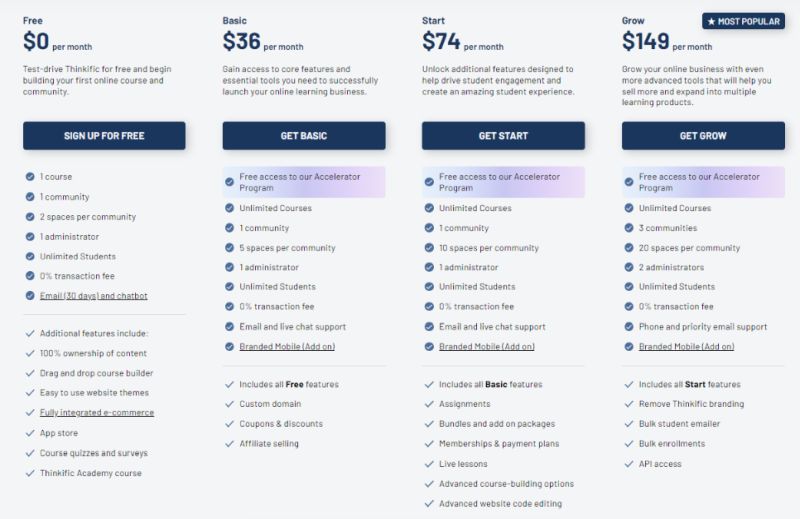 Thinkific Annual Cost:
Free Plan $0 – Best for beginners just getting started.
Basic Plan – $36/month.
Start Plan – $74/month.
Grow Plan – $149/month.
Signing up with one of Thinkific's annual pricing plans saves 25% off of the monthly cost.
Final Thoughts on Thinkific
Overall, I like that Thinkific has a free plan that allows you to keep it that way until you're ready to move to a paid plan.
This works great for those without the money to spend upfront. This way, you can work on creating your first course without all the pressure.
However, if you want to get all the features, you'll have to sign up for the Start Plan to get access to things like Order Bumps or Live Lessons.
So you want to get started without paying for anything upfront, Thinkific is the way to go.
3. Teachable – Best For Beginners
Teachable is one of the best platforms to sell digital products for beginners because the setup process is straightforward, and you don't have to integrate any payment processors.
Below you'll learn about the features and benefits, pros and cons, pricing, and my thoughts on the Teachable platform.
Teachable Features
Teachable has many great features that make it a great platform, but it also comes with some great benefits from those features.
Keep reading.
Offers a Wide Variety of Products to Sell
Teachable offers various products you can create and sell on this platform. Here is what you can create with Teachable.
Courses
Coaching
Digital Downloads
Memberships
Bundled Products
Let's dive a little deeper into each of these.
Online Courses are a great way to create video training that teaches what you know. Whether you want to create your flagship course on a topic or an intro course on a topic, this is a great way.
Coaching Programs are a great way to expand your courses, give people one-on-one group coaching, and increase your earnings.
Digital Downloads are a great way to introduce students to your brand by offering them an opt-in offer or an initial product to buy to get them interested in future more expensive products.
Memberships are a great way to sell your entire program by charging a recurring monthly fee. It gives you a recurring monthly income, and your student gets regular training.
Bundled Courses are also a great way to group related courses at a discount to make more sales and earn more from your course business.
AI Ciriculum Generator
AI has become a big deal with online creators in the last year, significantly improving your business and speeding things up. With Teachable, you can use AI to help generate your course outline in minutes.
Here's a quick video to show you how to do this.
This option helps you create your entire course curriculum in minutes, saving you hours of work by telling you precisely what you should have in your course.
Simple Payment Option
Teachable also offers two simple ways to get paid.
Monthly Payments
Teachable:Pay

Monthly Payment is an internal payment processor with Teachable and pays you once a month via PayPal. What's nice about this is that you don't have to set up any external payment processor, and it lets you get up and running fast.
The downside to the monthly pay option is that you only get paid once a month versus when you make the sale.

Teachable:Pay, on the other hand, uses Stripe as an external payment processor and allows you to set when you want to get paid. You can get paid monthly, weekly, or even daily. It also handles author and affiliate payouts as well.
Order Bumps and Upsells

Order bumps are a great way to increase average order value (AOV) and sell more of your digital products.
To do this, go to a course you want to add an order bump and click on Order Bump in the left-hand column. Then select your order bump, which will automatically be added to the sales checkout page.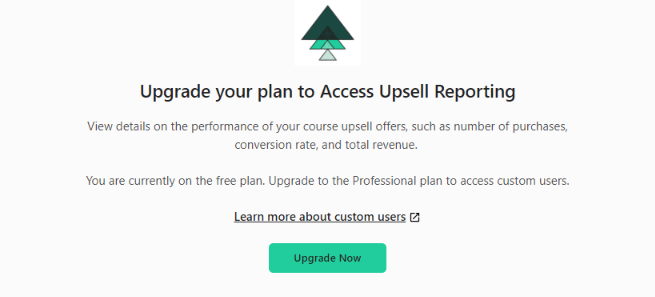 You also add upsells to your products as well. An upsell is a way to offer a product after a sale. This is a great way to showcase a higher-priced product that may be the next step above the product they just bought.
For example, if you sell an ebook on affiliate marketing for beginners for $10, your upsell could be your flagship affiliate marketing course for $500.
Since people already have their credit card out, you might as well make the offer and expose them to what you have to offer.
Buy Now Pay Later (BNPL)

Many digital product platforms are offering buy now, pay later options. Students can buy your course and take a small loan using Klarna, Afterpay, or Affirm.
Instead of having students pay one lump sum, this will break the payment down into small payments and give you the added benefit of getting the total amount upfront.
Abandon Cart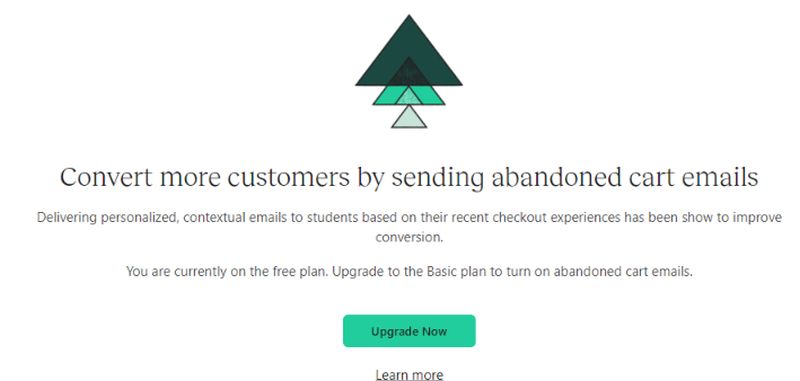 A straightforward way to increase your course sales is through abandon cart emails. This option allows you to create personalized emails that contact students who have not completed the sales and stop partway through the process.
With so many things that can get in the way of completion, from phone calls to kids, it's an excellent way to remind people you have not finished placing the order and save a few lost sales.
TeachableU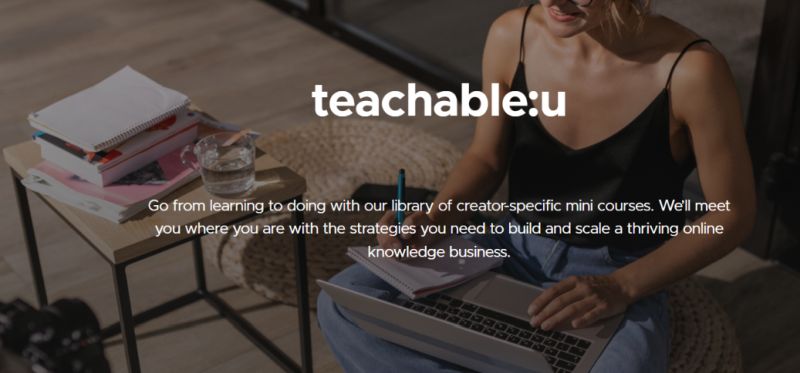 Teachable:u is the complete training platform full of courses to help you build a digital product business.

You can get courses on building your business strategy, launching, pricing your products, writing copy, and more.
Student Referrals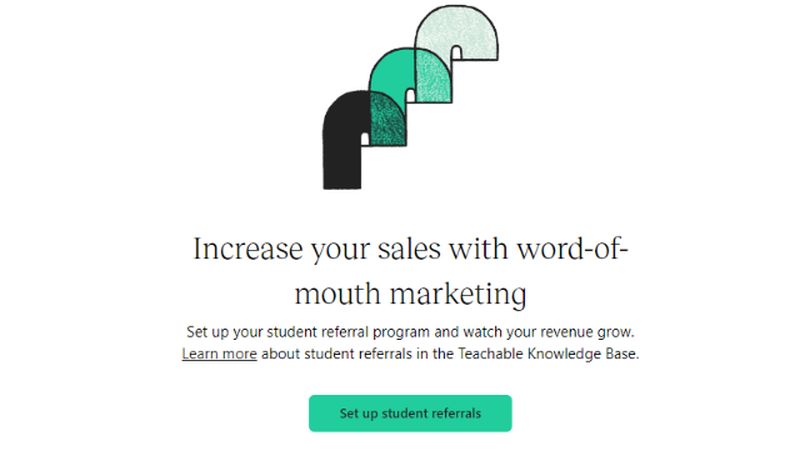 Another way to grow your digital product sales is to use student referrals. With the referral option, your students can recommend other students to buy your digital products, and if they do, both the student and buyer get a discount.
This is a great way to use your existing students to drive more students to your business and earn more by selling them other digital products and courses.
Teachable Pros and Cons
Pros
Cons
Wide Variety of Digital Products
You Can Sell
Transaction Fees on Free
and Basic Plans
Save 33% on Annual Paid Plans
Free Plan Only Allows 10 Students
Abandon Cart Email Recovery
Not as Professional Looking
Buy Now Pay Later Options
Cost More than Most Platforms
on the Market
Generate Course Curriculum with AI
Default Student Refund Policy
Went from 30 to 14 Days
Give Student Referral Discounts
Sell More Digital Products with
Order Bumps and Upsells
Use Teachable:Pay to get paid fast
and collect taxes
Use Teachables BackOffice
for collaborator payouts
Use Coupons to Discount Your
Digital Products and Increase Sales
Pros and Cons of Teachable
Teachable Pricing
So how much does Teachable cost? Look at the monthly and annual costs of signing up for Teachable.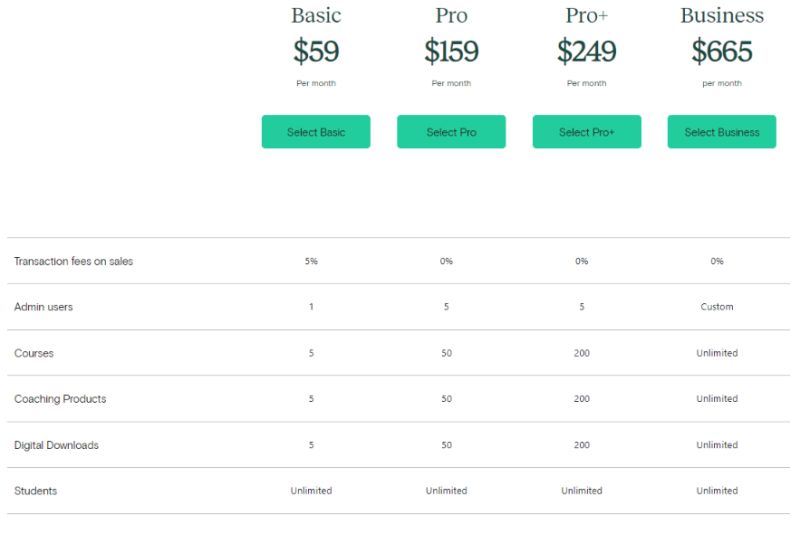 Monthly cost to sign up for Teachable
Basic Plan – $59/month
Pro Plan – $159/month
Pro+ Plan- $249/month
Business Plan – $665/month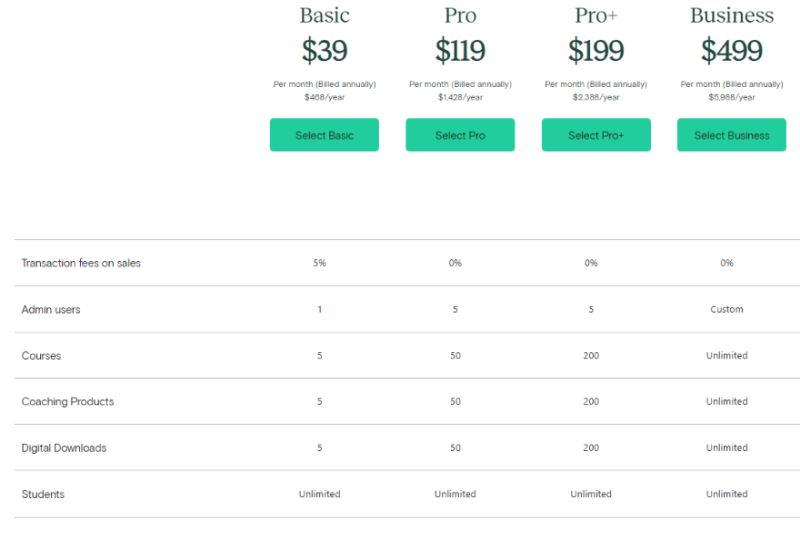 The annual cost to sign up for Teachable. Save 33% when you sign up for Teachables annual plan.
Basic Plan – $39/month – $468/annually
Pro Plan – $119/month – $1428/annually
Pro+ Plan- $199/month – $2388/annually
Business Plan – $499/month – $5988/annually
Final Thoughts on Teachable
Teachable is the most accessible platform to get started with. Setting up doesn't require much work, and they have a built-in payment processor.
They have a free plan, but you can only take ten students before signing up for a paid plan. On top of that, the free plan takes a 10% transaction fee, but it looks as if Teachable is moving away from having a free plan.
As a beginner, this platform is probably the easiest to use but does not have all the features that SamCart does.
FAQ for Best Platforms to Sell Digital Products
Here are a few frequently asked questions about the best platforms to sell digital products on.
What is a Digital Product Platform?
A digital product platform is a place that stores and handles the payments for your digital products. This could include online courses, eBooks, downloads, and coaching products.
Do you Need a Website to Sell Digital Products?
No, you don't need a website to sell digital products. A digital product platform has everything you need to create and sell your online digital products.
How Do You Succeed in Selling Digital Products?
The best way to succeed at selling digital products is to have a good platform such as Thinkific, SamCart, or Teachable to help market your products.