Thinkific vs Kajabi – Full Comparison Chart (2023)
Considering Thinkific vs Kajabi?
If you're looking to start a business creating online courses and selling your knowledge, you may have encountered a few different platforms like Thinkific and Kajabi, but you may not be sure which is right for you.
Both platforms have much to offer and may look the same on the outside, but they are very different.
In this article, my goal is to show you everything they have to offer and, most importantly, where they differ.
Side Note: If you want to see which online course platform I prefer, click here.
Before You Start…
Before I get started, there are a few things I want to share with you.
First, I am an affiliate of Thinkific and Kajabi. I will earn a commission if you decide to buy through my link. If you do, I want to say thank you upfront for supporting Side Hustle Academy.
Second, take the time to review both products thoroughly and pick the one that best fits your needs. I will share the platform I like at the end of this article, but it is still your decision.
Finally, my goal with this article is to give you the facts and the details about both platforms, not bash one product over another.
With that out of the way, let's get started.
What is Thinkific, and What is Kajabi?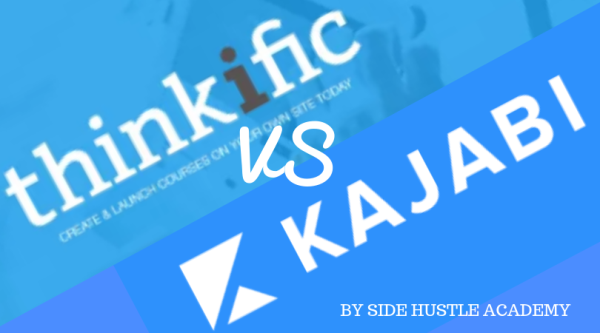 Thinkific and Kajabi are known as Learning Management Solutions, LMS for short. They are complete platforms designed to help create, build, and market your online courses.
They handle all the technical stuff like hosting your video, dealing with payment processors, and even marketing your courses to your students.
Suppose you don't want to deal with all the technical detail so you can focus on the more important things like creating more courses. The question is, which platform is right for you?
Related Articles: Here are a few other articles I wrote that you may be interested in as well.
Thinkific vs Kajabi – A Complete Comparison Chart
Below is a chart comparing Thinkific vs Kajabi; however, after you've read this, I will share the ten significant differences between each platform.
Thinkific
Kajabi
Course Amounts?
Free Plan: 1 Course
All other plans have
unlimited courses
Basic Plan: 3 Products
Growth Plan: 15 Products
Pro Plan: 100 Products
Transaction Fees
None
None
Community Area's
Yes, you can create at least one community area, even
with the free plan
Not Avaliable
Student Limits
Unlimited Students
Basic Plan: 1000 Students
Growth Plan: 10,000 Students
Pro Plan: 20,000 Students
Do They Offer Refunds?
No Refunds
30 Day refund from the date of purchase
Saving for Paying Annually?
25% Savings
20% Savings
Free Plan?
Yes
No
Monthly Pricing
Free Plan: $0
Basic Plan: $49/month
Start Plan: $99/month
Grow Plan: $199/month
Basic Plan: $149/month
Growth Plan: $199/month
Pro Plan: $399/month
Annual Pricing
Free Plan: $0
Basic Plan: $36/month
Start Plan: $74/month
Grow Plan: $149/month
Basic Plan: $119/month
Growth Plan: $159/month
Pro Plan: $319/month
Sign Up Offer
Get a 30 Day Free Trial Offer
on Paid Plans
Get a 14-Day Free Trial Offer
11 Major Differences Between Thinkific vs Kajabi
Now that you've had a chance to review Kajabi vs Thinkific, I want to share ten significant areas where both platforms differ.
These platforms can often look very similar on the outside, but when you dig into the nuts and bolts, you'll see they are not.
#1 Features
When it comes down to it, Kajabi is an entirely different animal. Kajabi isn't just a platform that you can host your course on. Instead, it's a complete suite of tools.
They host your online course and manage your email marketing, allow you to set up pipelines, also known as email funnels, and even host webinars.
Kajabi does this so you don't have to waste time piecing several different tools together; instead, they offer all of them in one place. After all, you're in this to create products and earn money, not do some tech work.
Thinkific does not require you to do some tech stuff, but they are not nearly as advanced as Kajabi.  You must also integrate your payment provider with Stripe and PayPal platforms.
Score: Thinkific 0 Kajabi 1
#2 Limited Courses
One of the first differences I noticed with both platforms was the number of products you can create. With Thinkific, you can only create three courses with their free plan. They just started doing this new thing since they eliminated all transaction fees.
However, you can create unlimited courses when you sign up for the paid plans with Thinkific. Now let's compare that to Kajabi.
With Kajabi, there is no free plan to start, so you must pay to play. However, even with the basic Kajabi plan, you can only create five products. With the Pro Plan, you can create up to 100 products, and it isn't until you get the premium plan that you can sell unlimited products.
Kajabi starts at more than $100 per month, while Thinkific will let you create unlimited courses on the basic plan, which doesn't cost anywhere near $100.
Score: Thinkific 1 Kajabi 1
#3 Cost
Since we're on cost, let's see how much both platforms differ. Let's start with Kajabi first.
Kajabi Monthly Pay Plans
Basic $149/Monthly
Pro $199/Monthly
Premium $399/Monthly
Kajabi Annual Pay Plans
Basic $119/month = $1428/year
Pro $159/month = $1908/year
Premium $319/month = $3828/year
With Kajabi, you're looking at anywhere from $119 to $399 monthly if you pay annually.  Now let's see what Thinkific has to offer.
Thinkific Monthly Pay Plans
Free
Basic Plan $49/Monthly
Start Plan $99/Monthly
Grow Plan $199/Monthly
Thinkific Annual Pay Plans
Free
Basic Plan $36/month = $432/year
Start Plan $74/month = $888/year
Grow Plan $149/month = $1788/year
With Thinkific, you can start with a free plan, but even their Grow Plan starts at $149 a month.  That's nearly half the cost of Kajabi for the same type of plan.
Score: Thinkific 2 Kajabi 1
#4 Instant Payouts
Thinkific also has a unique feature that I have not seen any other learning management software do before offering instant payouts when someone buys one of your courses.
Most platforms usually hold funds until after your 30-day refund policy is up, but not with Thinkific. They do this by crediting your Stripe merchant account once the sale is made.
However, you will have to pay the typical credit card fees when a transaction does occur.  I mention this because you may owe more if you must process a return since you paid the credit card fees.
Score: Thinkific 3 Kajabi 1
#5 Group Sales
Another area that makes Thinkific unique is allowing you to do a group sale option. So basically, if you want to sell your entire course for a company or group, you could do this.
Of all the different online course platforms out there, this is the only one that offers this option, so if this is important to you, you may want to keep this in mind.
Score: Thinkific 4 Kajabi 1
#6 Students
The amount of students you can have is also a significant factor when considering Thinkific vs Kajabi. With Thinkific, you can have unlimited students in your courses, whether it's the free plan or the Advanced Plan. However, with Kajabi, this is a whole other story.
With Kajabi, you can only have a set number of students based on your plan type. Below is the student breakdown for Kajabi.
Basic Plan: 1000 active members
Growth Plan: 10,000 active members
ProPlan: 20,000 active members
For the amount of money you have to pay on this platform, it just doesn't make sense why they restrict the number of students, you can have.
Score: Thinkific 5 Kajabi 1
#7 Refunds
It sounds like Thinkific is the better option, but the refund policy is another considerable downside. 
With Kajabi, they give you a 30-day refund policy, which states that if you don't like what you see, you can get a full refund.
However, Thinkific they don't give any refunds whatsoever.  Below is a picture of how they deal with refund requests pulled straight from the Terms of Service page from Thinkific.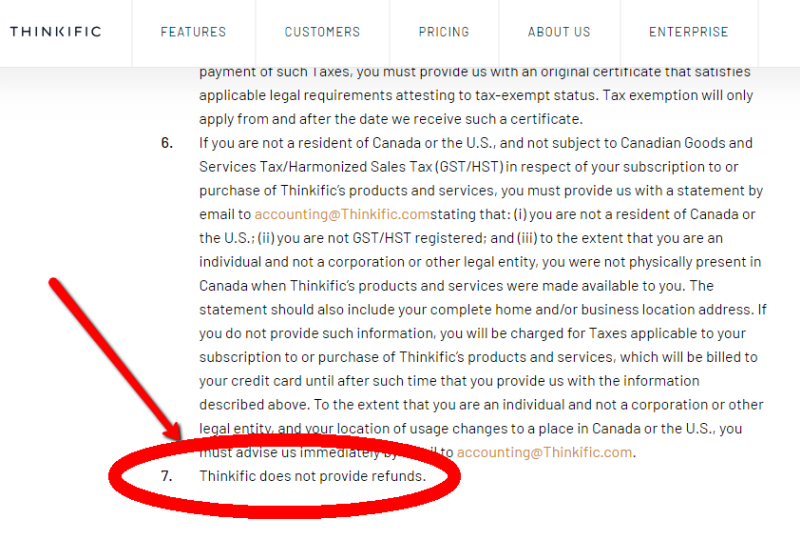 Score: Thinkfic 5 Kajabi 2
#8 Training
Now let's talk about training because this is a crucial critical part of a successful course. Most people don't know how to create an only course. Many things can go into a course, and having someone to help walk you through the steps can go a long way.
Whether it's just trying to come up with a course idea, writing an outline of your course, or even recording your videos, these tasks can feel a bit daunting at first.
Of all the course platforms out there, this is where I see Thinkific struggle the most. Sure, they offer some webinars and blog posts, but for the most part, they don't do much to train people how to create their courses.
When you look at Kajabi, they have Kajabi University, a complete library of courses to help you get up and going the right way.
Score: Thinkific 5 Kajabi 3
#9 Trial Offers
Trial offers are another way that Thinkific sets itself apart from the pack. Now you might be wondering what is a trial offer and how does that work with Thinkific?
A trial offer is a way to let people try out your course before they pay. How this works is that Thinkific lets you offer your first one or two lessons for free, and once the trial offer is up, you can ask them to pay for the rest of the course.
I find this option helpful, especially if you're brand new to creating online courses and you don't have a big name out there yet. You can use this simple marketing tactic to get people to sign up as students and warm up to your brand before you push for the sale.
The other great benefit behind this is that you can market to these students when you have a new course to offer.
Score: Thinkific 6 Kajabi 3
#10 Going Free
As I mentioned earlier in this article, Thinkific offers a free option for those who want to get started and can't afford to pay just yet. With Kajabi, you're looking at $129 a month just for the Basic Plan.
That's a lot to put on the line when you don't even have your first course created, much less earning you any money.
So if you want to create your first course or kick the tires to see what all of this online course stuff is all about, sign up for a free account and start playing around with it, and who knows, before long, you may have your first course up and running and maybe even a few sales rolling in.
Score: Thinkific 7 Kajabi 3
#11 Custom Pipelines
Finally, one of my favorite features of Kajabi is that it allows you to create Pipelines. This is one feature that Thinkific does not have. But Kajabi goes even one step further by giving you premade pipeline templates like the ones below.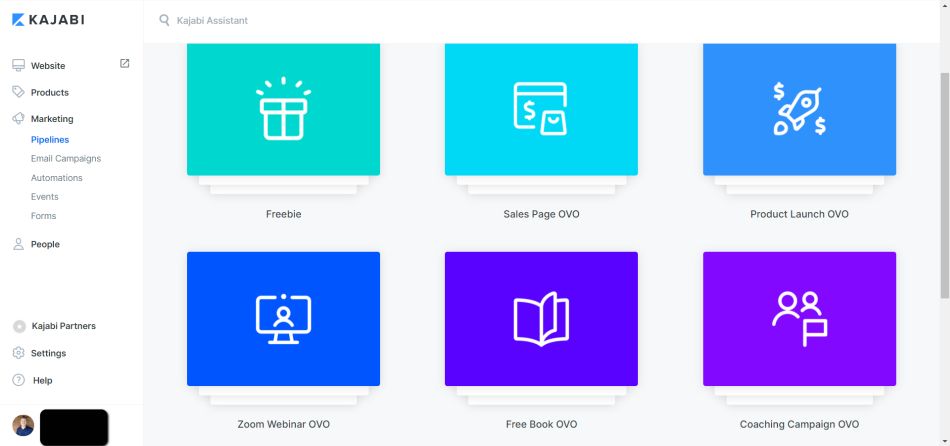 What's great about this is that it gives all of these easy-to-use premade templates to help you get things up and running fast.
Need to create a new freebie offer on the fly, bam!
We need to put a new product launch pipeline together quickly, bam! Here you go.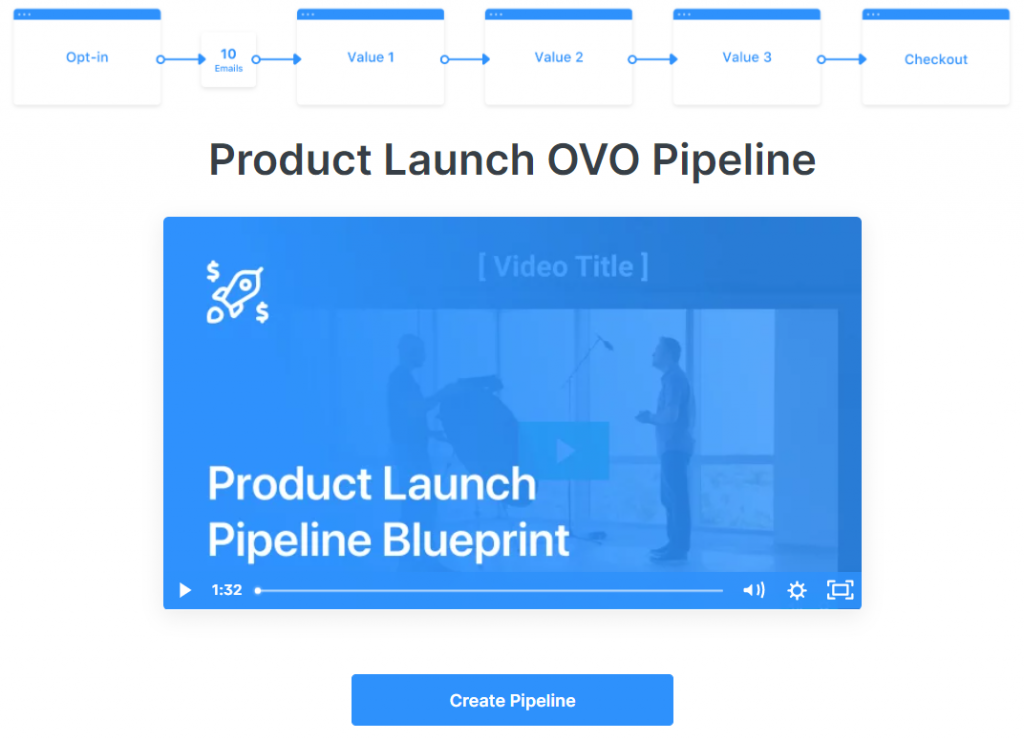 In minutes you have the opt-in created, emails ready, and the checkout page all set up. If you're like me and hate doing this kind of stuff manually, Kajabi is the way to go here.
Score: Thinkific 7 Kajabi 4
And The Winner Is… Thinkific vs Kajabi
When it comes down to it, Thinkific is the clear winner for me.  They allow you to create unlimited courses, have unlimited students, and you can even start for free if you're looking to bootstrap things before you upgrade to a paid plan.
This is probably the thing I like most because you don't have to risk a lot to start a business on the side that could potentially have some significant earnings.
Now I can't guarantee earnings, but even if you don't earn anything, you'll have tried, and it wouldn't have cost you anything.
So why not take that chance now and give things a shot and sign up for a free Thinkific account now