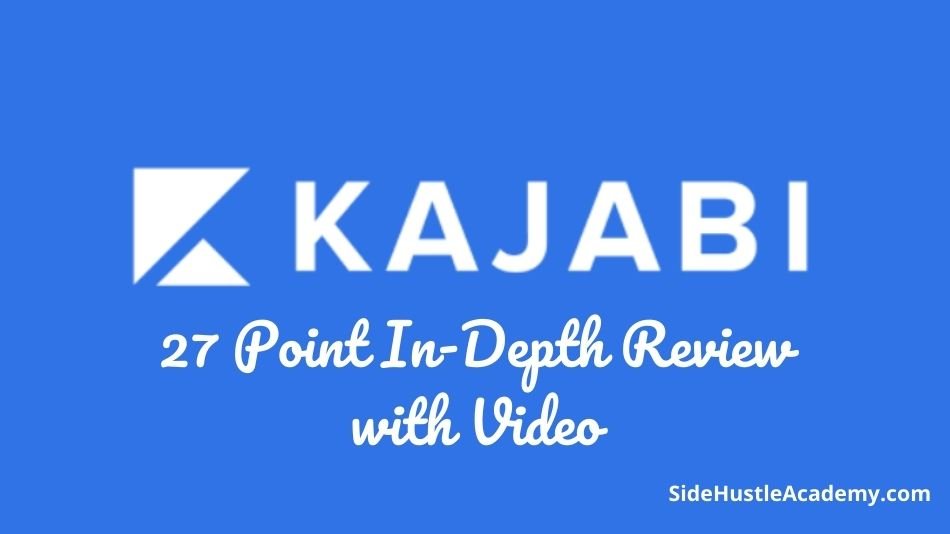 Over the years I've used several online course platforms from Teachable, Thinkific, to Lifterlms, and Udemy. All of which have their benefits and downside but over the last month I decided to give Kajabi a shot and see what all the hype was about and Kajabi did not disappoint.
Kajabi is a complete online course and membership platform with a complete email suite, allows you to create customer pipelines, landing pages, a community forum, customizable page templates, and a mobile app. Kajabi starts at $149 per month but you can get a 14-day free trial and save 20% with an annual plan.
Initially, I found this platform to be the Cadillac of online course platforms because it has it all. In fact, I am using Kajabi to launch my new membership site here in a few months. In the rest of this review, I'm going to share my 27 point complete review.
But first…
If you're wondering what the back end of Kajabi looks like I put together this 30-minute video to show you what Kajabi looks like and what you'll get.
Kajabi 27 Point In-Depth Review
Now that you've seen what it looks like on the inside below is my 27 point in-depth review covering every aspect of Kajabi you can think of from the good to the bad.
1. Look and Feel
The very first thing I noticed when I signed up for Kajabi is the look and feel and how clean and well laid out everything is.
I've used several online course platforms from Teachable to Thinkific and while they are good platforms, Kajabi takes the look and feel to a whole new level.
Here's a quick look to at the back end.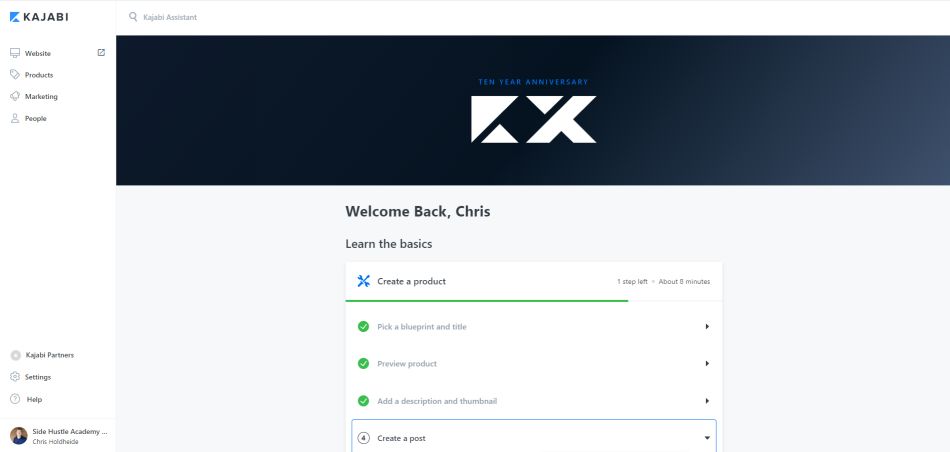 The thing I like about this is that they keep things minimal. They don't try to put every feature and button all in one spot. In fact, their are really only 4 main features that make up Kajabi
Website
Products
Marketing
People
On top of that, the main section is set up to teach you everything you need to know on how to create and build your first online digital product.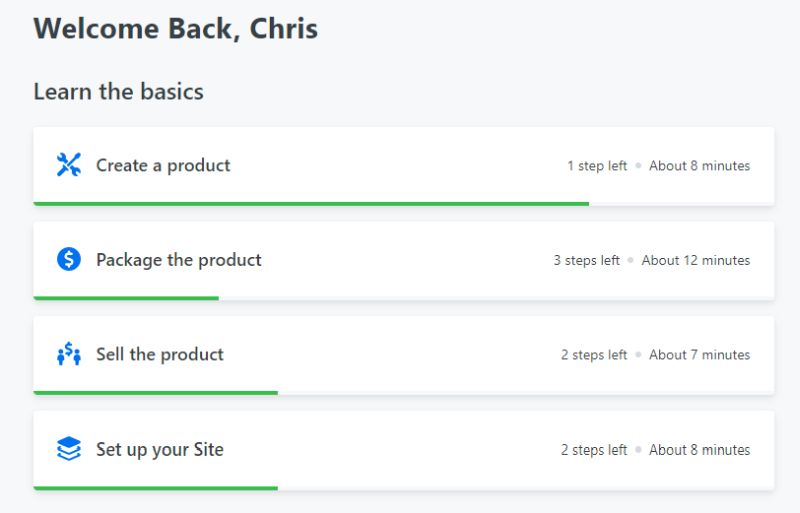 These 4 steps go through the exact things you need to do to create a product, package the product, sell the product, and set up your site.
2. Mobile App
Going along with the look and feel, Kajabi also offers a mobile app that goes along with platform. The only other platform I know of that offers an app is Teachable but Kajabi takes it to a whole other level.
I'm not the biggest fan of Teachable's look and feel but Kajabi looks way better and much more professional after using both platforms. Below is a look at a membership I belong to on Kajabi's mobile app.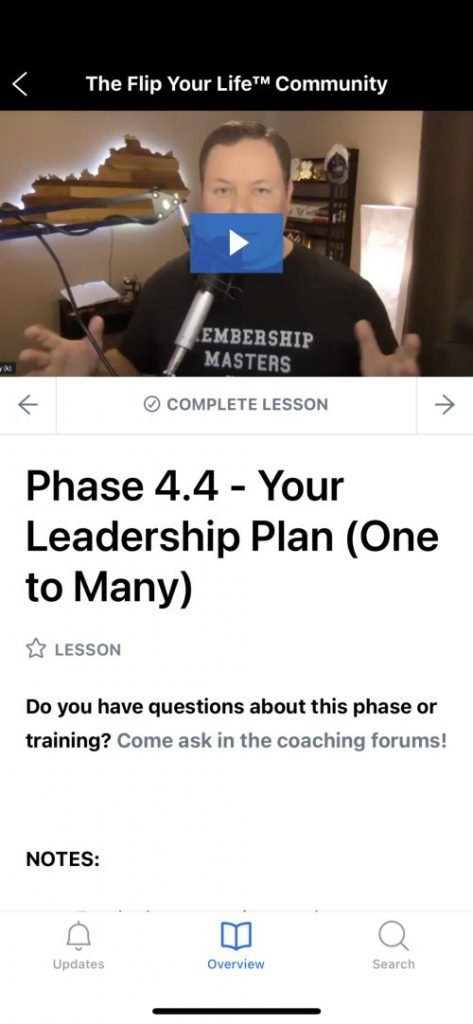 Everything is well laid out and looks great. The only thing I don't like about the mobile view is that when I turn my phone sideways it does not automatically flip the video horizontally.
Instead, you have to press the little icon in the corner to make the video turn horizontally.
3. Community
Next, Kajabi also lets you create a members forum. With all the other platform's out there you have to either set up a private Facebook group or set up a separate site or use something Discourse.
The great thing about this is that it allows you to create a community in your own product and not some third party platform that you don't have control over.
Here's a look at a forum I belong to and what it looks like.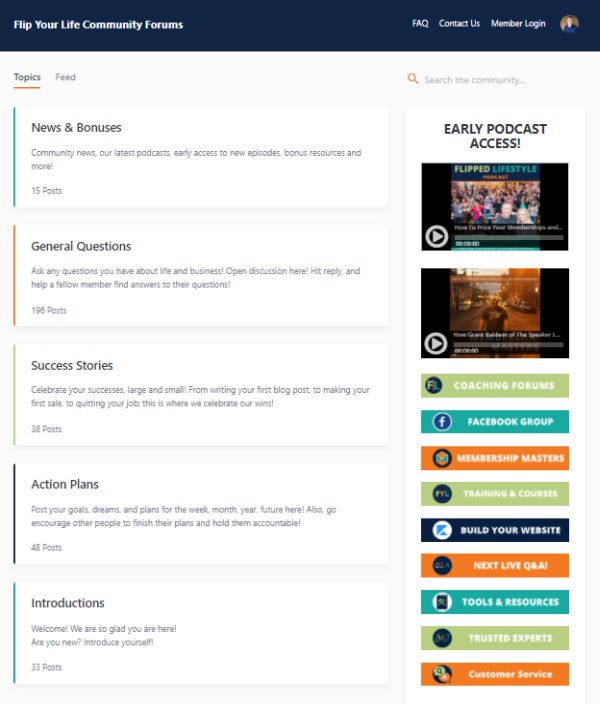 Side Note: Flip Your Life is a membership community I belong to designed in Kajabi that helps you start, build, and grow your own online membership business. You can get a free 14-day trial by clicking here.
Overall the community forum included with Kajabi is well thought out and is a great way to grow your community and keep it all with within Kajabi.
4. Design Capabilities
Kajabi also gives you some really nice default design features right off the bat. The great thing is Kajabi gives a great looking predesigned layout out of the box so all you have to do is add your images and text to get up and running.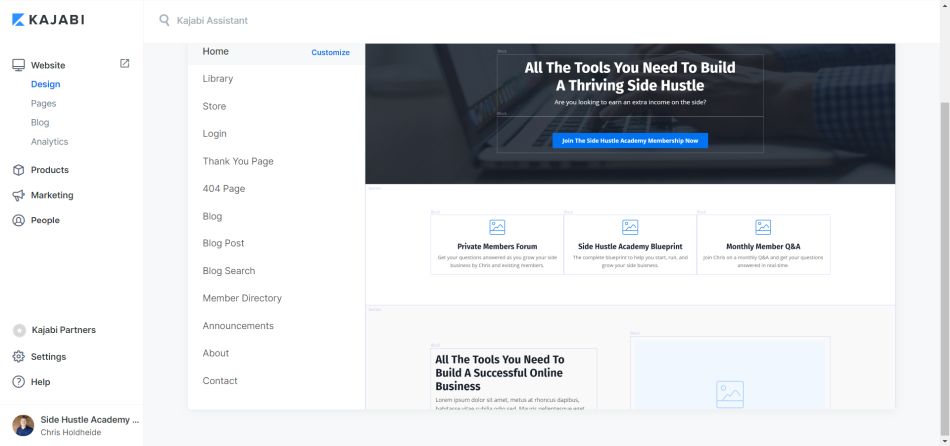 On top of that, you can customize each page of your site to have its own look and feel even if you suck at design like me.
If you go with the higher paid plans you can even remove the Kajabi branding.
Now one downside I do want to mention here is that you want to do some sort special feature on Kajabi that they don't offer you may not be able to do this since everything pretty much exist in the one ecosystem.
5. Email Campaigns
Next Kajabi gives you an entire email suite, which allows you to ditch your email service provider and save money.
Inside the Email Campaign section you can send broadcast, create drafts, schedule emails and even create sequences.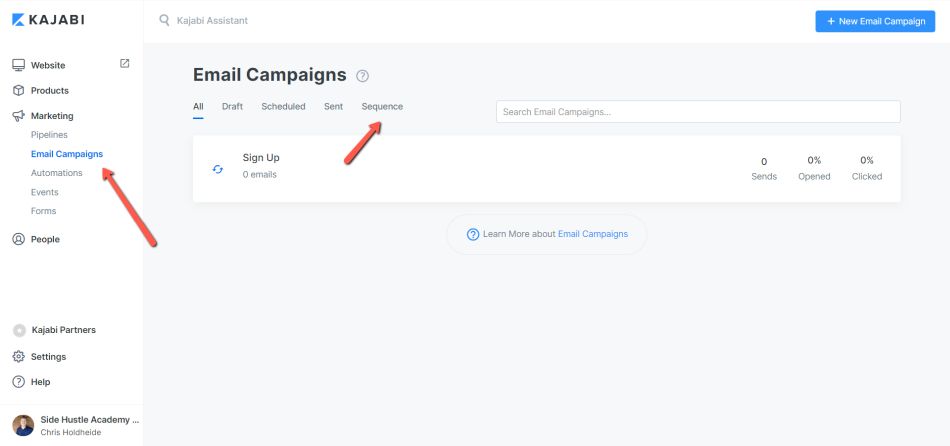 With sequences you can set up a string of emails to go out at predetermine times. I do this with my free opt in offers on Side Hustle Academy.
6. Streamlined Page Templates
The next thing I found very interesting about Kajabi is that they have streamlined page templates that will set up things quickly for you.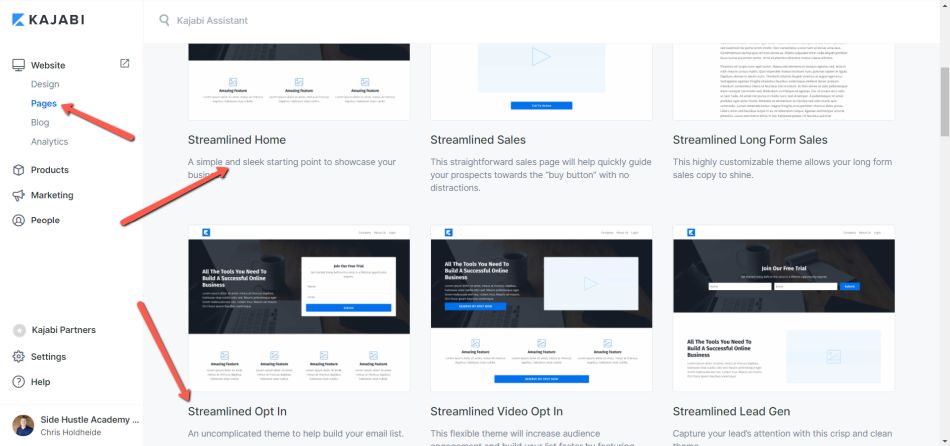 Need an opt-in page to gather email addresses, Kajabi does it.
Need a quick sales page with a video to show off your new course, Kajabi does it.
Need a lead gen page to collect and sell leads, Kajabi does it.
Need a long page sales letter to sell your latest product, Kajabi does it.
And the list goes on.
So if you're not a designer like me you'll save tons of time with these streamlined page templates and best of all since your email campaigns all exist in Kajabi you won't have to integrate your email service provider either.
7. Streamlined Product Templates
Now if you thought streamlined page templates were cool then you need to see the streamlined product templates that Kajabi has premade and ready for you.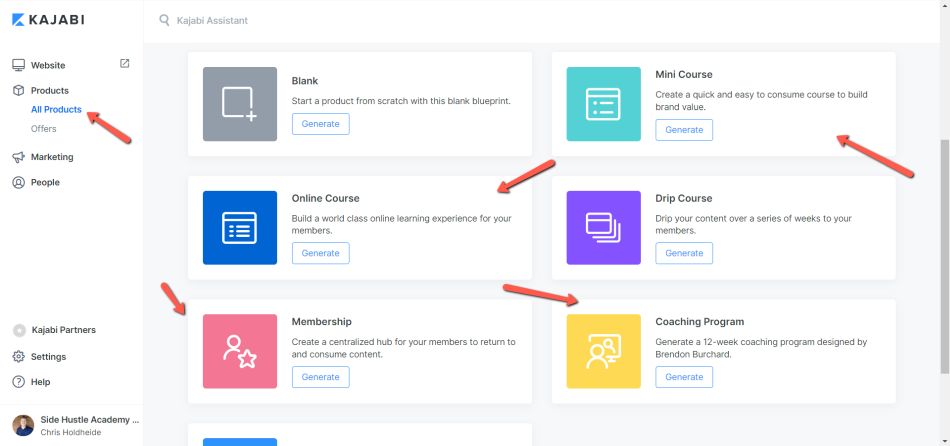 Want to set up you membership site in minutes, Kajabi does it.
Want to create a high dollar coaching program, Kajabi does it.
Want to create a mini course to get more opt ins, Kajabi does it.
None of the other platforms out there do this and it simplifies everything so you don't have to spend countless hours doing design work.
However, one big downside with Kajabi that kept me away from it for so long was the fact that you could only create 3 products with the basic plan, 10 with the growth plan, and 20 with the pro plan.
When I thought about it though how many products am I really going to create. Probably not as many as you think.
To get started all you have to do is click generate and start filling in the template. It's that simple. This feature alone makes it worth it to try out a 14 day free trial of Kajabi.
8. Upsells
One feature about all online course platforms have is an upsell feature. This allows you sell multiple products instead of just one.
So if you have a few courses that go well together or an added coaching program that goes along with the course you could set this up as an upsell.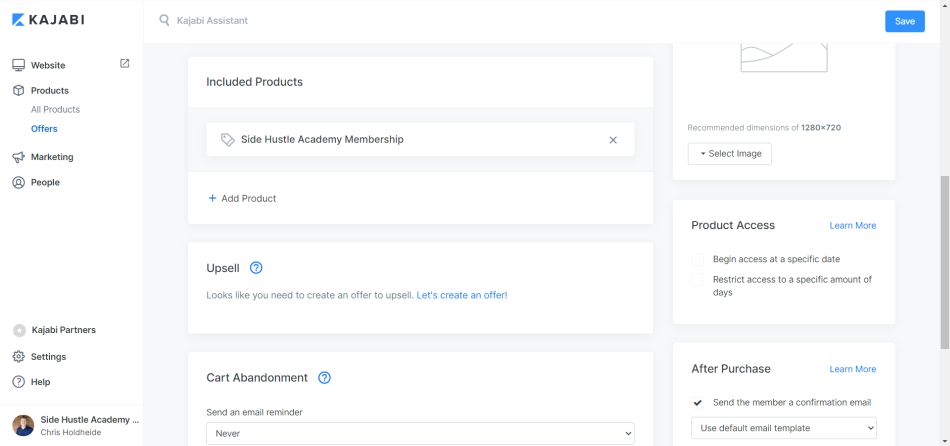 As long as you have two created live products you can add an upsell.
The reason you want to do this is that your prospect has already put in their credit card info and at this point makes it really easy to ask for the additional sale versus asking for it later.
9. Cart Abandonment
Cart abandonment is where someone leaves your page and they have your product in their shopping cart but for some reason they didn't buy.
For example, if you're about to make a purchase and your phone rings and you forget all about your order. This happens to me all the time.
Kajabi makes this easy to solve because they have this feature included to help remind your customer that your product is still here and waiting for you to complete the purchase.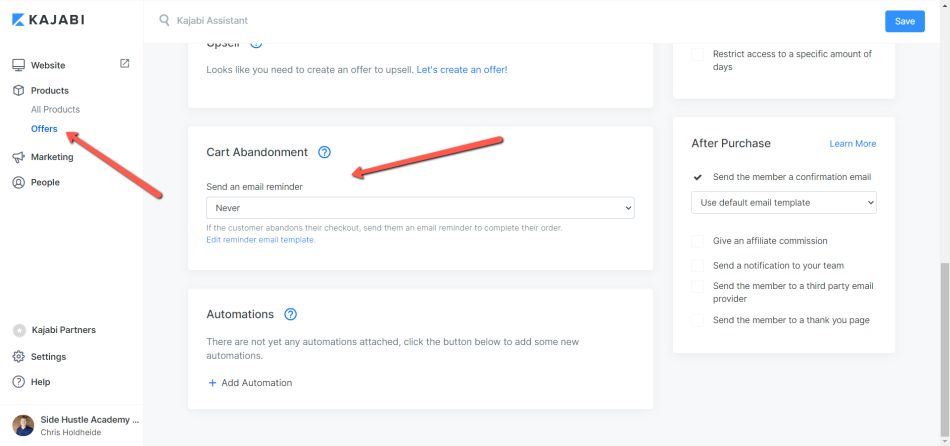 When you select cart abandonment you can send an email anywhere from 1 hour to 24 hours later or even customize it to your needs.
This one little feature alone will help bring in those extra sales that you might have never gotten.
10. Kajabi Basic Automations
Next is marketing automations. Think of this as an If This Than That feature that allows you to send emails to your list if they do a certain thing.
For example, if someone does not buy your course or product you could direct them to a new email campaign series that builds them up to a different product.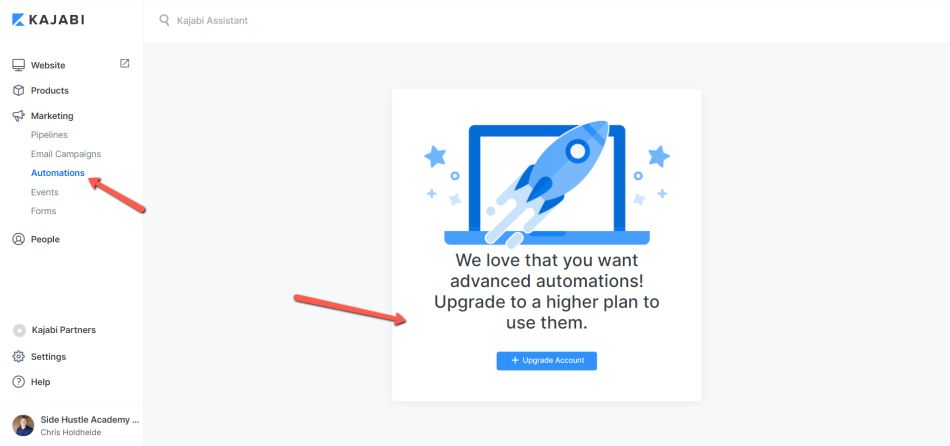 Again, none of the other platforms offer this but Kajabi does.
The only downside to this is if you want access to the advanced automation then you will have to upgrade to be a Growth Member to get access. Since I'm in the basic plan I don't have access to this feature.
However, you can get access to the basic automation by clicking on the offer, then click on your product, and then scroll down to automation.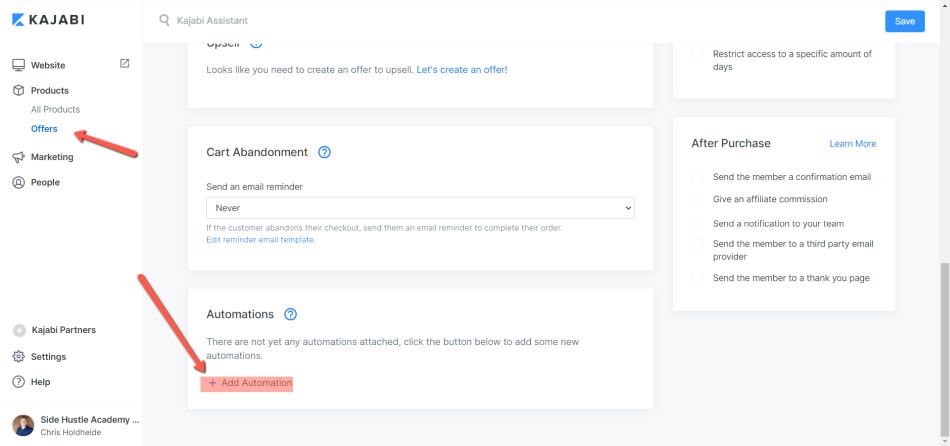 Then you will have access to some basic automations.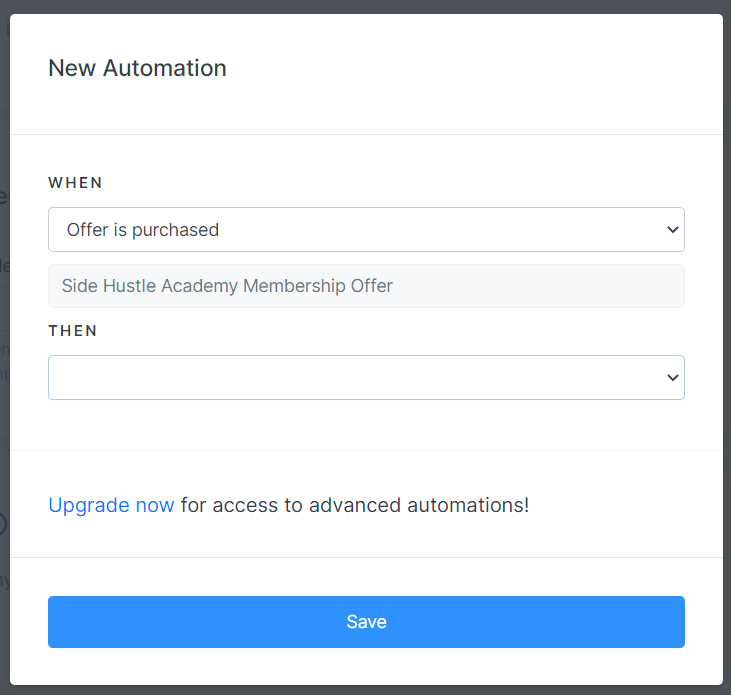 This will allow you to do things like tag, add events, direct them to an email sequence, and a whole lot more.
11. After Purchase Features
Now once you make a sale you might be wondering what happens next? That's where the After Purchase Features come in handy.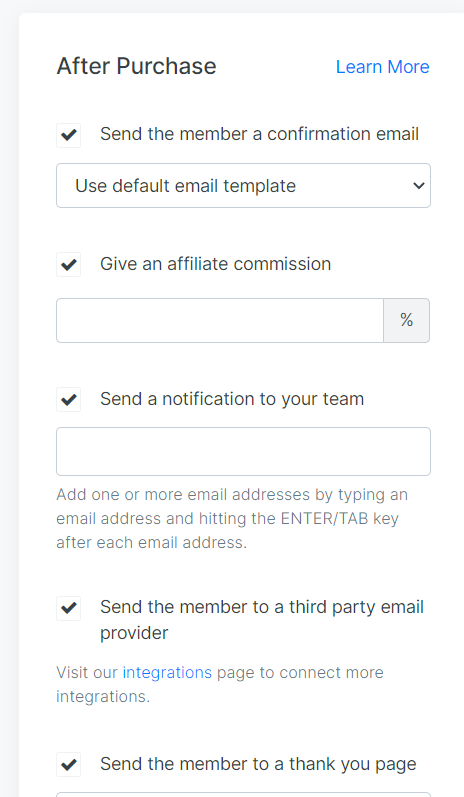 These tools allow you to…
Send the member a confirmation email
Give an affiliate commission
Send a notification to your team
Send a member to a third party email provider such as Convertkit
and even send the member to a thank you page
You can do all or none of them, it's up to you. This makes the whole process way simpler. If you don't want to offer something just uncheck the box and you're ready to go.
12. Use Events Promote Your Products
Kajabi also allows you to set up events to promote specific courses or products that you are launching or even a new piece of content you want people to see.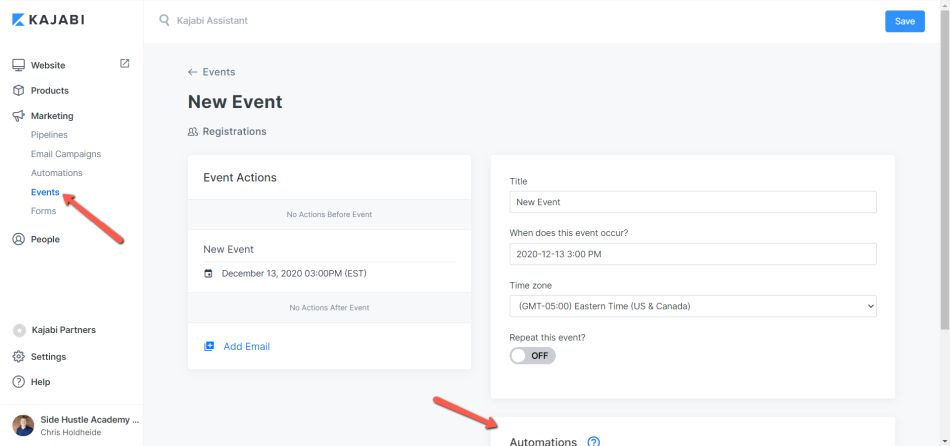 For example if I were to be releasing a new course in my membership I could create an event around it to let people know what's going on and people could register to be notified when the new course goes live.
13. Collecting Payments
The next thing I found interesting is the payment processors they use.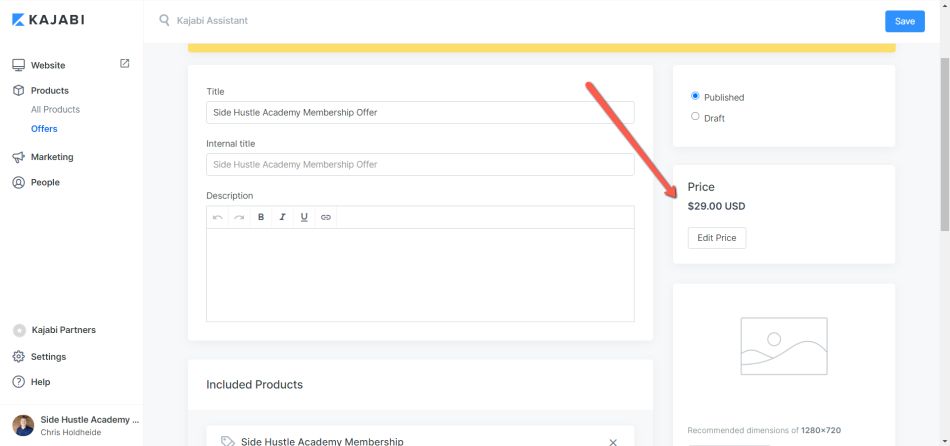 With Kajabi you have two options, PayPal and Stripe. To do this go to the product you created and click on it. Then click edit price.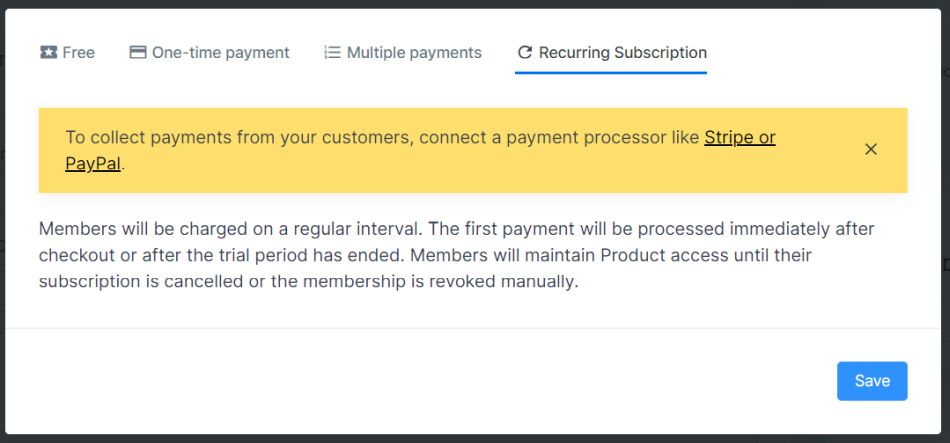 Here you can set up your payment processors and also select the type of payment you want to collect. From free, one time payments, multiple payments, and even recurring payment subscriptions.
Kajabi also has handy videos on how to set all of this up too.
14. Third Party Integrations
Integrations are a great way to add existing tools that you already use. To do this go to Settings, then click on Third-Party Integrations.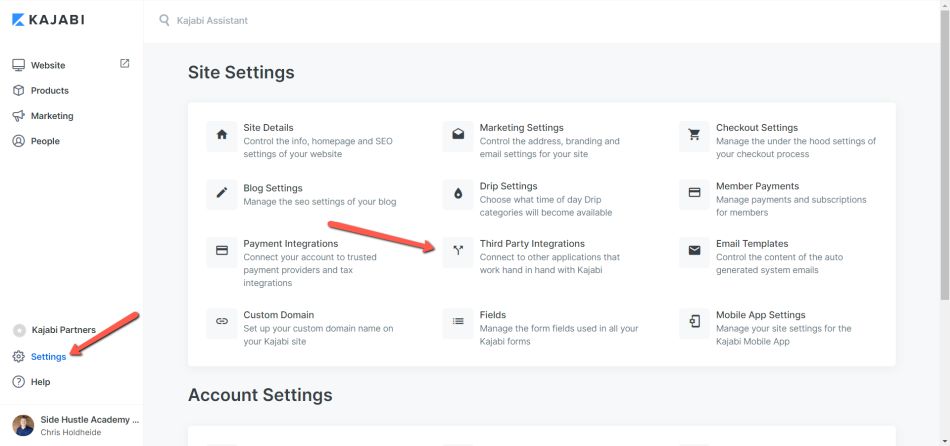 Once inside you can integrate Kajabi with several popular tools from Google Analytics to your popular email providers like Convertkit, add your Facebook Pixel, or even Click Funnels.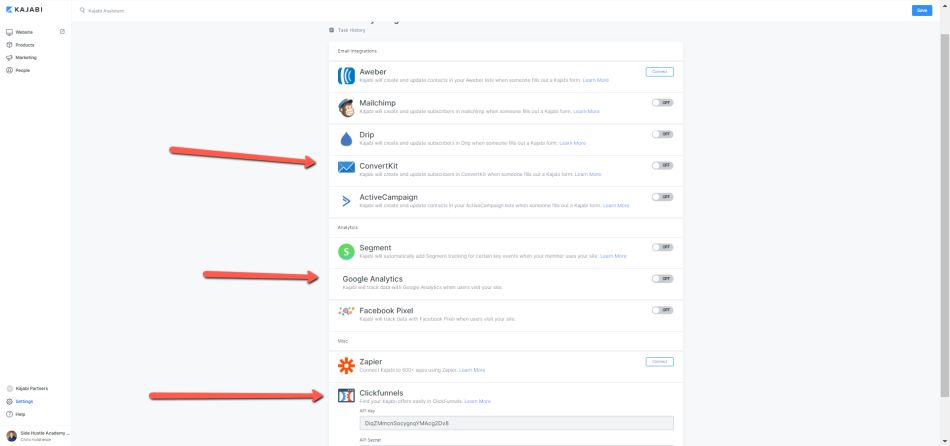 The only downside to this is that Kajabi only has a limited amount of integrations. But you can use Zapier as a go between to make this work.
15. Blog
What's also nice about Kajabi is they have a blog feature. What's great about this is that you run your entire business from Kajabi instead of having a WordPress blog everything can exist right within on platform.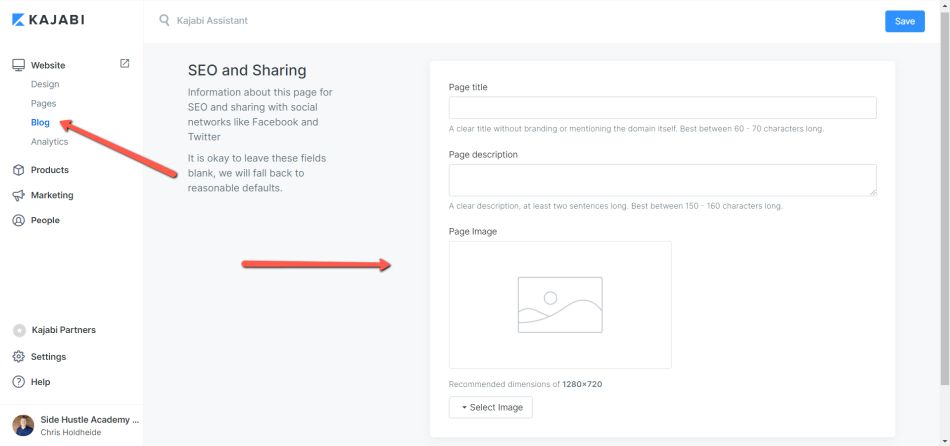 Now to be completely honest here the blog feature in Kajabi is not nearly as advanced as WordPress is. In fact all of my blog sites are on WordPress and I don't plan on moving them.
However, if you are starting from scratch you may want to look into this and the best way to do that is with a 14 day free trial of Kajabi.
16. Kajabi Access
Kajabi also lets you run webinars via Zoom using Kajabi Access. With Kajabi and Zoom together you can collect sign ups, set up your landing pages, and run your webinars right inside Kajabi.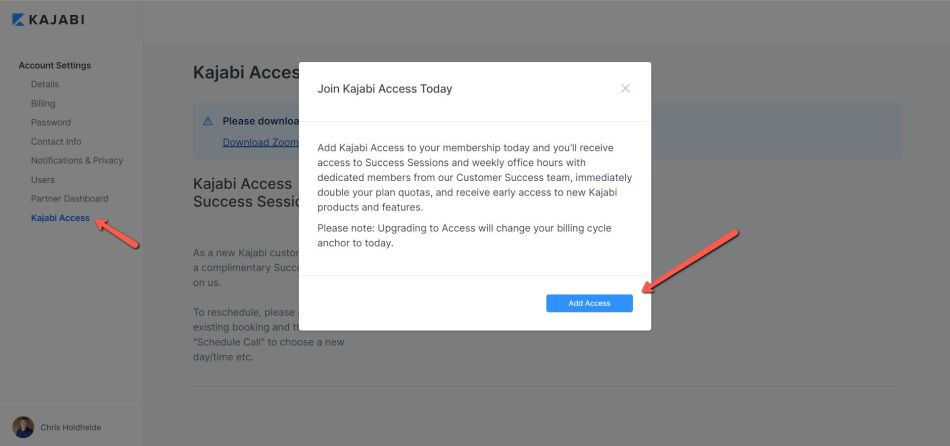 The downside to Kajabi Access is that it will cost you an extra fee to have ontop of your normal monthly fee.
17. Templated Pipelines
One of the greatest features of Kajabi is the templated pipelines you can create. A pipeline is process you take people down.
For example, if you are doing a product launch then you can use the Product Launch OVO template that will set the whole thing up for you.
But you can do a whole lot more than just that. You can set up a pipeline for a freebie offer, a sale page, a product launch, coaching campaigns, or even a Zoom webinar.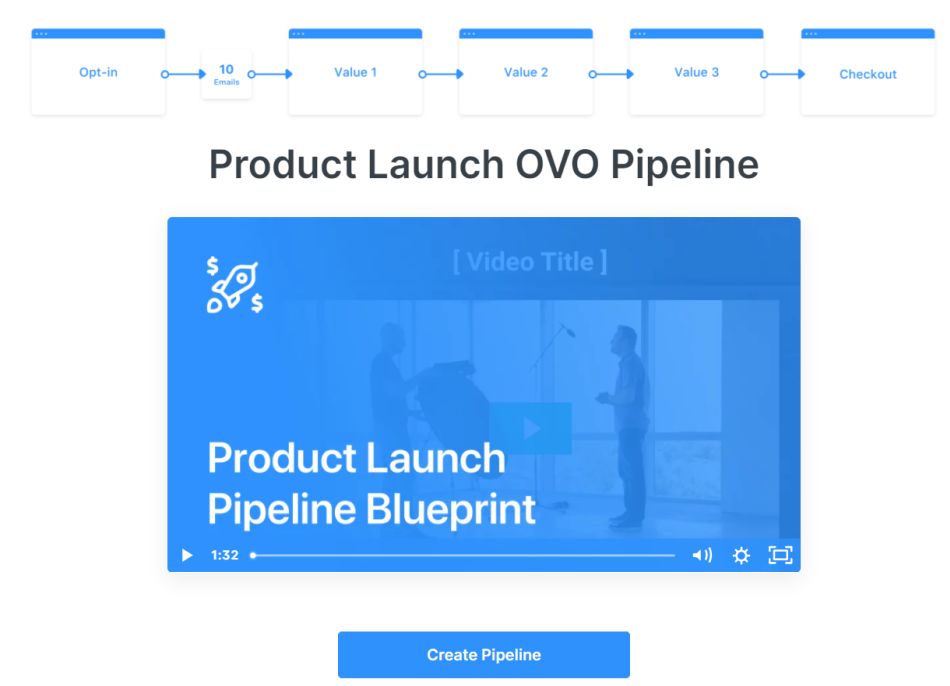 For example above is a pipeline for the product launch ovo. This includes an opt in, 8 emails, 3 value bombs, and a checkout page.
I can't tell you how much work it would be to create all of this stuff with WordPress. Kajabi makes this whole process way simpler and in minutes you can have the whole thing set up.
If you want to simplify your online business take the 14-day free trial now.
18. Analytics
One thing you have to be able to do is analyze your business and see where things are at any point and time. With Kajabi's analytics, they allow you to do just that.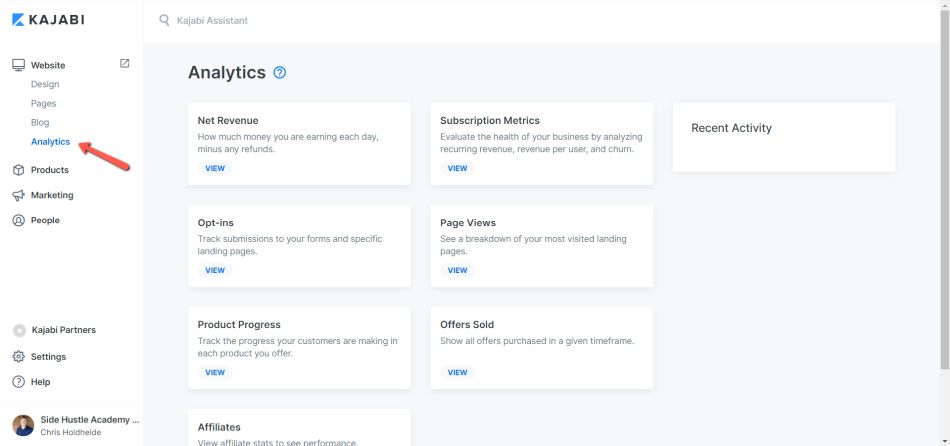 What's nice is that they allow you to see your metrics from multiple view points. Here are just a few of them.
Net Revenue – How much are you earning daily.
Subscription Metrics – Analyze your recurring revenue and churn.
Opt-ins – How many people are subscribing to your email list and leaving.
Product Progress – See where people are engaging and not.
Affiliates – See affiliate stats and commissions
No other online course platform offers these kinds of metrics. In fact if you use software like Infusionsoft you'll be able to get rid of that and save a lot of money.
19. Member Assessments
You can also do member assessments for your products. To be honest I don't know a lot about this feature yet but will update this section as I use it more.
Basically you can assign a score to each member to learn more about them. Below is a example of one I created.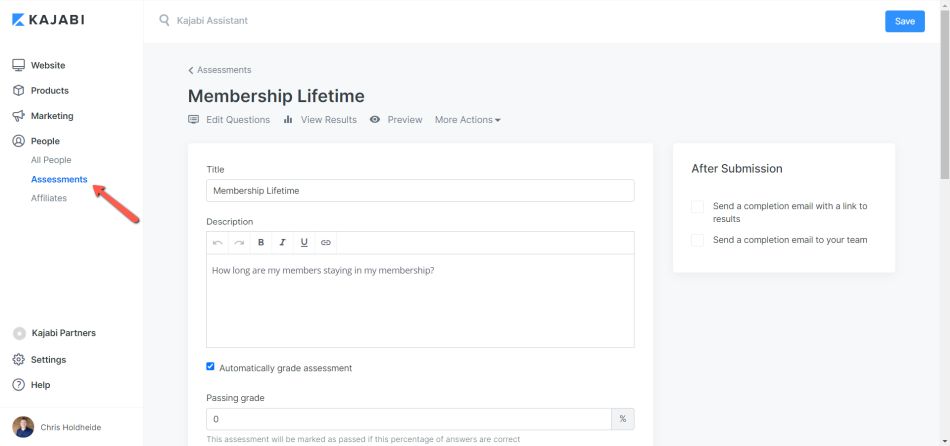 In my assement I created shows who my members are who are staying longer than 6 months. This would allow me to see who my top members are and the most dedicated.
So if I might be starting an affiliate program they might be the ones who are the most interested in promoting my products.
20. 0% Transaction Fee
One nice thing about Kajabi is that they do not charge any transaction fees.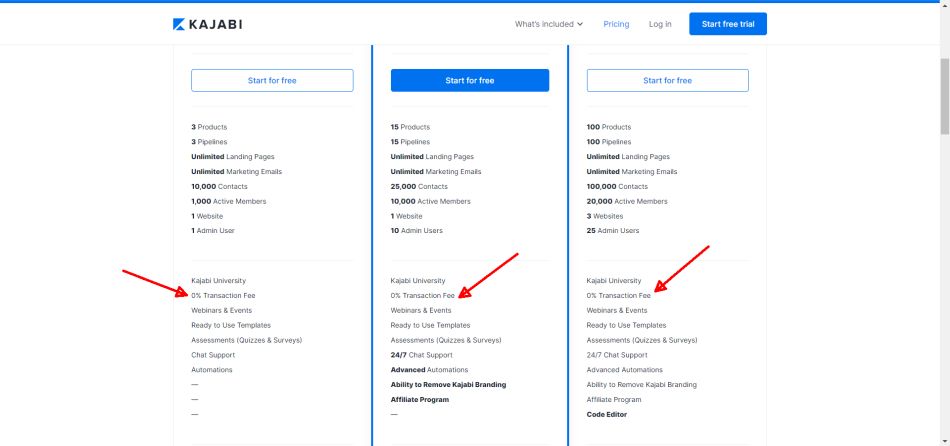 Compared to other platforms like Teachable who charge a 10% transaction fee for their free plan and 5% for their basic plan. If you're only making a few sales a month those fees won't look like much.
But if you are selling higher priced courses or memberships you may want to move to Kajabi to avoid these fees.
21. Kajabi University
Now you might be thinking this is all overwhelming and I get that. The first time I opened up Kajabi I saw all of these tools and thought how am I going to learn all of this.
Enter Kajabi University.
What ever you need to know when it comes to Kajabi and how to run your business Kajabi University has it.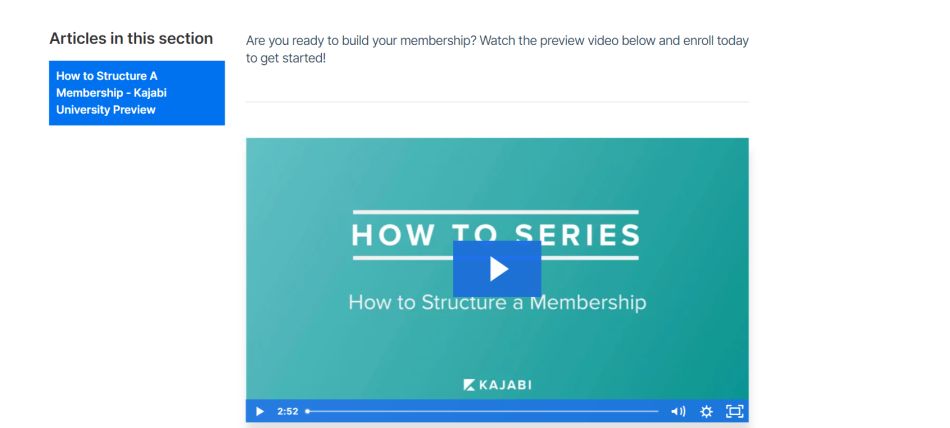 For example this course will show you how to structure your entire membership. It included 9 videos, and takes 25 minutes to complete.
Here are just a few of the courses included in Kajabi University.
Run Your Whole Business Using Kajabi
Niche For Your Business
Kajabi Bootcamp: Build A Course
Kajabi Bootcamp: Build a Membership & Community
Mastering Pipelines
Crafting Your Webinar Funnel
How to Market Your Course Or Membership
How to Create an Audio Based Course
How To Create A Screen Share Course
So not only do you get all of the Kajabi tools but they also teach you how to run and grow your business as well.
22. Drip Settings
Kajabi also lets you drip out parts of your course as needed. For example lets say you have course that takes 6 weeks to complete. You might drip out each section once per week.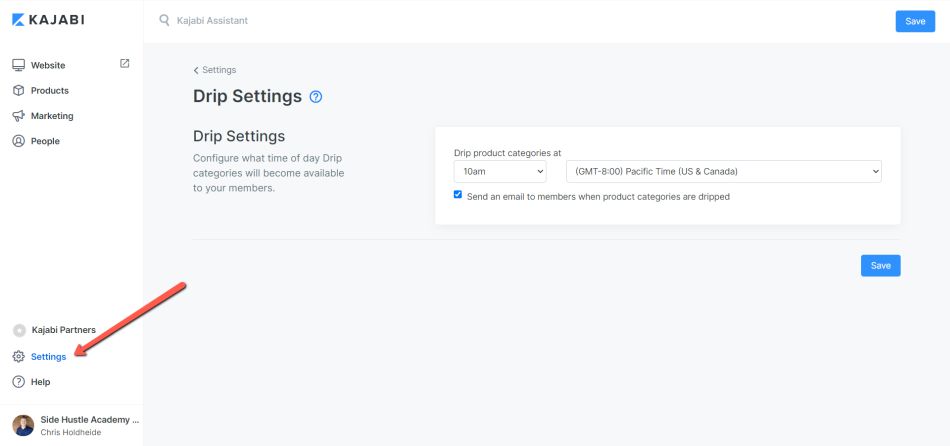 By doing this you can guide people through an exact process where they might learn somethings specific.
I personally don't use this feature much. I would rather give them access to everything right off the bat.
23. Kajabi Status
One of the weirdest things I found on Kajabi while doing my research is that they have something called Kajabi Status. What this does is it shows you any time Kajabi has gone down for any reason, and they don't just report the outages but report every single day.
Below is an image of the last 90 days on Kajabi. Over the last 90 days they have only had 6 outages, meaning that they are reporting a 99.61% uptime. That is amazing.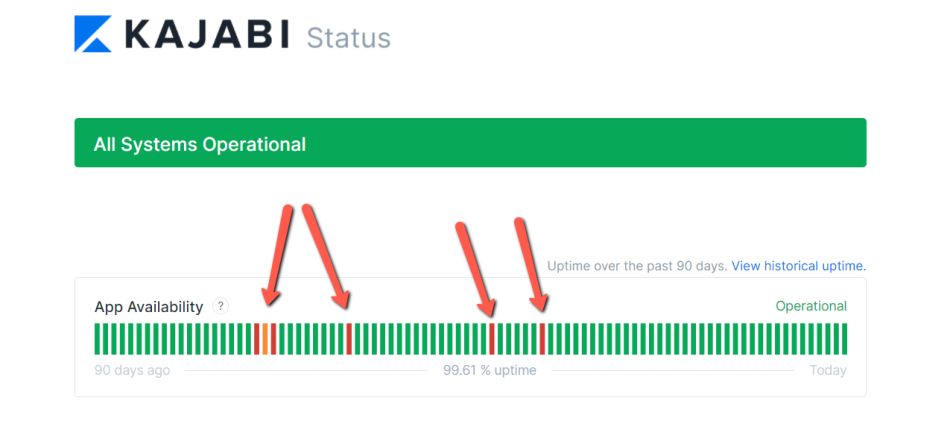 I like this for 2 major reasons.
First, it's transparent. I don't know of any other platform that does this nor would I have thought to even look for something like this.
But second, you don't have to worry about all the backend stuff with Kajabi. If you build your online business on WordPress you have to constantly worry about security and updating your themes and plug-ins so you don't get hacked.
This recently happened to one of my WordPress blogs and it took me a week to fix the issue. Kajabi takes care those issues for you. After all you're in the business of creating digital products, not doing updates, monitoring hackers, and watching for security threats.
So just let Kajabi do all the heavy lifting for you.
24. No Refunds
One downside I don't like about Kajabi is that that they don't do a 30 day refund policy at all. I guess that's why they give the 14 day free trial. I dug through Kajabies terms of service and I could not find anything on a refund policy.
The only thing I found was the image below.

So basically, they don't offer a refund, so if you start paying the monthly or annual just know you won't get any refund to you.
25. The Cost Compared to Other Platforms
Now we're getting down to brass tax.
When you compare Kajabi to other platforms it is much more expensive. In most cases 3 to 4 times as much. Below are Kajabi's monthly fees.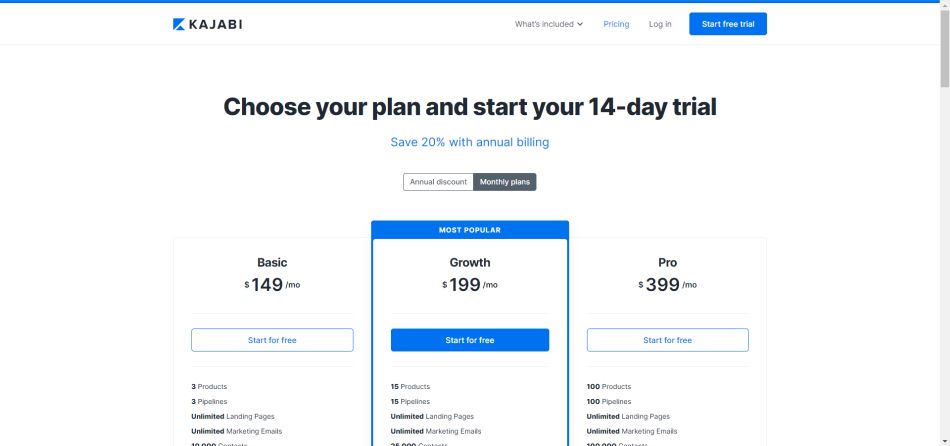 Kajabi starts out at $149 a month and goes up from there. Where as Teachable starts out at $39 a month and Thinkific starts out at $49 a month.
However, when you consider all of the tools you would have to pay for on a recurring basis in order to get the same thing as Kajabi it's actually a great deal.
Below are just a few tools you would have to buy.
Infusionsoft – $79 to $199 a month – CRM and email provider
Leadpages – $27 to $239 a month – Landing page creator
Lifterlms – $99 to $999 a year – Membership and course software
Vimeo – $7 to $75 a month – Video hosting
With those four tools alone you would be looking at $121 to $596 a month in recurring cost.
When you look at all the recurring costs you have to pay with all the other products Kajabi is actually a lot less money, running between $149 to $399 a month.
26. Annual Savings
You also need to consider the annual savings with Kajabi. If you sign up for the annual plan you will save an additional 20% on the cost.
Below are the annual prices.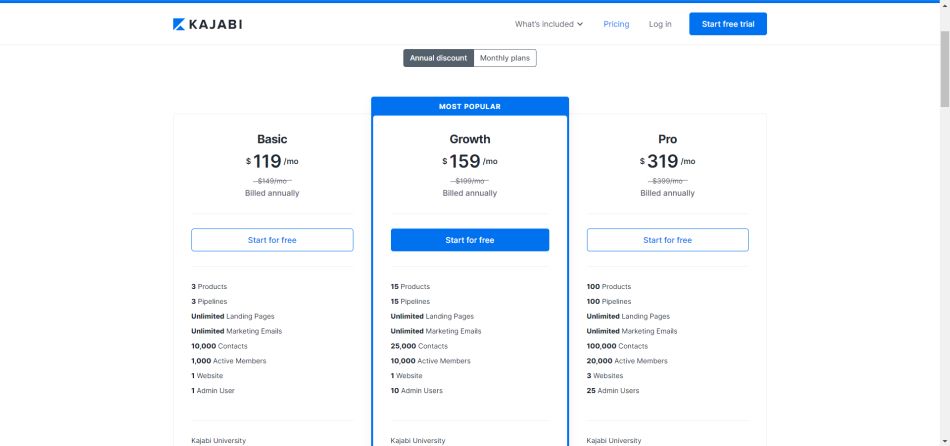 With the annual prices you'll save $30 a month or $360 a year. Not a bad deal just to pay annually.
I personally like to pay annually on things. The reason is because it gives me 12 months to work on things instead of having to be rushed to get things done and takes the pressure off of getting results right now.
27. Free Trial
Finally, the best part of Kajabi is that they give you a free trial to kick the tires in a sense and check it all out.
If you do nothing else take the 14 day free trial and just check it. Nobody's telling you have to keep it. If you don't like it at least you'll know.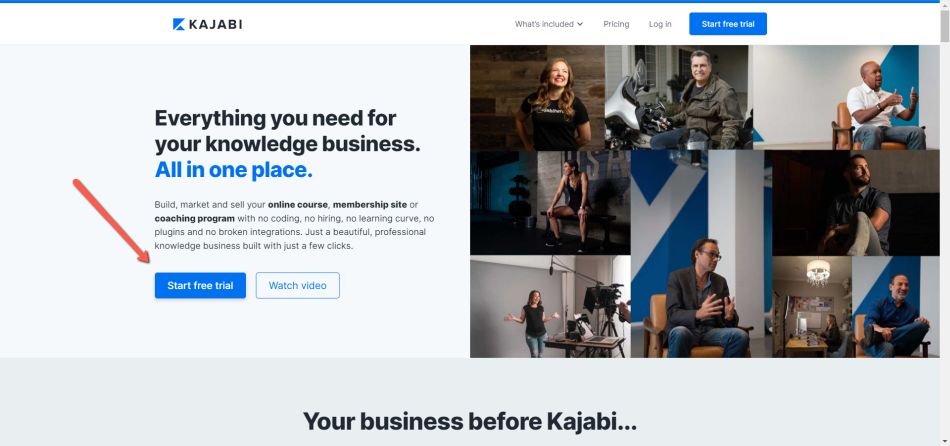 To get started click this link and then click the button that says Start Free Trial.
You will have to enter your credit card details but you can always cancel before the first payment is due.
Overall I am very happy with Kajabi and if have any question about this product leave me a question in the comments below.
Cheers!