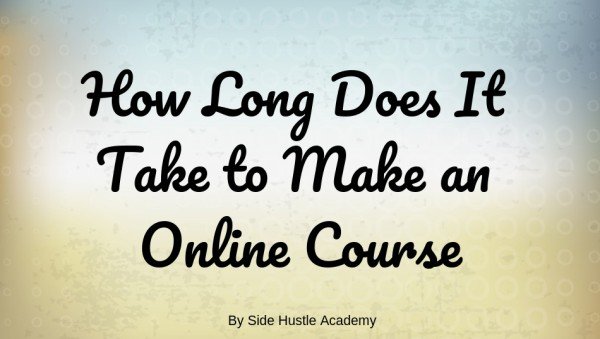 Are you in the process of creating your first online course? If so you might be wondering how long will take to create my first course? As I'm going through the process myself I'm learning that it doesn't take as long as you think it might.
How long does it take to create an online course? For most courses, it should take right around 8 weeks to create your course from coming up with your idea to launching your course.
In this article, I'm going to break down each section of the course making process and share how long it should take you to create your online course from finding your topic idea to launching your course. A lot of people think this takes a lot of but my goal is to show you just how fast it really can be done.
#1 Finding Your Idea – 1 Day
The first thing you need to do is find an idea for the course you want to create. To start I want to give you a little word of advice and that is not to make your first course some huge mega course covering everything about your topic.
Instead, just pick an idea that solves a simple problem. For example, if want to create a course on playing darts you might want to create your first course on how to throw accurately.
Related Article: You can read my full guide on how to pick a course idea here.
The thing you don't want do is create a course that teaches them how to win the world dart playing championship Ok I think I just made that up but you get the point.
So how long does it take: With one or two hours of research you should be able to have your idea. For some, this step is pretty quick but this is also a place where a lot of people get hung up. Forward momentum is always better than picking the perfect idea. So just pick one and move on.
#2 Outlining Your Idea – 2 Days
Once you have an idea your next step is to create an outline of your course. Start by listing the major sections in your course and then break each subsection down into smaller topics.
To do this just pull out a sheet of paper or type it out on your computer. Just write down everything that comes to your mind. Use this time as a brain dump to get all of your ideas out on paper. Don't worry if they are wrong or right.
Big Tip: Try to keep your first course down to 5 to 6 subsection. It will spead things up dramaticly.
Finally, make sure you list the desired result that you want the person who takes your course to achieve. For example, with dart course, it might be hitting their target at least 80% of the time.
So how long does it take: This part of the process should take you roughly 2days. On the first day use it as a brain dump and on the second day use it as an extra day to fill in any extra ideas you might have. You'll likely add more ideas you create your course and that is perfectly fine.
#3 Develop a Sales Page – 2 Days
Once your outline is done its time to develop your sales page. Now you might be thinking aren't we jumping the gun a little bit and the answer is no. There are actually two reasons you want to do this first.
First, you'll want to do presale of your course before we even create it. This might sound strange but by doing you can find out if people are actually willing to put down money to buy the product.
Second, this will give us the opportunity to get in touch with a few of the early adopters or your course to get their input and help shape the course.
I prefer to use Teachable to create my sales page because you can sign up for free and they also have everything set up and ready to go which can save you a bunch of time.
How long does it take: Creating your sales page should only take you a few days at most and if you use Teachable they have a really nice fill in the blank template which makes the process a whole easier.
#4 Run a Presale – 5 Days
At this point, you should be 5 days into creating your online course. The next 5 days are going to be spent on getting people to buy your course. Doing this helps us verify that people are interested in your course. If you can get 1 person to buy your course you can likely get a 100 people to buy your course.
Related Article: You can also read my article on my first-course presale here.
To do this you'll want to promote the heck out of your course and get a few people to buy. Over these 5 days, you'll want to go on a promotion binge. Send out emails to your audience, write a blog post and boost it on Facebook, do a YouTube Live.
Also since this is your first course keep the price lower to entice your early adopters to buy.
How long does it take: Over the next 5 days, plan out something you are going to do each day to promote your course. Your goal is to get four or five people to buy. However once the fifth day comes to end the course. If nobody buys then you'll either need to rework your idea or develop a new one.
#5 Get Feedback – 2 Days
You are now 10 days into creating your first course and once your presale has ended it's time to get some feedback from your new students.
At this point, you'll want to get in touch with a few of your new students and learn more about their struggles. Just let them know it will only take 10 or 15 minutes tops.
Ask them why they signed up and what they hope to accomplish from this course. Finally, ask them what they would specifically like to learn from this course. Knowing these things will help you design and shape your course so that it fits your student's needs.
How long does it take: Overall this should only take you a few days to hop on a couple of brief phone calls and get this done.
#6 Develop Your Course Content – 3 Weeks
Once you've gotten some feedback from your students it's time to start creating your course content. You can do this in a variety of ways but I prefer to create video's because they are one of the most engaging methods.
You can do this by recording yourself in front of a camera or by doing a slide presentation recorded with a screencasting software.
Resource: I use Screencast-O-Matic to record my slide presentations.
The key with all of this is to make sure your content is engaging and solves your student's problems.
How long does it take: Overall if you're creating a shorter course you're looking at around 2 to 3 weeks to create your course content. For longer courses, it may take a bit longer.
#7 Create a Lead Magnet – 1 Week
Once your course material has been created it's time to start building out your funnel. This is the process people will go through to become students in your course.
The first thing you'll need to do is create a lead magnet. A lead magnet is something that will draw people into your funnel and get them to sign up for your mailing list.
There are a variety of ways you can get people to do this from creating a PDF such as a list or a whitepaper, a video series, or even a webinar. For most people just starting out, I recommend starting with just a simple downloadable PDF document.
How long does it take: For most lead magnets you should be able to get them done in a week or less. Something like a webinar or a video series can take a bit more work to get done.
#8 Setup Your Funnel – 1 Week
You're getting close to launching your course but we have one more important thing we need to do before we launch and that is to set up your email funnel. Your funnel is the tool that will help close the deal and drive the sales.
A funnel is nothing more than a series of emails that hit on pain points that your audience is experiencing and drives them to buy your product.
Resource: I use ConvertKit as my email provider.
However, writing emails can feel a little overwhelming if you've never done it before. So if you're looking for a little help in this area I recommend Ryan Deiss book Invisible Selling Machine. It gives a lot of practical advice along with some example email template for you to use.
How long does it take: Overall you will need to create at least 5 to 7 emails for this and it should only take you around 1 week to set up.
#9 Launch Your Course – 1 Week
The day has finally come, it's time to launch your course to the masses. This is the exciting part of the whole process of watching all the sales roll in.
To start your launch you'll want to send out an email to your existing audience, do a YouTube Live, post a Facebook message, run some ads, or whatever else you can to let people know that your course is live and ready to go.
How long does it take: Your launch should last around 5 to 7 days. In that time push your course as much as possible to drive sales.
How Long Does It Take to Create an Online Course?
From beginning to end if you do it right it should only take you right around 8 weeks to create an online course. So now it's your turn, are you ready to start creating your first online course?
Then take the next step and sign up for this free live webinar presented by Teachable. Here you'll learn the 7 Steps to Launch Your Own Profitable Online Course.
Cheers!