17 Affiliate Marketing Tools That Will Shortcut Your Success
Having the right affiliate marketing tools can make a big difference.
With the right tools, your business will run more efficiently, save you tons of time, and most of all make more money in the end.
In this article, I'm going to share 17 of my top affiliate marketing tools with you that have helped me build my business and I've also included a few videos of to give a behind-the-scenes look at how they work.
Side Note: I am an affiliate of some of the products mentioned below.
#1 Thrive Themes
To start you need a website theme that can help your business faster and easier.  Over the years I've tried several different themes from Genesis to Thesis Themes.  However recently I switched to Thrive themes.
The thing I like most about this tool is that it's not just another WordPress theme but rather an entire suite of tools.
So instead of paying for other tools like Lead Pages, or Optin Monster, I get all of these tools with Thrive Themes.
Here is a list of all the tools you get when you sign up for Thrive Themes…
Thrive Content Builder and Landing Pages
Thrive Leads
Headline Optimizer
Clever Widgets
Ultimatum
Ovation
Quiz Builder
To help you get a better idea of what you all get with Thrive Themes I put this handy little video together to show you just what you get.
Thrive Themes
To Long Didn't Read: A WordPress theme designed around conversion and building your email list.
Cost: $228 a year
#2 Pretty Links
The next tool in my arsenal is Pretty Links.  This tool has been a lifesaver for me in 2 big ways.
First, when I mention an affiliate product it allows me to keep my products URL's nice and simple looking.  So instead of seeing something like this…
entrepreneur.com/article/289021
You get this…
https://sidehustleacademy.com/teachablewebinar
It also lets me edit my links faster.  For example, if you have a website with 200 links pointing a particular affiliate product and the company stops selling that product you can swap out the link in Pretty Links and your good to go.
Pretty Links
To Long Didn't Read: This tool allows you to create clean redirects for your affiliate links so you can manage and track them better.
Cost: Free – $47 – $97 – $197 billed annually
#3 KW Finder
One vitally important tool that everyone needs when doing affiliate marketing is a keyword research tool and there are a bunch of them.  However, the one I like the most is KWFinder by Mangools.
But here's why you really need this tool:
KWFinder can tell you exactly how hard it is to rank for a keyword.  In fact, I put this simple video together for you just to show you how easy it is.

All you have to do is pop your keyword into the search bar and they give you difficulty rating out of 100.  The lower the number the better.  As an example, I did a search for life insurance for seniors and I got a 36 which means the keyword is still easy to rank for.
KW Finder
To Long Didn't Read: Simple keyword tool that lets you analyze and find low competition keywords that you can target for your affiliate website.
Cost: Free – $149 – $299 billed annually
#4 SERP Checker
As an affiliate marketer, you also need a tool that will analyze the top search results to what you're really up against.  To do this you will need a tool like SERP Checker.
This tool will analyze the top results and show you everything from domain authority to the Moz Trust Score.  Below is an image of what this tool does.

SERP Checker
To Long Didn't Read: Lets you compare the top search results to see how competitive a particular search term might be.
Cost: Free – $149 – $299 billed annually.  Includes KW Finder.
#5 SERP Watcher
Tracking your ranking is also an important part of running your affiliate marketing business, however doing this can take a lot of time that you just don't have.
This is where SERP Watcher comes in.  As of this article, it's still in BETA but once it's released I'll be sure to add an update to give you a behind the scenes look at it.
Also, this tool is a part of the tool suite so you only have to pay one low price to get them all.
SERP Watcher
To Long Didn't Read: Let's you manage your rankings and shows you exactly where you rank for your keywords.
Cost: Free – $149 – $299 billed annually.  Includes KW Finder and SERP Checker.
#6 Get Response
Another important tool you need is something to help you send and collect emails address of valuable prospects who are interested in you and your brand.
To do this I use GetResponse.  This tool does all the basic stuff from sending out broadcast emails to high-end stuff like email automation.
In fact, I did a complete review of the product which you can check it out right here.
GetResponse
To Long Didn't Read: Email management software that allows you automate and collect the names and emails of potential prospects.
Cost: $15 for 1000 subscribers starting out.
Click Here to Try it Out For 30 Days Free
#7 Fiverr
Another tool that you must have is Fiverr.  If you're not familiar with Fiverr it's a marketplace people can go to sell their services starting at $5 or more.
As an example, I've had a lot of things done on Fiverr from having my ebook covers made for my lead magnets to podcast voice overs.  The great thing about this tool is that it's an easy way to outsource stuff on the cheap.
The great thing about this tool is that it's an easy way to outsource stuff in your affiliate business early on when you aren't earning a lot of money yet.
Side Note: I'm not going to say that you should outsource everything to Fiverr such as link building or content writing but rather to outsource things that you may not know how to do as well.
Here are a few examples of things you could outsource on Fiverr.com
Article Editing
Article Graphics
eBook Covers
Podcast Voiceovers
Video Intros
Website Logos
Infographics
IT Support
Fiverr.com
To Long Didn't Read: Is an online based outsourcing website that allows you to hand off  task that you may not be good at.
Cost: $5 and up per job.
#8 Yoast SEO
As an affiliate marketer, you'll need to create content and there is definitely a right way and a wrong way to doing this.
This is where Yoast SEO comes in.  This is a free and paid plugin for WordPress that helps you take your on page SEO to the next level by telling you what things you need to fix in order to make your content shine online and get found in the search engines.
First, it'll let you target a specific keyword and even show you what your Google result will look like.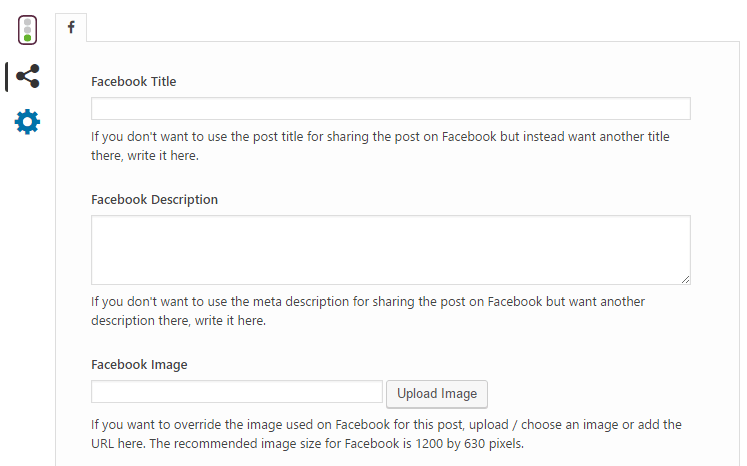 Second, this tool will let you design what your article will look like if someone shares it on Facebook.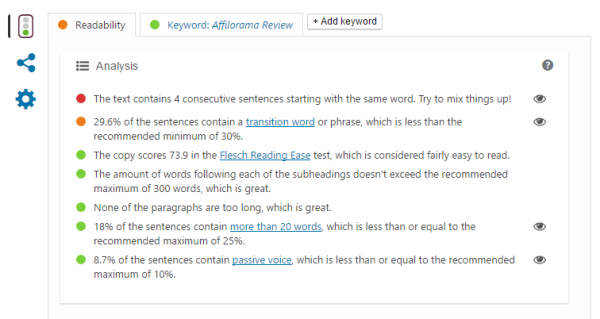 Finally, it will even look at the readability of your article and show you how you can make it better.
Yoast SEO
To Long Didn't Read: A WordPress Plugin that helps you improve your on-page SEO.
Cost: Free to $69 for a single site license.
#9 MOZ Bar
Another tool I use constantly is the MOZ Bar which is a free Chrome extension that shows a websites page authority and domain authority, PA and DA for short.
Page Authority and Domain Authority show how much authority or strength a particular page or domain actually has.  Page and Domain Authority run on a scale of 1 to 100.  The higher the number the more authority it has.
As an example below is Brian Deans site Backlinko.com.  As you can see with the MOZ Bar Backlinko has a very high Domain Authority and Page Authority which means it would be very hard to compete with this site in the SEO space.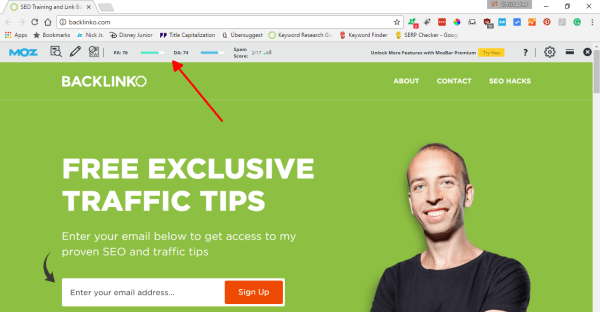 However, the best way to use this tool is to see how competitive a particular keyword is.
For example, if you wanted to rank for the word Best WordPress Theme, all you would have to do is a quick Google search and under each listing, it would show you just how much authority it has.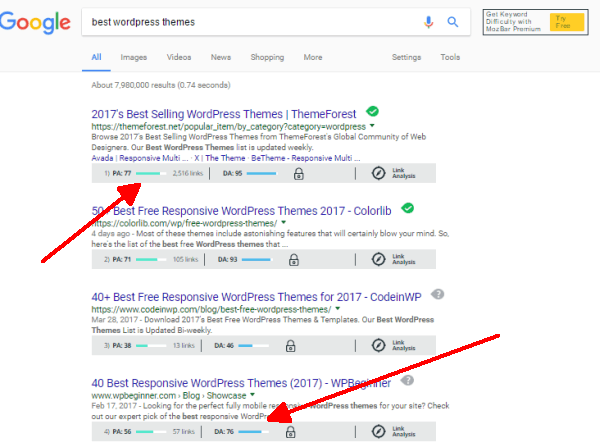 MOZ Bar
To Long Didn't Read:  Moz Bar is a Google Chrome extension that lets your measure a site Domain and Page Authority.
Cost: Free
#10 UberSuggest
When it comes to affiliate marketing finding a variety of keywords is key to growing your business.  One tool I use to make this job simpler is UberSuggest.
In a nutshell, UberSuggest is like using Google AutoSuggest on steroids.  To show you just how powerful this tool can be I created this short video to help you out.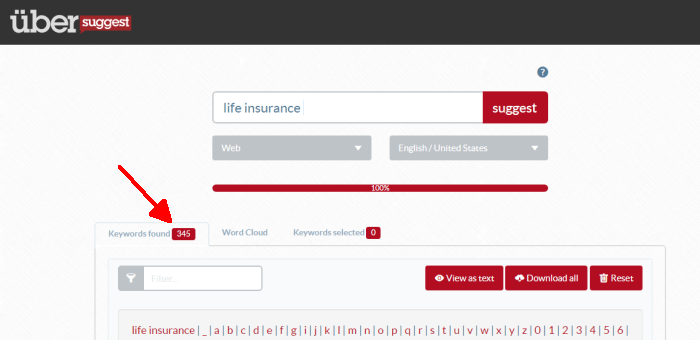 As an example I did a search for the term "life insurance" and I had 345 keywords found.
UberSuggest
To Long Didn't Read:  A simple tool that shows a variety of related keywords.
Cost: Free
#11 LastPass
Often times when you start an affiliate business you don't think about the sheer number of sites you have to sign up for and manage a username and password for.
This would include everything from your email account, to affiliate programs you are a part of, to keyword research tools, and much more.
Managing all these passwords can be overwhelming and cost you tons of time wasted just logging in.  To solve this problem I recommend using LastPass.
This tool remembers all of your passwords and usernames and logs you in automatically.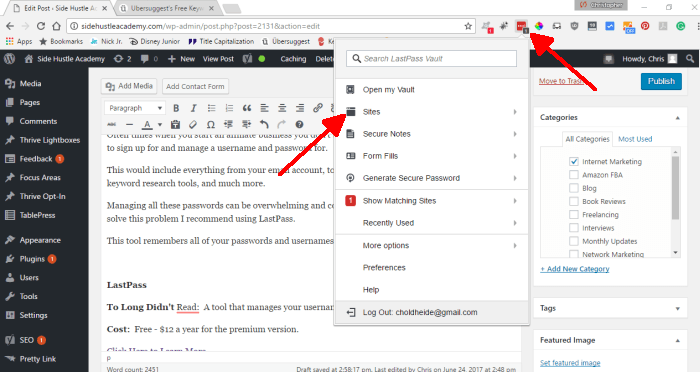 Side Note: Once you sign up for LastPass I recommend you add the Chrome Extension so you can access your sites from your Chrome browser.  This will also allow you to update and save passwords a lot faster as well.
LastPass
To Long Didn't Read:  A tool that manages your usernames and passwords.
Cost:  Free – $12 a year for the premium version.
#12 Grammarly
One tool I've found very handy when it comes to writing great content is Grammarly.   Grammarly is a spell checking tool that will take your content to the next level.
When it comes to writing affiliate content it needs to be top notch and Grammarly will help you do that.
Here are some simple quick steps to get started.
First, add the Grammarly Chrome Extension to your browser.
Second, sign up for a Grammarly Free account.
Third, whenever you're writing an article whether it's in WordPress or Word, Grammarly will automatically spell check your content and make recommendations.
Grammarly
To Long Didn't Read:  A simple tool that spell checks your content to make it better.
Cost: Free – $30 a month for the premium version
#13 Screencast-O-Matic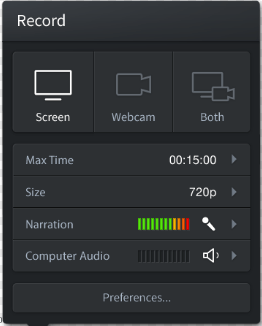 When it comes to affiliate marketing multimedia is everything, and one of my favorite ways to show off a product, a concept, or idea is with video.
When it comes to video their are a bunch of tools to choose from but one I like that doesn't break the bank is Screencast-O-Matic.
This simple recording software lets you do screen captures and record directly from your screen, web camera, or both.  On top of that, it also has a variety of editing tools.
Screencast-O-Matic
To Long Didn't Read:  A simple inexpensive screen recording software that will help you create great looking videos.
Cost: Free – $15 a year for the Pro Version.
#14 Pic Monkey
Pictures is another media that can really make your content stand out and one way I like to do is to add an image that sets the tone for the article.  Below are a few images I created for some of my articles.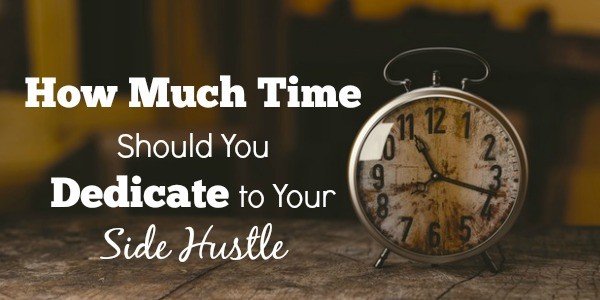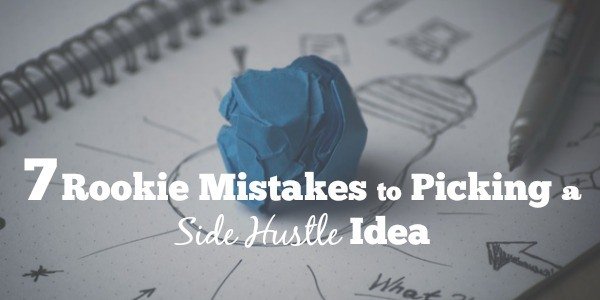 With good looking images like this, you'll impress your readers to read more of your content.
Pic Monkey
To Long Didn't Read:  A graphic creation tool that lets you make eye-catching images for your content.
Cost:
Free
$7.99 a month for premium or $47.88 billed annually
Super premium $8.33 or $99 billed annually
#15  SEMRush
One tool every affiliate marketer needs in their back pocket is something to spy on the competition with.  Enter SEMRush a top notch tool that will show you everything from how much traffic your competitors are getting to the exact keywords they are ranking for.
One trick I like to do is an exact match URL search of the weaker pages that are ranking for a keyword and see what kind of traffic they get, what keywords they rank for, and even the backlinks they get.  Check out the example below.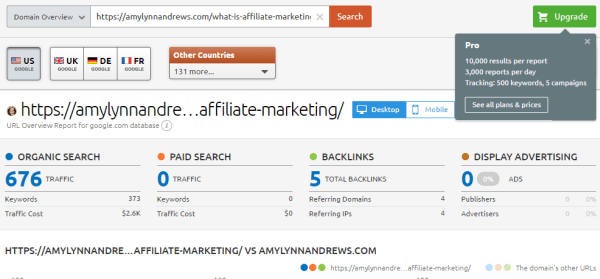 This page gets 676 searches for the term affiliate marketing and best of all they only have 5 backlinks to this page which tells me that ranking for this page is a possibility.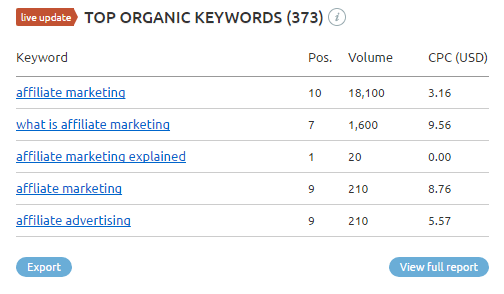 By doing this search I can see some related keywords this article ranks for.  This can give you ideas for other possible articles you can write.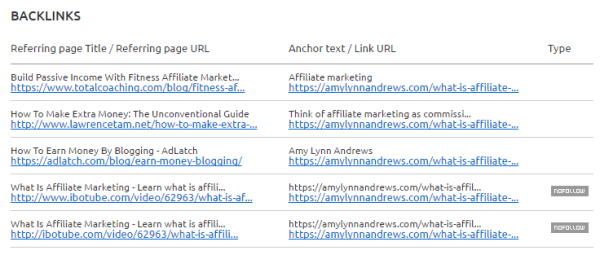 Finally, it will show you the backlinks the article has.  If they got a link from these sites it very possible you could land the same link as well.
Side Note:  When it comes to SEO backlinks are not the only thing that helps you rank in the search engines.  However they can help you increase your chances of ranking.
SEMRush
To Long Didn't Read:  Simple tool to e
Cost: 
Free – Up to 10 Search Per Day
Pro $99.95 a month
Guru 199.95 a month
Business $399.95 a month
#16 Google Search Console
These last two tools are the essential tools that every affiliate must have if nothing else.  The first is Google Search Console formally known as Google Webmaster tools.
This tool tracks everything from your internal and external links, issues with your site loading, to crawl errors.
What's great about this tool is if you are having an issue with your site it will alert you to it.  For example, I was recently having a server connection issue which allowed me to notify my hosting company that I needed it fixed.

One thing to always look at here is if your site is have any errors when it loads up.  A few are ok but if you find that you are having a lot of errors then you may have an issue that needs to be taken care of.

Finally, this tool is great for seeing who is linking to your site.
Google Search Console
To Long Didn't Read:  A simple to that monitors the health of your website.
Cost: Free
#17 Google Analytics
Finally, no list would be complete without Google Analytics.  Tracking everything going on with your website is the best way to see what's working but more importantly what isn't working.
Once you know what works you can do less of what doesn't work and put more effort into the things that do add to your bottom line.
Best of all you can track and see what your best content is, where your traffic is coming from down to the keyword in some cases.
Google Analytics
to Long Didn't Read: Collect data about your website to show you what is and isn't working.
Cost: Free
What Affiliate Marketing Tools do You Use?
So are you using any of the tools I've mentioned above?  Or is there another tool that you like using?  I would love to hear what kind of tools you are using below.
I've found the tools above to be very helpful.  I would love to hear what kind of tools you use in your affiliate marketing business.
Cheers!