Is Affiliate Marketing Dead? 9 Reasons it's Alive and Thriving
I've been an affiliate marketer for the last 12 years. Promoting everything from credit cards to various products on Amazon.com. In that time I've learned that affiliate marketing is not dead as some claim but rather alive and well.
Is affiliate marketing dead? No, affiliate marketing is not dead. In fact, many of today's top companies from Amazon to Expedia have affiliate programs. Online spending is also expected to reach $476 billion by 2024 and affiliate marketing grew by 44% in 2018.
In this article, I'm not only going to share why affiliate marketing is not dead but also why you should be taking advantage of this huge opportunity right now plus where you can go to get started the right way.
9 Reasons Affiliate Marketing Is Alive and Well
If you've been considering the idea of getting into affiliate marketing there has never been a better time.
I've personally been doing it for the last 12 years and earned several thousand on the side just talking about my favorite products and services on my blogs.
The best thing is you can do the same thing. It's not to late to jump in on this opportunity.
However, if you're still not sure just look at the reasons why right now is a perfect time.
1. Top Companies Use Affiliate Marketing
To start many of the top companies you know have affiliate programs you can join.
Do you shop on Amazon, Walmart, or Barnes and Noble? They all have affiliate programs.
Do you use VBRO, Expedia, or Booking.com to book your vacations and travel? They all have affiliate programs.
Do you use tools like Convertkit, Teachable, or Shopify for your online business? They all have affiliate programs.
I am an affiliate for many of these products such as Amazon, but their are way more out there than just the ones I've mentioned.
Just do a Google search and then add the words affiliate program behind the name and you will likely find they have an affiliate program.
2. More People are Buying Online
Next, more people are buying online than ever before. In fact, according to Statista.com online spending is expected to grow to $476 billion by 2024 in just the US alone.
When you think about it how much stuff do you buy online? Personally, my family and I do a lot of spending online. We buy everything from books to household cleaning supplies online.
People have become accustomed to buying online and as a result, places like Malls and shopping centers have really dropped off.
So take a moment and think about what you buy online? These are likely products and services you could become an affiliate for.
3. It's Cheaper Way to Get Leads
Affiliate marketing is also a cheaper way for companies to get leads and sales.
The way affiliate marketing works is you get a special link that allows them to track who gets credit for the sale. Once a sale is made you will get either a percentage of the money earned or a flat fee.
The reason this is cheaper is that retailers don't pay you until a sale is made. Unlike advertising retailers have to pay upfront and are not guaranteed to make any sales.
With an affiliate program, they only have to pay out once a sale or lead is generated. This means they get the publicity without all the cost upfront.
With that all said, retailers are not going to give up this marketing method if they can get even just a little bit of promotion out of it.
4.Networks are Growing
Affiliate networks are also growing. If you're not familiar with affiliate networks these are places that manage and run a lot of these popular programs.
Two networks I use are CJ.com and ShareaSale.com.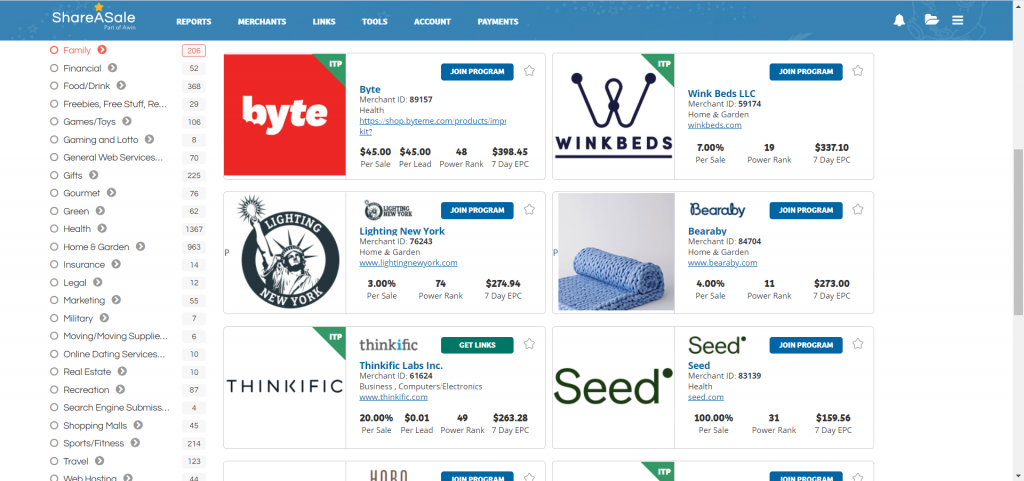 On Share a Sale alone they have over 7400 affiliate programs you can join and this is just one network.
There are literally hundreds of affiliate networks out there.
5. More People are Searching for Affiliate Marketing
When you do a simple search in Google Trends for the term Affiliate Marketing you'll see something interesting over the last 5 years.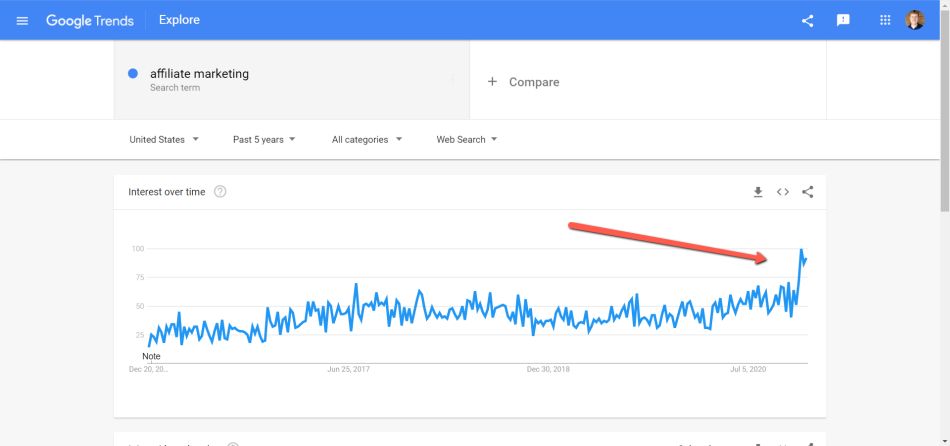 More and more people are interested in doing affiliate marketing because of the lucrative opportunity available. In 2008 it was reported that Amazon alone had 2 million affiliates.
On the chart above the interest and amount of searches for affiliate marketing has grown by a minimum of 50% In the last few months interest has spiked.
I think this is mostly due to the Christmas season but affiliate marketing is not going anywhere.
6. Conferences Are Growing
Back in 2012, I went to two conferences back to back, Affiliate Summit Central and the Share-a-Sale Summit in Austin, Texas.

At that conference, I got to meet other publishers like me, the companies who sold the products, and the networks that manage many of the programs.
I got to meet top people like Brian Littleton who owned Share-a-Sale at the time.
There were also hundreds of people at this conference who wanted to learn about affiliate marketing and grow their businesses.
The Affiliate Summit conferences on the east and west coast normally have 5000 people in attendance. When it comes down to it affiliate marketing is not going away any time soon.
7. Starting Your Own Affiliate Program Has Never Been Easier
The best part is that if you have a product or service that you sell is that you can start your own affiliate program and it's never been easier.
In fact, I recently signed up with Kajabi because I'm in the process of starting a membership site and with a few clicks setting up a membership program is up and going.
Not only can you promote your products and services but you can get others to help promote them with your own affiliate program.
By giving 20 or 30% of the sale you can earn a nice profit and your affiliate will as well.
8. Affiliates Are Paying Out More
Affiliate marketers are earning more than ever. With Awin alone affiliates have earned $700 million in 2018.
What does this mean for you?
This means you only need a fraction of 1% to earn just a decent living much less an nice income on the side.
That's the power of affiliate marketing. The money is there and its just waiting for you take advantage of it.
In fact, I've personally earned over $9400 on affiliate income alone in 2020. That's $790 a month in extra income, and it'll likely be more next year.
What would you do with an extra $790 a month? My guess is that would help your family out a lot.
9. It's Never Been Easier to Become an Affiliate
When it comes down to it becoming an affiliate marketer it has never been easier.
When I signed up for the Amazon affiliate program I was able to sign up start placing links on my site immediately.
Other programs may require you to go through an approval process but the process is usually the same. To sign up they usually want to know a few things.
Name and address
Payment information
How you plan to promote their products and services
That's pretty much it. Once approved you can start promoting products.
You don't need to pay any fees to join affiliate programs either but some programs you may join may require you to be a paying customer.
For example I am a paying member of Flip Your Life, a membership community designed to help you start, run, and grow a membership business.
In order to be a member of this program, you need to be a paying member of their community. They do this so only people who are using their program are the promoters of it.
Not all affiliate programs work this way but some do.
Is Affiliate Marketing Dead?
By now you should have come to the conclusion that affiliate marketing is here to stay. More than that its never been a better time to become an affiliate marketer.
Your next step is to find a mentor that will show you the ropes. For this I recommend the guys at Income School. I've personally been a member of their program for the last 2 years.
Run by two down-to-earth guys, Jim and Ricky, from Idaho you won't find a better program. To learn more about Income School click here.