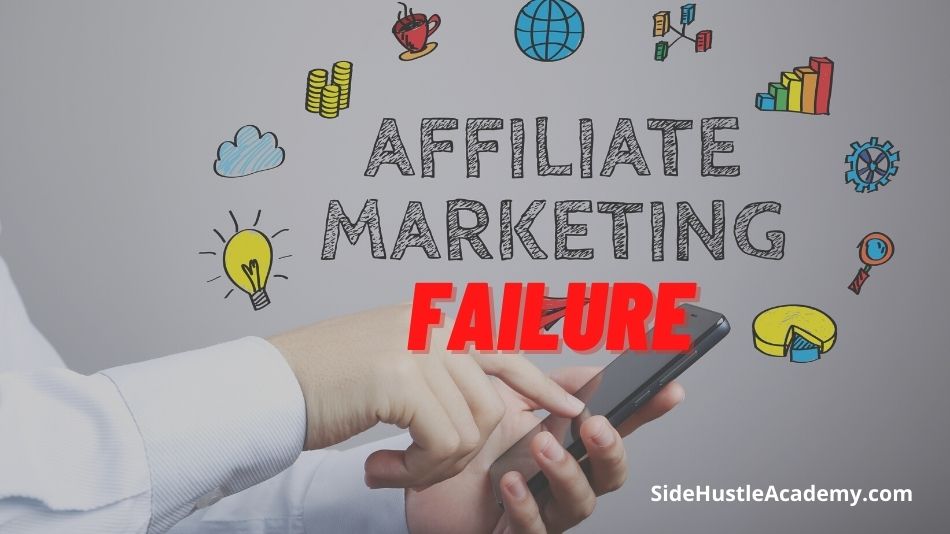 Affiliate marketing is a great way to earn an income on the side. I've been doing it for nearly 13 years now and I've had some big success and some even bigger failures. So if you're looking to get into affiliate marketing you might be wondering why do people fail and quit?
The main reason people fail at affiliate marketing is that they don't pick the right niche from the start. This leads to picking the wrong keywords to write about, picking the wrong products, and most of all not giving things enough time to grow.
In this article I'm going to cover the seven main reasons affiliate marketers fail and what you can do to avoid this from happening to you.
1. Picking the Wrong Niche
You need to pick the right niche or topic for your website, and there are some rules that you need to follow.
The niche for your website should be broad enough so you have a lot to talk about, while also small enough so you have a niche to talk about.
Make sure to stay away from very competitive niches that already have a lot of affiliate marketers.
These niches include…
personal finance
health and fitness
technology
online marketing
All of these topics have a ton of websites promoting them, and you need to find one that's a bit more noticeable.
You should also go deep into the topic you have chosen because most websites in these niches are often surface-level knowledge.
If you can go a few levels deep into a subtopic, then you will be able to have a better niche.
For example, while I don't recommend getting into personal finance, you could go this route.
Go from Personal finance to the subtopic to debt to student loan debt, and then make your website all about student loan debt.
It's a deep enough topic where you can talk a lot about it, and still talk more about debt in general.
2. Picking All the Wrong Keywords
If you want to get people to see your articles and your affiliate marketing, then you need to make sure your articles rank up in terms of SEO.
While most people try to focus on writing reviews about their niche or informational articles, you should be focusing on articles that answer the questions your audience wants to have answered.
Picking the right keywords will help you rank in the search engines and are also the best type that gets readers coming to your website.
You should be using niche-focused keywords, and you might even decide to look at some of the articles of your competition and see what keywords they are using.
Websites such as mangools.com and Longtailpro help to analyze keywords, or you can even use Google itself to analyze your article and what people are searching up.
Finding keywords isn't as hard as most people think, and the majority of the keywords are simply variations of the topic of your website.
3. Not Giving It Enough Time
Most people give up on SEO after a few weeks when their perfectly curated article doesn't get results.
However, it can take between 8 to 12 months to get your article into the ranking of the search engines, and you need to have a consistent schedule instead. Publishing 3 to 4 articles a week is something that is a good schedule.
The more you post, the more content you have on the website, and the higher chances people will find it and stick around to see your advertisements.
With such a large pool of samples, you will easily begin to see which parts of the articles are the best for your SEO.
Overtime your articles will begin to rank on Google and other search engines driving quality traffic to your site.
Knowing that question-based articles that answer questions for your audience are the ones that are the most popular for your niche, you can start writing more of those articles.
Don't be afraid to wait a while, because getting into the SEO rankings, and getting good inside of the SEO rankings does take some time.
You can write the best articles in the world, but even those will take some time to rank. Just keep posting articles and keep a consistent schedule and you eventually rank
4. Poor Content Creation Process
Of course, no SEO or affiliate marketing is a substitute for bad articles. The beginning of the article should answer the question that the article is about, and they will be able to see the article answer right from the start.
Then they can keep reading to get specific information about the topic of the article.
You should also break your articles into sections, preventing long walls of text and bored readers.
Make sure to also remove fluff and give the readers all the information that they want.
Your articles should give information and be written very well, and don't fall into the trap of stuffing in keywords and then hoping that your poor content creation is masked by it.
Instead, make sure to have a good article both with content creation and grammar and writing style.
It should be a good article that is written well and reads like a normal article before you start stuffing in all the SEO.
5. Not Picking the Right Affiliate Programs
Affiliate marketing isn't just about advertisements, but also about the programs that will convert the clicks into payments for you.
Depending on the type of items you are selling, you will need a different affiliate program.
If you are promoting physical products and then use Amazon Associates to convert. The niche websites can use Amazon to convert between 10% to 20% of the visitors.
You can also offer recurring programs with nonphysical programs, such as programs like Teachable.com.
Teachable.com also pays 30% of recurring income for their customers. Do some research and make sure that you are picking the right affiliate program for the products you are selling.
That way you are able to make the most money for your affiliate programs.
6. Not Selling Your Links Enough
As you are writing content, you need to focus on promoting your product links through the article. You don't just need to promote the product link at the end with your affiliate link, but instead you should talk about the product link through the article.
Hype it up with urgency. For example, if a product has a 14-day free trial you might write something like this. Here is an actual link I've done.
Use the link text to build the foundation of your article, and keep putting in the link text even if you only hyperlink it once. Don't be afraid to really sell your product and make the affiliate marketing links something that they 'have' to click on.
Don't be afraid to keep promoting your links, and your products through the articles, because the more you promote the more people will use your affiliate marketing.
As long as you don't over-saturate your article with salesy language, you will be just fine. It's a delicate balancing act to get it right, but once you write a few articles you will be fine.
7. Promoting the Wrong Products
Finally, you don't want to promote the same products that everyone else is doing. Instead, focus on actually using the product yourself.
Quick Tip: Buy the product, take a few pictures of your own and then showcase yourself using the product.
Most affiliate marketers are people who write about the product secondhand, only sharing what they find on Amazon and from secondhand reviews.
While that is good you could make your experience different by buying the product yourself and using yourself as a primary source.
Take pictures, take videos, and document the entire experience with your website. Give a real and honest review, and that will connect with your audience.
They want to see the people they are reading the review for actually using the product they are reviewing. It's very important and can really increase your credibility as a reviewer.
Try different ways to promote your products and make your articles unique, and soon people won't keep themselves off of your blog and your affiliate marketing!
Beat These Reasons Affiliate Marketers Fail
If you want to become an affiliate marketer, then you need to make sure that you have every bit of information on your side.
Affiliate marketing is something easy that you can do to make some extra money and connect with your audience through your writing.
Don't be afraid to keep doing different things, and you will be able to have good content, good products, and some very good affiliate marketing.