ConvertKit Review – A Complete In-Depth Video Review [2018]
If you're looking for a way to create a solid email list without all the technical stuff, then ConvertKit could be the answer for your online business. 
With a simple-to-use layout, ConvertKit is designed for those who want more features and what to go to the next level in building their email list.
Key Features
Automation Workflows – Automate your list without all the complicated tech stuff using simple visual automation workflows.
Tag Subscribers – Able to tag subscribers to learn more about them and what they like and don't like so you can send targeted emails to them.
What is ConvertKit
ConvertKit is an email service provider that gives you advanced tools to manage and grow your email list all in a simple easy to use email platform.
Below is a video I put together to give you a behind the scenes look at everything you get when you sign up for ConvertKit.
Pros and Cons of ConvertKit
Now that you have a good idea what ConvertKit is and how it works I want to share a few of the pros and cons with you that I personally like and don't like.
Pro: Tag Subscribers to Learn More About Them – To start ConvertKit allows you to tag subscribers so you can learn more about them and what they do. For example, I've used this simple little feature to find out what kind of side hustle people are interested in, whether or not they want to be on my mailing list, and most importantly what they don't like.
Doing this allows me to send the right content to the right people at the right time. As an example, if I have an article about drop shipping I can send it directly to those that are interested in that topic and nobody else. In the end, this eliminates unsubscribes, get more emails opens, and more sales.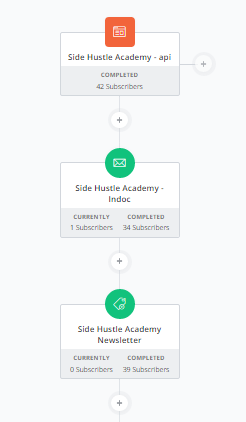 Pro: Create Automation Workflows with Ease – The second thing I like about ConvertKit is that they make the automation workflows extremely easy to do. Automation Workflows allow you to automate your email list to do something very specific.
For example, If someone signs up for your email it can automatically tag them. Then it could send them emails on a specific affiliate product they might be interested in, but if they don't buy the product it could tag them that they are not interested in the product.
This is just a few things automation workflows can do, but most of all they make all of this very easy to do compared to other email providers that I've used in the past like MailChimp, Aweber, and GetResponse.
Con: Higher Cost For Beginners – The only downside I could come up with when it comes to ConvertKit is that it does cost a bit more than your typical email service provider. ConvertKit starts at $29 a month compared to other email providers, this is roughly double the cost.
For example, MailChimp has a free plan but does not allow you to do any of the email automation stuff. Aweber starts at $19 a month, and GetResponse starts at $15 a month.
Overall though with the higher cost you are getting all the tools you need to build a quality email list with ease.
Pro: Segment Your List Into Groups – ConvertKit also allows you to segment your email list. This is similar to tagging but with segments, you can group people into general buckets.
For example, I have one segment of people who are on my email newsletter. Once they get done with the initial email sequence they will automatically be segmented into my newsletter. This way I don't send my email newsletter to people who just signed up and risk sending them stuff they aren't ready for.
Pro: Never Pay For Subscribers Twice – Of all the other email providers I've used in the past ConvertKit will never charge you for the same email address twice. Now you might be wondering how does this happen?
As an example let's say you create two lists on your site that cover two different topics. In any normal email provider, they would charge you twice for the same email address. With ConvertKit they weed out all duplicate emails and only charge you for each individual unique email address.
Pro: 80+ Integrations – Finally, best of all ConverKit integrates with over 80+ different providers from Gumroad to Shopify to WordPress. On top of that they are always adding more integrations so chances are if you have it, it'll integrate with ConvertKit.
How Much Does ConvertKit Cost
So how much does ConvertKit cost? Below are the monthly cost below.
$29 – 0 to 1000 Subscribers
$49 – 1000 to 3000 Subscribers
$79 – 3000 to 5000 Subscribers

If you are looking to save a few bucks then going with an annual plan may be the way for you to go.
$24 – 0 to 1000 Subscribers
$41 – 1000 to 3000 Subscribers
$64 – 3000 to 5000 Subscribers
Should I Buy ConvertKit?
Still on the fence with ConvertKit? Here are a few reasons to help you make a more informed decision.
#1 If You're an Online Creator – If you create your own digital products, run a blog, do affiliate marketing, or even drop shipping this is the email provider to have. Why might you ask? Because it's designed for online creators in mind.
I've used several different email providers to run my online business over the last 10 years but none of them have catered to the online marketers like this one.
Are you an online marketer trying to earn some extra money on the side and you want to build a quality engaging list? Then maybe ConvertKit is for you.
#2 If you want a Simple Easy to Use Platform – Second, if you're looking for an email provider that's not complicated to use then ConvertKit is the way to go. The last email provider I switch from before moving to ConvertKit was very difficult to use.
They didn't make it easy to tag, segment, and create automation very easily. It felt like I had to be some sort of tech genius to figure it all out. When I switched it felt like a weight was lifted off my shoulders and I never looked back.
Does this feel like you? Then maybe you need ConvertKit.
#3 Get a 14 Day Free Trial – Finally when you sign up now you'll get a 14-day free trial to see how great ConvertKit really is and if you don't like it, no harm done.
Overall after trying several email service providers, I've found ConvertKit to be the best option for the money out there. So sign up for ConverKit and start your free 14-day free trial now.
Cheer!
BTW – If you have any questions about ConverKit that I didn't answer in this article just let me know below in the comments section and I would be happy to answer them.