Affilorama Review – A Complete Video Review [Updated 2018]
Back a few years ago when I was first getting started online I had no idea what this online business thing was all about. However, I knew I could make money online because I knew other people making money online.
However, there was one a big problem:
I needed someone to teach me how to do it. At that time didn't know anything about affiliate marketing much less how to set up a website. Then one day through a simple Google search I came across Affilorama.
I signed up for their free membership and dug into the content. Today my online business is doing great all because I invested in my education to keep learning and moving forward and Affilorama was that first stepping stone for me.
If you have a similar goal then this review is for you.
What is Affilorama – A Complete Overview with Video
Affilorama is a complete course that will teach how to start, run, and grow a profitable online affiliate marketing business.
The course was created by Mark Ling who's been doing affiliate marketing for over 10 years now. To give you an idea of what this course looks like once you join I've created this short 10-minute video to give you an inside look at this what you all get.
Affilorama is a great course but it definitely has its flaws. In all, I looked at the course content, how the instructors did, how the course looked and felt, to how well the course flowed from beginning to end.
With that said let's get started…
Affilorama Course Content
To start the Affilorama course content is top notch. It covers a wide array of topics from market research, content creation, to marketing ideas. In all the course itself has right at 120 high-quality videos.
What's also great is that each video goes in-depth to each topic it covers. For example, the video on doing keyword research shows the techniques and tools they used to find all the various keywords you could rank for.
As a beginner, you'll find this information hugely valuable because in order to have a successful affiliate marketing business you need to know how to find low competition keywords that will drive traffic from the search engines.
The same goes for all the other topic this course covers from picking your niche to doing paid advertising.
Course Instructors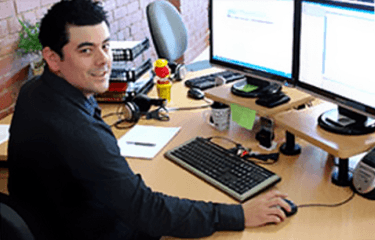 Next is the course instructor. Mark Ling founded Affilorama and has been doing affiliate marketing for over 10 years. When it comes to affiliate marketing Mark knows what it takes to get your affiliate business off the ground.
More than that he specializes in being a ClickBank affiliate. ClickBank is a marketplace that sells courses and programs.
ClickBank is a great place to earn extra income but it's not the only place. Today there are tons of places you can go to promote affiliate products from Commission Junction, to Amazon Affiliate Program.
In the end, the Mark knows his stuff and he's been doing this business for a long time.
Course Design
Next, we have course design and in all the course is very well laid out as you can see below.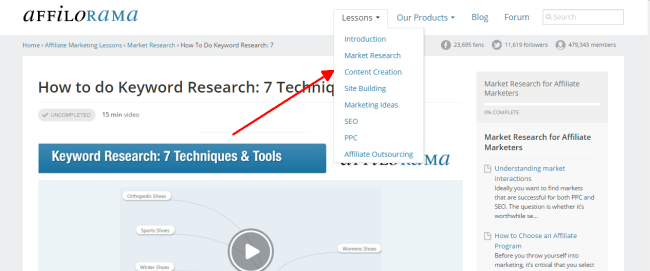 You can easily navigate to any section in the course just by clicking the drop down menu. On the very right side of the screen, it also shows you various lessons that you should go to next.
Overall the layout is inviting and easy to get from one thing to the next with just a few clicks.
Course Flow
Finally the last part is the course flow itself. The course does a great job breaking things down by topic. However, this is probably the weakest part of the entire course itself.
The course itself covers a lot of topics from the basics to the advanced stuff but what it lacks is a more step by step approach.
However, as a free course, you really can't ask for much more.
Pro's and Con's of Affilorama
Now that I've covered the main points of Affilorama I wanted to cover a few of the things I liked and some things I did not like.
Pro: Has a good look and feel. I've been saying in this entire time but it's hard to find a course that brings all of these elements together and this course does a great job at that.
Con: The course does not give all the information. One area I feel the course lacks is sharing various ways to earn income from affiliate marketing. It gives a lot of basic beginner stuff but it doesn't give everything away.
Pro: It's a great starting place for beginners. In all this course is perfect for someone who has never done affiliate marketing.
Con: It's not step by step. As I said earlier this course does not contain all the information but rather a lot of the basic stuff. On top of that, it lacks a lot of the step by step stuff. However, this is the Affiloblueprint course comes in.
Pro: A great option for bootstrappers. Like many people, money can be a big issue when getting started and this option can be a great way to get rolling on a small budget.
Con: The course is trying to upsell you. Since the course is free you can bet they are going to upsell you on some other products. This is to be expected since you are getting a lot of value for free. I'll share more on what they are selling in the next section.
How Much Does Affilorama Cost?
Well if you haven't figured it out by now Affilorama is a completely free course. That's right it doesn't cost a dime.
However, as a member of the course, they will be trying to sell you other products and services. Here are a few of the products you may see as a member.
AffiloBlueprint Price $197
With AffiloBlueprint it's the complete step by step course getting your affiliate business up and going. As good as Affilorama is AffiloBlueprint is the next step in growing your affiliate business.
Here are a few things this course includes…
90+ Step by Step Video Lessons
Downloadable Lessons and Course Notes
Private Members Forum
Plus Bonuses
Side Note: When you sign up toAffiloBlueprint you'll also get one free month of Affilorama Premium a $67 a month value. However, if you don't cancel after the first month you'll be charged $67 a month going forward.
Click here to learn more about AffiloBluePrint.
AffiloJetPack: Price $997
If you're someone who doesn't have the time to build your own affiliate website then you may want to consider AffiloJetPack. AffiloJectPack is a completely done for you solution to get your website business up and running fast.
Here's what you get when you sign up of AffiloJet Pack…
Email. You get over 90 expertly created emails that are designed to build trust and drive sales.
Lead Magnets. You'll get 3 well-written lead magnets that you can use to entice people to join your email list.
Website. Next, you'll get a well-designed website to help you show off your brand and drive sales.
Extras. Finally, you'll get free web hosting for a year, the AffioTheme, and most importantly you save yourself months if not years of time building your affiliate site.
When it comes down to it AffiloJetPack makes sense for those who just don't have the time or know how to get things going. You can learn more about AffiloJetPack here.
AffiloTools: Price – Free for Your First Project
Affiotools is a complete suite of tools that will help you grow your ranking in the search engines and show where you need to make improvements on your website.
Here is what you get with AffiloTools…
Search Engine Improvement. Dig deep into your search engine results and see which results are helping you the most. You can also track your ranking and see where your site sits in the search engines at a glance.
Track your ClickBank Earnings. See how much you are earning from places like ClickBank.
Track your Backlinks. See who's linking to you and your competitor's to find juicy backlink opportunities.
Track Your Competitors. Finally, track your competitors to keep an eye on where they rank.
In the end tools like these can be extremely expensive but with AffiloTools you get your first project for free. Click here to learn more about AffiloTools.
AffiloTheme: Price $97
Next, you have the AffioTheme. This is a theme for WordPress websites specifically created for those who what to sell affiliate products. Here are a few reasons you may want to consider this theme.
It makes it easier to monetize your site. This theme is designed with the affiliate marketer in mind to maximize your profits.
Easy to design your website. With Affilotheme all you have to do is install it and it will give you the basic layouts that convert people into buyers.
SEO Optimized. Finally, this theme is optimized to rank well in places like Google and Bing and drive in traffic from the search engines.
If you are an affiliate marketer you need this them. Click here to learn more about AffiloTheme.
Affilorama Premium: Price $67 a Month
Finally, you have Affilorama Premium which is a membership program that includes basically everything I've mentioned above plus a few other goodies. Here are a few things you will get…
Free web hosting for up to 15 domains.
Watch Mark create a profitable site from scratch
Plus access to the AffiloTools
Plus a community to help you out along the way
I personally like this option the best because it allows you to get all the tools and courses for a low monthly price, and best of all you can cancel at anytime
Side Note: If you're not happy for any reason they offer a 60 Day Refund Policy.
Affilorama Testimonials
Below are a few testimonials I took from the Affilorama homepage just to show you what others are saying about this free course.
[thrive_testimonial name="Emily McKay" company="USA" image="https://sidehustleacademy.com/wp-content/uploads/2017/06/testimonal_1.png"]"This is where to start" For anyone who wants to set up a website to make extra income but doesn't know the first thing about how to go about it, then this is where to start. [/thrive_testimonial]
[thrive_testimonial name="Fransisco Brevoort" company="New Zealand" image="https://sidehustleacademy.com/wp-content/uploads/2017/06/testimonal__2.png"]"Making well over $1000 a day" I've been an Affilorama member since 2006 and I've learnt so much during my time here. I'm now consistently making well over $1000 a day now, and last week I made $23,804! It's unstoppable now![/thrive_testimonial]
[thrive_testimonial name="David Hornbeck" company="USA" image="https://sidehustleacademy.com/wp-content/uploads/2017/06/testimonal_3.png"]"Nothing even comes close" I have not come across any other "how to build an online business" website that even comes close to offering the information and support that AffiloBlueprint does. I highly recommend it to anyone who wants to build an honest, long-lasting online business.[/thrive_testimonial]
Who Should Get Affilorama
Now that I've covered all the details about Affilorama you might be wondering is this program for you? To help you make this decision-making process easier I put together a few qualifying statements. If you find these statements something you can agree to then this program is likely for you.
You want to start an affiliate marketing business. This is pretty obvious.
You don't want to create your own product or service. If your someone doesn't want to create your own products or services but would rather sell other people's products and services then this option is for you.
You want to bootstrap your business. If you're looking to start things out simple and keep the cost down this is a great option.
You like creating content. If you like to create content such as videos, podcast, and blog post then this course is for you.
You want to make money while you sleep. As cliche as this sounds affiliate marketing can make you income while you're sleeping, at work, or even in the shower. It works for you 24/7 364 days a year.
If you don't have a lot of time. Finally, if you don't have a lot of time in the day this is truly the side hustle that works around your schedule.
Sign Up for Affilorama for Free
Now it's your turn. If you've made it this far you're likely interested in signing up. The best part is you have nothing to lose because it's completely free.
So take a moment and sign up now while this course is still free and available. There is no telling how long this course will be available for free so sign up now.
Click here to Sign Up for Affiliorama Now
Cheers!