Is Affiliate Marketing the Same as Network Marketing?
Since 2004 I've been earning an income from multiple different types of business opportunities from affiliate marketing to network marketing. Now you might be thinking these two marketing opportunities might be the same but you'd be wrong.
Is affiliate marketing the same as network marketing? No, affiliate marketing is a business model where online retailers pay a commission through a website for the traffic and sales generated. Network marketing is a business model that distributes and sells products on a person to person basis.
I know that sounds like they are the same thing but they are very different. In the rest of this article, I'm going to share exactly how both of these marketing opportunities work and give specific examples of each and share 5 major points where they differ.
Affiliate Marketing vs Network Marketing
To help better understand the differece between affiliate marketing and network marketing lets look at the deifinitions.
Affiliate Marketing – a marketing arrangement by which an online retailer pays a commission to an external website for traffic or sales generated from its referrals. – Google
Now lets look at the definition of network marketing.
Network Marketing – a marketing strategy in which sales representatives of a company recruit other salespeople and earn commissions on their own sales and on the sales made by their team. – Dictionary.com
So what is the difference you might be wondering?
With affiliate marketing, you are selling products through online retailers. With network marketing, you're selling products with representatives of the company who can also recruit other salespeople.
The network marketing company I worked with recruited me and I proceeded to sell the products and services of that company. From time to time I came across people who were looking to earn an income on the side and I recruited them to become a sales rep for that company.
For example, when I started working with the network marketing company I would earn a 25% commission for every sale I made.
The guy who recruited me earned a 35% commission and earned the difference between his commission and my commission. So he would earn 10% of every sale I made. [35% – 25% = 10%]
Related Article: Is Network Marketing Worth It – A Guide For Beginners
With affiliate marketing, you sign up with an online retailer and you get a specific link that you share on your blog, social media, email, and anywhere else you can think of. With affiliate marketing, you can't recruit others to sell their products.
For example, one retailer I work with pays me a 30% commission for every sale I make. No more no less. On top of that, all sales from that retailer are made through my blog via a special link I use from them as an affiliate that gives me credit for the sale.
So you might be wondering what kind of companies do affiliate marketing and what kind of companies do network marketing? So in the next section I'm going to share a few examples of each of these companies.
Examples of Affiliate Marketing and Network Marketing
Now that you have an idea of how both of these marketing opportunities work I want to share a few examples of businesses that do affiliate marketing and do network marketing.
To start here are several network marketing companies that I know of and you probably have heard of.
List of Network Marketing Companies
Watkins Incorporated
Pampered Chef
Avon
Mary Kay
Herbalife
Amyway
Beachbody
Cutco
Juice Plus
Primerica
All of these MLM [Multilevel Marketing] companies work by hiring representatives and paying them via commissions for the products they sell. On top of that, they can recruit people and earn a portion of the sales they make as well.
The company I worked with for four and a half years did just that.
So let's look at a several examples of companies that offer affiliate marketing programs.
List Affiliate Marketing Companies
Amazon.com
Walmart.com
Barnes & Noble
Bluehost
Wix
Shopify
Kajabi
Covertkit
Expedia
Booking.com
You probably recognize a few of these companies and probably even use them and shop at them. For example, I am an affiliate of Amazon.com. Every time someone goes to my website clicks on my link and buys something I earn roughly a 3% commission or roughly $3 for every $100 in sales.
Now some affiliate programs pay way better than others. For example, Kajabi pays a recurring commission of 30% of every sale made. However, I can't recruit people to sell Kajabi, only the people at Kajabi can make that decision.
When it comes down to it network marketing and affiliate marketing are nothing more than marketing methods. One does it by recruiting people and the other does it by marketing via the internet.
So you might be wondering which is a better opportunity affiliate marketing or network marketing?
Which Is Better Affiliate Marketing or Network Marketing
Of the two different types of marketing, I personally prefer affiliate marketing over network marketing for several reasons.
1. No More Phone Calls
The one thing I dreaded the most with network marketing is cold calling people to set up appointments. If you're not familiar with cold calling this is where you call people you don't know and the majority of the time it results in a big fat "NO".
When I was doing MLM I would have to put what was know as a top 25 list together which was basically a list of prospects to call every week and call all of them by week's end. Most if not all of these contacts would result in a no.
With affiliate marketing their is no phone calls, instead you'll have a website or blog that you write on a specific topic about. For example, take this site, one product I promote is Convertkit.
Why?
Because I use this product and know how valuable it can be to others who are doing the same thing. As a result, I provide value to my audience by sharing why this is and if someone purchases that product from me I receive a commission.
I don't have to call them, I don't have to set an appointment, I don't have to try and sell something to someone who does not want it. The only people who buy from my affiliate link are the ones who are interested.
With network marketing you're constantly selling to people and most of them are rejecting you.
2. Sell to a Global Audience
Network marketing does not allow you to sell to a global audience. When I was was doing MLM I started by talking to family and friends, and then friends and family of those people. At most I was working in a regional area.
To be honest there were a lot of people in my area to talk to but anytime I would say the word network marketing or MLM I would get the big NO. Did this mean the products I sold were bad? No, but most people in my area were trained to think network marketing is bad.
With affiliate marketing I can sell to a global audience from day one. At the very least to the USA. Below are the top 10 countries coming to my website.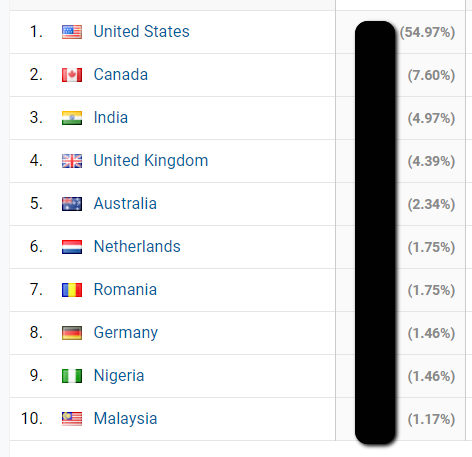 As you can see 55% of my traffic comes from the US, but I also have people coming from Australia, Netherlands, and even Malaysia. You just can't do that with network marketing.
3. Make Money While You Sleep
Another way affiliate marketing differs from network marketing is that you can earn money while you sleep. A good example of this is with Convertkit.
Every time someone purchases Convertkit from me and continues to pay every month I get a commission from them. This means that I only have to sell to them once and I get paid over and over.
Now this isn't the case for all affiliate programs. Amazon is another affiliate of mine. They don't pay a recurring commission but since so many people buy on Amazon especially during the Holiday session the conversions and sales are through the roof.
With network marketing for most products you sell do not pay recurring commissions. The only way you can get paid this way is if you build a team of people under you. This would allow you to earn a portion of the sales you hired under you.
However, in order to do this you'll have to put in a ton of work, which l will get to in a little bit.
4. Sell Literally Anything You Want
Next, affiliate marketing allows you to sell anything you want.
Want to sell furniture, their is an affiliate for that.
Want to sell ski gear, their is an affiliate for that.
Want to sell vacation packages, their is an affiliate for that.
Want to sell grocery's, their is an affiliate for that.
With network marketing you can only sell what that company has. If they only sell XYZ widget that's all you can sell. With affiliate marketing you can sell literally anything you want.
Don't believe me.
Go on Amazon and do a search for something. Whatever comes up can be sold by you. On top of that, there are tons of different affiliate marketing networks from CJ.com, Shareasale, to Clickbank.
You can also go on Google and type in your product that you want to promote and add the word affiliate behind that. So take some time to brainstorm and look at what kind of possibilities are out there.
5. Work From Home
Finally, the biggest benefit is that you can work from home with affiliate marketing. When I was was in network marketing I was gone 3 to 5 nights out of the week doing appointments and weekly meetings.
Most of all it took me away from my family and for the money, I wasn't making it was not work it. That was the primary reason I left network marketing in the first place.
With affiliate marketing I work from home 100% of the time except for the few times I went to a few industry conferences. In fact, I can even do my work from almost anywhere, whether its a vacation, a conference or any other place I might happen to be.
What Do You Prefer – Affiliate Marketing or Network Marketing
So whether you prefer affiliate or network marketing choose the one that works for you not because others are having success with it. I've found doing the things that fit your abilities will get you better results than if you try to do thinks that you don't like.
So what is it you like: affiliate marketing or network marketing?
Share your thoughts below.